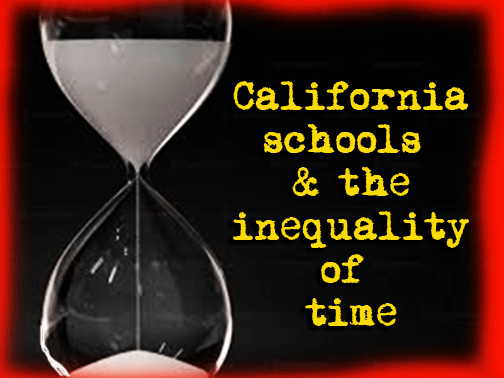 STUDY FINDS CA'S LOW INCOME HIGH SCHOOLS LOSE 25 DAYS OF INSTRUCTION A YEAR
Teachers in California's "high poverty" high schools provide their students with an average of 25 fewer days of classwork per year than do their higher income school counterparts, according to a new study released Tuesday by UCLA's Institute for Democracy, Education & Access (IDEA) and funded by the Ford Foundation.
This is the rough equivalent of shutting down classes in the state's low income area schools as much as five weeks earlier than schools in more affluent areas.
The causes of this disparity in productive class time primarily fall into two categories, according to the UCLA report:
1. Incidental interruptions during each class period chip away at instructional time to the tune of around 1/2 hour per day in the state's low income schools.

2. In this same way, in high poverty schools there are more in the way of large interruptions that cut into scheduled instructional time across the school calendar–things like emergency lockdowns, chronic teacher absences, overlong preparation for standardized tests, underprepared substitute teachers and more.
In addition there are community and personal sources of stress—unstable living conditions, neighborhood violence, concerns about safety, immigration issues, hunger—that can adversely affect a higher percentage of students' ability to concentrate in high poverty schools than those affected in low poverty schools.
The result is a measurable lack of equality of opportunity, say the study's authors:
"California holds students to a common set of assessment standards and requirements for university admission," write UCLA researchers John Rogers & Nicole Mirra in the conclusion of their report. "Yet students have access to markedly different amounts of instructional time depending on the neighborhood in which they live. It is true that schools can use available learning time in more or less effective ways. But the amount of available learning time creates a ceiling, limiting the capacity of the school to promote student achievement and development."
Jill Barshay writing for the Hechinger Report has more on the study. Here's a clip:
… Interruptions, substitute teachers and test prep account for a large portion of the lost instructional time, according to a UCLA study released Nov. 18, 2014.

"These findings push us to think again about inequality in the schools," said UCLA education professor John Rogers, a co-author of "It's About Time: Learning Time and Educational Opportunity in California High Schools," published by UCLA's Institute for Democracy, Education and Access. "You have a quarter of the kids [here] in schools with concentrated poverty, and you see how unequal learning time is for these students."

The inequities outlined in this report have little to do with school funding. In California, the state plays a large role in allocating school funds. That reduces the ability of wealthy towns to fund their schools more than low-income communities can.

"Differences in learning time between high and low poverty schools might actually be much more pronounced in states where high poverty schools receive less funding than schools in more affluent communities," said Sanjiv Rao, a program officer at the Ford Foundation, which funded the UCLA study.

[SNIP]

A common disruption, for example, was a phone call from the main office during a lesson. Teachers reported that simple routines, such as settling the class down or distributing materials, take longer at high poverty schools. It may take only a minute, but the minutes add up. In a high poverty school, about 18 minutes per period are lost this way, compared with 13 minutes in a low poverty school — a five minute difference per class period….
---
LAUSD BELATEDLY FIRES LAWYER WHO ARGUED THAT 14-YEAR-OLD MIDDLE-SCHOOL GIRL WAS OLD ENOUGH TO SAY YES TO SEX
Last week, KPCC's Karen Foshay broke the story that one of LAUSD's hired gun law firms had argued in a civil suit in August that a 14-year-old student was mature enough to consent to having sex with her 28-year-old teacher—hence the district shouldn't be liable for any of the teenager's alleged injuries.
The former math teacher, Elkis Hermida, was convicted of lewd acts against a child in July 2011 and sentenced to three years in state prison.
The district's attorney in the matter, W. Keith Wyatt of Ivie, McNeill & Wyatt, also brought the middle-schooler's past sexual experience into court. (One is legally prohibited from such trash-the-victim tactics in adult rape cases, but evidently all bets are off in civil cases brought by the parents of young teenagers whose teachers had felonious sex with their students.)
Here are some clips from that first story:
"She lied to her mother so she could have sex with her teacher," said Keith Wyatt, L.A. Unified's trial attorney in the case, in an interview with KPCC. "She went to a motel in which she engaged in voluntary consensual sex with her teacher. Why shouldn't she be responsible for that?"
Not content to stop there, Mr. Wyatt went on to opine:
"Making a decision as to whether or not to cross the street when traffic is coming, that takes a level of maturity and that's a much more dangerous decision than to decide, 'Hey, I want to have sex with my teacher,'" Wyatt told KPCC.
In any case, last Friday, embarrassed LASD officials announced that they wouldn't work with attorney Wyatt anymore but that they would continue to work with his firm—which was representing the district in a bunch of cases.
Then on Tuesday, KPCC's Karen Foshey and Paul Glickman reported that LAUSD had changed its mind and was now yanking most of the cases.
Here's a clip that explains the deal:
When LAUSD said it would cut its ties with Wyatt, it said it would maintain its relationship with his firm, Ivie, McNeill & Wyatt, which was representing the district in 18 cases.

On Tuesday, LAUSD spokesman Sean Rossall told KPCC that Wyatt had been counsel on all 18 cases. His firm will continue representing the school district in four of the cases, but Wyatt will no longer be handling them, Rossall explained. The remaining 14 cases "are being reassigned to other firms," he said.

There has also been fallout in Sacramento from KPCC's report. State Senator Ted Gaines (R-Roseville) said that he intends to introduce legislation to ensure that lawyers will not be able to argue in civil cases that a minor is mature enough to consent to sex with an adult.
Let us hope that such sensible legislation will pass.
---
DR. NADINE BURKE HARRIS ADVISES SCHOOLS DEALING WITH STUDENTS & CHILDHOOD TRAUMA: "DON'T MAKE THINGS WORSE."
Dr. Nadine Burke Harris, the San Francisco pediatrician and researcher who has become a national expert on the effect of "adverse childhood experiences"—or ACEs—on a kid's future health and behavior, spoke last week at the Colorado Children's Campaign. Prior to the event, Burke Harris was interviewed by Ann Schimke at Chalkbeat Colorado about kids and toxic stress and how schools can unintentionally make things worse.
(WitnessLA wrote about Burke Harris and childhood trauma here.)
Here's a clip from the conversation:
…First of all, the canary in the coal mine is behavior and learning issues. One of the things we know is that kids who are exposed to high doses of adversity are much more likely to have problems with impulse control, are much more likely to have difficulty with recovery post-provocation, more likely to have difficulty with attention, and sometimes going so far as having learning difficulties.

For the study that was published by myself and a colleague, our kids who had four or more adverse childhood experiences, they were twice as likely to be overweight or obese. We also see recent data out of California…if you have an ACE score of four or more you have twice the lifetime risk of asthma.

What role should schools play or are they already playing in dealing with this issue in a proactive way?

The first really important role that schools have is not making things worse. I know that sounds awful, but really understanding that punitive school discipline policies do not reflect an understanding of the science of how adversity affects the developing brain. I think it's really important for schools to respond thoughtfully.

The hours that a child spends in school are really an opportunity for establishing safe and healthy relationships, which can also be profoundly positive in terms of coming up with solutions to the issue of adverse childhood experiences and toxic stress.

One of the big things is just thinking about ways to establish a safe and healthy school climate that's not punitive, and informing some of those policies with the emerging science and research around ACES and toxic stress.

How are schools doing in addressing this issue and creating a safe and healthy environment ?

There are certainly some schools that are models…One of the things we see that makes a world of difference in the school environment is having a school leader who recognizes adverse childhood experiences and toxic stress as a major issue that affects educational attainment and is willing to … take that on. I think that has everything to do with the leadership.

---
LAPD BRACES FOR DEMONSTRATIONS AFTER FERGUSON GRAND JURY ANNOUNCEMENT
Calls have already gone out for a peaceful rally at Leimert Park (Crenshaw and Vernon) following the Missouri grand jury announcement expected later this month regarding whether or not Ferguson police officer Darren Wilson will be indicted in the controversial shooting of black teenager Michael Brown.
Like law enforcement agencies all over the country, the Los Angeles Police Department is preparing for reactions to the grand jury's decision, but Chief Charlie Beck also expressed hope that recent meetings by department members with LA's most affected communities will aide in keeping the city calm.
The LA Times' Kate Mather has more on the story. Here's a clip:
Police departments nationwide are bracing for the grand jury's decision — expected by the end of the month — in the killing of Michael Brown by a white police officer. The August shooting in Ferguson, Mo., sparked protests nationwide along with criticism of police.

Beck told the city's Police Commission that his department is "working very closely" with authorities in Missouri and hoped to get "some advance notice of the decision and the announcement."

"This is an issue that we're all concerned with," he said.

The LAPD has also stepped up community outreach in anticipation of the decision, Beck said, and is prepared to deploy extra patrols when it comes.

"We will facilitate lawful demonstrations, just as we always do," he told reporters after the meeting. "But we will not, and cannot, condone violence or vandalism. We want to help people to express their opinions, but we want them to do it lawfully."

Beck stressed his hope that the outreach efforts would help quell potential violence in Los Angeles.

"I believe that the relationships with the Los Angeles Police Department and the communities that are most concerned is very strong," the chief said.