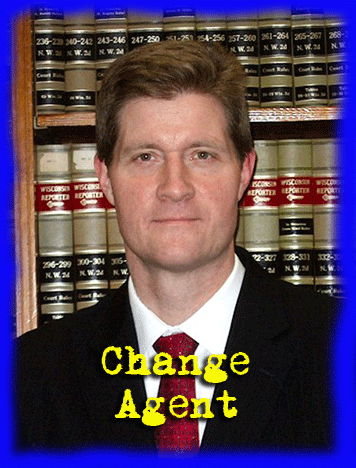 ONE UNUSUAL MILWAUKEE PROSECUTOR TAKES ON THE MASS INCARCERATION PROBLEM
As a nation, we incarcerate too many people. In terms of cost/benefit, this over incarceration is not good for us, socially, fiscally, or ultimately in terms of public safety.
Fortunately, calling over incarceration for what it is has ceased to be an idea embraced solely by reformist liberals. In the post-2008 period in which states and counties faced drastic budget shrinkages, the expanding price tags of our bloated jails and prisons got the attention of an increasing number of conservatives, who began joining hands with progressives to try to find some way out of the whole ghastly mess.
Now there are the Right on Crime people out of Texas who wrote Op Eds for California newspapers supporting the initiative that reformed the state's too rigid Three Strikes law and, a few years later, did the same to get Prop. 47 passed. More recently, the Koch brothers have joined forces on sentencing reform with the likes of the ACLU. Senators Corey Booker and Rand Paul are cosponsoring several bills aimed at criminal justice reform. And so on.
At the same time, the idea that people of color, and black people most of all, have paid a disproportionately high price in the crack down on crime that has occurred over the last three decades, is a topic that has finally—thankfully—begun to reach the main stream.
Matters have been helped by the work of brilliant, impassioned and media savvy academics like University of Ohio law professor Michelle Alexander, whose 2010 book, The New Jim Crow: Mass Incarceration in the Age of Colorblindness, became that year's must read in criminal justice circles and beyond.
Four years later, star civil rights lawyer Bryan Stevenson's book Just Mercy: A story of justice and Redemption, about the terrible injustices regularly wrought the American justice system, landed on a string of 2014 "best books of the year" lists, meaning its emotionally devastating message was absorbed by a wide variety of readers. Plus there was Stevenson's TED talk, "We need to talk about an injustice," with its more than 2 million views.
Yet, despite the overdue but welcome shifts in attitude, we still lock up too many people, and we still do so with what appears to be a disturbing racial bias—conscious or not.
That is where where this New Yorker profile of Milwaukee County District Attorney John Chisholm comes in. Written by the magazine's staff writer and legal analyst, Jeffrey Toobin, the story titled "The Milwaukee Experiment" which appears in next week's issue, suggests that it may be local prosecutors—more than even cops, judges and/or law makers—who likely hold one of the primary keys to precipitating the kind of change that our justice system so urgently needs.
Here are some clips from Toobin's story about Chisholm:
Like many people in the criminal-justice system, John Chisholm, the District Attorney in Milwaukee County, has been concerned for a long time about the racial imbalance in American prisons. The issue is especially salient in Wisconsin, where African-Americans constitute only six per cent of the population but thirty-seven per cent of those in state prison. According to a study from the University of Wisconsin-Milwaukee, as of 2010 thirteen per cent of the state's African-American men of working age were behind bars—nearly double the national average, of 6.7 per cent. The figures were especially stark for Milwaukee County, where more than half of African-American men in their thirties had served time in state prison. How, Chisholm wondered, did the work of his own office contribute to these numbers? Could a D.A. do anything to change them?

The recent spate of deaths of unarmed African-Americans at the hands of police officers has brought renewed attention to racial inequality in criminal justice, but in the U.S. legal system prosecutors may wield even more power than cops. Prosecutors decide whether to bring a case or drop charges against a defendant; charge a misdemeanor or a felony; demand a prison sentence or accept probation. Most cases are resolved through plea bargains, where prosecutors, not judges, negotiate whether and for how long a defendant goes to prison. And prosecutors make these judgments almost entirely outside public scrutiny.

Chisholm decided to let independent researchers examine how he used his prosecutorial discretion. In 2007, when he took office, the Vera Institute of Justice, a research and policy group based in New York City, had just begun studying the racial implications of the work of the Milwaukee County District Attorney's office. Over several years, Chisholm allowed the researchers to question his staff members and look at their files. The conclusions were disturbing. According to the Vera study, prosecutors in Milwaukee declined to prosecute forty-one per cent of whites arrested for possession of drug paraphernalia, compared with twenty-seven per cent of blacks; in cases involving prostitution, black female defendants were likelier to be charged than white defendants; in cases that involved resisting or obstructing an officer, most of the defendants charged were black (seventy-seven per cent), male (seventy-nine per cent), and already in custody (eighty per cent of blacks versus sixty-six per cent of whites).

Chisholm decided that his office would undertake initiatives to try to send fewer people to prison while maintaining public safety. "For a long time, prosecutors have defined themselves through conviction rates and winning the big cases with the big sentences," Nicholas Turner, the president of the Vera Institute, told me. "But the evidence is certainly tipping that the attainment of safety and justice requires more than just putting people in prison for a long time. Prosecutors have to redefine their proper role in a new era. Chisholm stuck his neck out there and started saying that prosecutors should also be judged by their success in reducing mass incarceration and achieving racial equality."
So what, then, did Chisholm do? And how did he do it?
First of all, he stationed prosecutors in neighborhoods around Milwaukee. Then he instructed those prosectors to do more than simply process the cases brought to them by law enforcement.
He and his team started asking themselves in every instance why they were bringing that case. "In those that were seen as minor, it was the least experienced people who were deciding whether to bring them. And these people saw that we had generally brought those cases in the past, so they went ahead with them again. But we started to ask, 'Why are we charging these people with crimes at all?' "
And then he and members of his office devised a remarkably smart assessment tool that everyone used with potential defendants. Here's the deal.
The most significant innovation in Chisholm's overhaul of the office involves an "early intervention" program, which begins after a defendant is arrested but before arraignment. Each defendant is given an eight-question assessment, which can be conducted in about fifteen minutes and is compared to the information on the rap sheet and in the police report. The questions include: "Two or more prior adult convictions?" "Arrested under age sixteen?" "Currently unemployed?" "Some criminal friends?" A low score can lead to an offer of "diversion"—a kind of unofficial probation that, if successfully completed, leaves the individual without a criminal record. A high score leads to a second, more detailed, fifty-four-question assessment. The questions include: "Ever walked away/escaped from a halfway house?" "Were you ever suspended or expelled from school?" "Does your financial situation contribute to your stress?" "Tell me the best thing about your supervisor/teacher." Results of the assessment may also lead to diversion or may lead to a more intensive kind of post-arrest supervision, known as deferred prosecution. People in this group will maintain a criminal record of an arrest but may have their charges reduced or dismissed. To participate in these incarceration alternatives, a defendant must commit to completing drug-treatment or other educational programs that are approved by Chisholm's office.
In other words, Chisolm and his team viewed those who landed in the second group as having a higher risk of reoffending because, for whatever reason, their needs were more complicated, thus they required greater help and supervision, if they were going to stay out of jail or prison in the future. And the team acted accordingly.
"The whole program is designed to reduce the number of people we are putting in jail or prison, but to do it in a smart, accountable way," Jeffrey Altenburg, a deputy district attorney, who oversees the early-intervention program, told me. "It's to get people back on track, based on their risk and their need." Every week, Altenburg, an eighteen-year veteran of the D.A.'s office, conducts a series of informal meetings with people in the diversion and deferred-prosecution programs who are in danger of being thrown out and returned to the traditional criminal-justice system.
There's lots more to the story, of course. And, while Chisholm has a growing crowd of fans and admirers, he also has a some angry detractors, some of them in high places. In any case, it's a story well worth your time, so read on.
---
---
AND IN OTHER NEWS…..STATE LAWMAKERS CHANGE COLLECTIVE MINDS ON CHANGING PROP. 47
After the passage of Prop. 47, which was opposed by various law enforcement groups and others who were conservative on the issue of crime and punishment, those same groups pushed legislators hard to introduce bills that would weaken the proposition. But now that we are months into the legislative year, Prop. 47 has had time to go into action; its initial positive effects have been observed, and the sky has not fallen. As a consequence, lawmakers have actively backed away from the so-called "fixes." Thus, at present, all but 2 of the 9 proposed bills have been watered down to the degree that they are no longer a threat to the new law, or they are permanent stalled, or both.
The two that remain—AB150 and SB452—would both make stealing a gun a felony in all cases. If they pass in their current form, and are signed by Jerry Brown, they would require voter approval in 2016 to go into effect. However, they are not seen as problematic by Prop. 47 supporters, should they indeed become law.
Here's more on the story by KQED's Marisa Lagos.
"None of the legislative discussions occurring around Proposition 47 have the potential to undermine the initiative," said Lenore Anderson, who co-authored the measure, chaired the ballot campaign and directs Californians for Safety and Justice, a progressive policy group.

She said supporters aren't surprised the Legislature is looking at these issues, and that most of the bills aren't going to substantively change what Prop. 47 is aiming to achieve: a criminal justice system that focuses on locking up only serious offenders, like those convicted of violent crimes, and not people addicted to drugs who commit petty crimes.

The measure was retroactive, allowing people in prisons or jails to ask for reduced sentences as well as people with past convictions who are no longer incarcerated. So far, more than 115,000 people have filed petitions asking courts to reduce their sentences from felonies to misdemeanors, according to the Judicial Council of California. And more than 3,200 have been released from state prisons.
---
LA SUPERVISORS APPROVE $450,00 SETTLEMENT TO FATHER OF 2-YEAR-OLD BEATEN TO DEATH DESPITE MULTIPLE CALLS TO DCFS
Truthfully, $450K doesn't seem like enough. In any case, the LA Times' Garrett Therolf has the very painful story about the settlement after the little boy was found dead in his bed with more than 50 bruises mottling his small body, his intestines and liver lacerated
Here's a clip:
According to the suit, Medina's investigation began in late January 2011, when someone called the child abuse hotline to say that Gabriel and his two siblings were in danger because Vega lived with them and was violent and out of control. He had punched a neighbor in the presence of the children, the anonymous caller said.

The caller also asserted that Vega, who had a violent criminal record, was engaged in domestic violence against the mother, had gang affiliations and that there was drug use in the home, the suit alleged.

The suit also alleged that Medina went to the home on the day of the anonymous call, but over his ensuing visits, he believed Gabriel's mother when she lied by saying that Vega no longer lived in the home — even though his clothes were still there and the children said they saw him often.

By the time Medina closed the case, other hotline calls had also been received about the family, according to the suit. Medina's final report falsely stated that Vega was not in the home and that the mother did not have a drug problem, even though he received a positive test for marijuana for her days earlier, the suit said.

When the boy died days later, the coroner determined that some of his serious injuries had occurred weeks before, the suit said.
Therolf also reported that, in fighting the settlement, the county spend $230,00 in legal fees.
Oh, yes, and the social worker who handled the case kept his job.
---