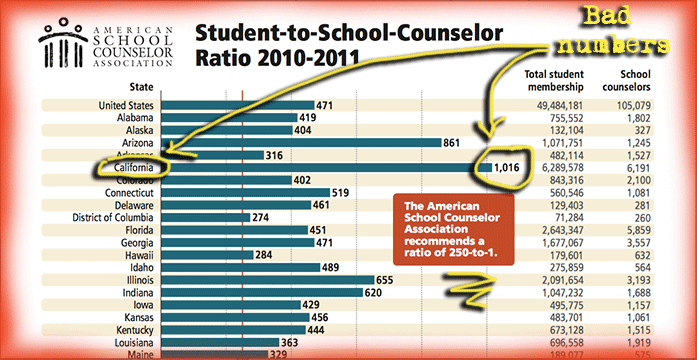 CALIFORNIA HAS THE NATION'S WORST STUDENT-TO-COUNSELOR RATIO & IT'S KEEPING KIDS FROM GRADUATING
Many of California's school counselors have so many students on their caseloads that even the best-meaning of them can't possibly give most kids the help and time they need. As a consequence, students often land in the wrong classes and thus amass enough school credits to graduate and head toward college, but not the right credits—for either.
This is especially true in the state's poorer communities, where kids move around or miss days of school due to foster care placements, family instability, brushes with the juvenile justice system, and other barriers to an uninterrupted school year, making the need for a counselor's attention all the more crucial.
Brenda Iasevoli writing for the Hechinger Report has the story. Here's a clip:
Jose Salas was in his freshman year of high school when his mother kicked him out because he was gay. He bounced from one friend's house to another, and to a new high school each year: Hawthorne High in South Los Angeles, Edison High in Fresno, Morningside High in Inglewood. Somehow he stayed on track to graduate. Then, in his senior year, something went wrong.

The high school where he enrolled, Hillcrest Continuation School in Inglewood, placed him in remedial classes usually assigned to students learning English. He took and passed 35 credits worth in the fall semester before dropping out. Any guidance counselor looking at his transcripts would have seen that Salas had passed Advanced Placement English as an 11th grader and didn't need these classes.

"I have no idea why they placed him in that set of classes," says Nicole Patch, Salas's counselor at YouthBuild Charter School of California, where in 2013 he earned his high school diploma at the age of 22 after working as a taxi dispatcher and in a fast-food restaurant. "This is a kid who had the skills. The work was being done. The school should have placed him in government and other courses he actually needed."

Salas's story is common, especially in school districts with too few guidance counselors to keep track of the large numbers of poor, transient students who move from school to school and across districts. California ranks worst in the nation when it comes to providing guidance counselors, according to the U.S. Department of Education. The American School Counselor Association recommends a student-to-counselor ratio of 250 to 1. In California, the ratio was 1,016 to 1 for the 2010-2011 school year, the latest for which data is available.

By the time Salas graduated, he had 268.5 credits. He only needed 200 to graduate. All told, the credits mix-up cost him two semesters of high school, according to Patch, since California high schools typically offer 30 credits per semester. Salas said he trusted his counselors to place him in the classes he needed. "It is frustrating that things don't work that way," he says.
---
LOS ANGELES COUNTY SHERIFF'S DEPARTMENT INSPECTOR GENERAL SAYS LASD NOT TRANSPARENT, SHERIFF MCDONNELL SAYS HE AIMS TO RELEASE USE-OF-FORCE DATA & LOTS MORE ONLINE
In report that came out Friday, LASD Inspector General Max Huntsman said that the LA county Sheriff's Department is far less transparent than many other major law enforcement agencies when it comes to officer-involved-shootings, community members' complaints, and deputy disciplinary proceedings.
Shortly after Huntsman issued his report, Sheriff Jim McDonnell announced that he intended to make sweeping changes. Here's what KPCC's Andrea Gardiner reported:
McDonnell responded immediately after the OIG report was made public, saying his department would distribute the data online, so the public can access it. The data will include the number and nature of officer-involved shootings, use-of-force claims, citizen complaints, and officer conduct that results in discipline. It will not name the officers.
McDonnell also appeared on ABC-7's Newsmakers show with Adrienne Alpert on Sunday morning and talked further about the need for transparency. (Sadly Newsmakers isn't archived online.)
On Monday, the LA Times editorial board wrote about the necessity for such transparency sooner rather than later.
Here's a clip from the editorial:
First, the bad news, as laid out in a report by Los Angeles County Inspector General Max Huntsman and reported Friday in The Times: The Sheriff's Department does a poor job of informing the public about shootings and discipline. That would be a big deal in any event, but especially at this moment in history, when law enforcement agencies nationwide are coming under renewed scrutiny, and properly so, for use of deadly force and poor access to data about it.

Huntsman's findings aren't particularly surprising, of course. The basic narrative of the Sheriff's Department over the last five years has been a succession of jail beatings by deputies and, when the public asks questions, such hostile and arrogant responses as to strain even the best relationships the department has with the communities it serves.

But his analysis was particularly useful in that it compared the department with its law enforcement counterparts in California — including the California Highway Patrol, the San Diego County Sheriff's Department and the Los Angeles Police Department — and the largest police departments elsewhere in the country.

Almost everybody does better at making data on the use of force, complaints and discipline easily accessible to the public, either directly or through independent review boards. Even New York City, with its long history of tension between the department and the public, displays data about police shootings on its website: how many, where, against whom.

Some jurisdictions go further. Dallas, for example, posts it all on an Officer Involved Shooting Web page. What do we really want to know? Whom did the police shoot? Was the victim armed or unarmed? Of what race, gender and age? In what neighborhood? It's all there, in one place — as it should be…
---
DO DUAL STATUS KIDS HAVE TO BE DOUBLE-SLAMMED BY THE SYSTEM?
"Duel Status Youth" is the term for kids whose actions and/or circumstances bring them contact with both the child welfare system and the juvenile justice system. In theory, the intention is for such kids to get twice the help because of their two-for-one contact with government systems.
Sadly, however, the opposite has turned out to be true. Instead of getting double the help, dual status youth seem, almost inevitably, to be exposed to twice the harm.
Put another way, if outcomes are often bleak, statistically speaking, for kids in foster care, they are generally far worse for youth who also manage to land in the juvenile justice system, which many foster care kids do for actions as minor as running away.
Child advocates have been pointing for a long time to this disturbing double jeopardy pattern of duel status youth, but with little success.
Part of the problem seems to be that, in most U.S. counties, the juvenile justice and foster care systems don't coordinate with each other. (This is one of the issues pointed out by LA County's Blue Ribbon Commission.)
Now, however, the Robert F. Kennedy National Resource Center for Juvenile Justice, together with the Robert F. Kennedy Children's Action Corps, has taken a deep look at the dual status youth crisis and is helping four U.S. counties create a different model for dealing with double-jeopardy youth in order to reroute those kids' futures in a healthy direction.
One of those municipalities working with the RFK people is Santa Clara County, California.
Gary Gately reporting for the Juvenile Justice Information Exchange takes a look at the overall problem—and at some of the solutions.
Here are some clips from Gately's story:
She was born to an incarcerated mother. She was repeatedly abused by relatives with whom she spent much of her early life.

By the time she turned 10, she had been sexually abused by an older brother, a pimp, who forced her into prostitution.

She didn't last long at foster homes and ended up living in group homes in the Northern California area. She ran away from placements dozens of times and continued prostituting herself.

Perhaps not surprisingly, Alicia — whose real name is being withheld to conceal her identity — repeatedly landed in juvenile detention on solicitation or related charges.

But for most of her young life, the people responsible for helping her — in the juvenile justice and child welfare systems — hardly spoke to one another, much less coordinated services, because of the longstanding gulf between the two systems.

Alicia, now 18 and expected to be in jail through mid-January on prostitution and robbery charges, could be a poster child for kids known as "dual-status youth" — those involved in both the child welfare and juvenile justice systems.

Their cases typically present enormous challenges: Many of the children are chronic runaways who have suffered from severe physical or emotional abuse, neglect and abandonment. And they typically come from troubled homes often beset by domestic violence, substance abuse and mental illness.

It's hard to say how many children become entangled in both the juvenile justice and child welfare systems, partly because of the historical bureaucratic divides between the two systems.

Juvenile courts in the United States handled an estimated 1.2 million cases in which the youth was charged with a delinquency offense during 2011, according to the Pittsburgh-based, nonprofit National Center for Juvenile Justice, which collects and reports on juvenile court activity for the federal Office of Juvenile Justice and Delinquency Prevention. And the federal Children's Bureau reported 3.8 million children in 2012 were the subjects of at least one report of abuse and neglect; for 686,000 children the maltreatment was substantiated.

Conservatively, tens of thousands of children a year are simultaneously involved in both the juvenile justice and child welfare systems. (Depending on the locale, these children are known by such terms as crossover, dual-jacketed, dual-involvement, dual-status supervision or dual-jurisdiction youths.)
---
NEWTON COUNTY, GEORGIA TRIES A DIFFERENT PLAN
Virginia Lynn Anderson, also writing for the JJIE, reports on what Newton County, Georgia-–another one of the RFK sites—is doing to keep dual status youth out of detention and to instead get them and their families the help they need to start to turn their lives around.
The first step, Newton found, is simply to start tracking whether or not a kid was dually involved. Astonishingly, Newton—like many counties—hadn't previously managed to find out if a kid was in both systems.
Here's a clip from Anderson's story:
On a bright, fall day — the kind of day that kids love to be outdoors in, riding a bike, playing ball — a 15-year-old walked into a juvenile courtroom in Newton County for a hearing, wearing a dark blue jumpsuit, handcuffs and a look of fear on his face.

He had been picked up for riding a bicycle under the influence in next-door Rockdale County a day or two before and placed in detention.

Had Judge Lisa Mantz not known about the teen's home difficulties, she might have sent him back to his foster mother's home.

He's faced some very hard obstacles. His father is in prison. His mother is absent for unknown reasons, and he hasn't seen her in years.

Because Mantz and the Newton County juvenile justice team make it a matter of protocol to find out whether a youth has been in protective custody or has an open case with the Department of Family and Children's Services (DFACS), Mantz knew in this case not to send the boy home.

"The foster mom has a meth problem," Mantz explained after a wrenching hearing. "He wouldn't be safe going back into that environment."

Newton County is one of four sites in the nation chosen by the Robert F. Kennedy Children's Action Corps to serve as a demonstration project — to show how the juvenile justice court can work with DFCS, other children-serving agencies and the community to identify dual status youth and get them the help they need.

While this young person's case resulted in his being kept in detention, the collaborative efforts of the Newton County Juvenile Court and DFACS play out in different ways in different cases. The goal is to keep dual status youth out of detention and to instead get them and their families the help they need to stay out of detention.

Using an initiative that recognizes that most juvenile offenders are dually involved in the child welfare system, Newton County is changing its strategy for working with youth in the juvenile justice system.

Previously, the county might have looked at a youth's juvenile record without ever examining his or her involvement in the child welfare system. Now the county's first step is to learn whether a young person has an open file with the Department of Family and Children Services. A separate intake form is created, and, within three days, DFCS returns information to the court that shows whether a youth is dually involved.
Read the rest. While the change is heartening, the fact that nobody in Newton bothered to track dual involvement until 2013…is not.