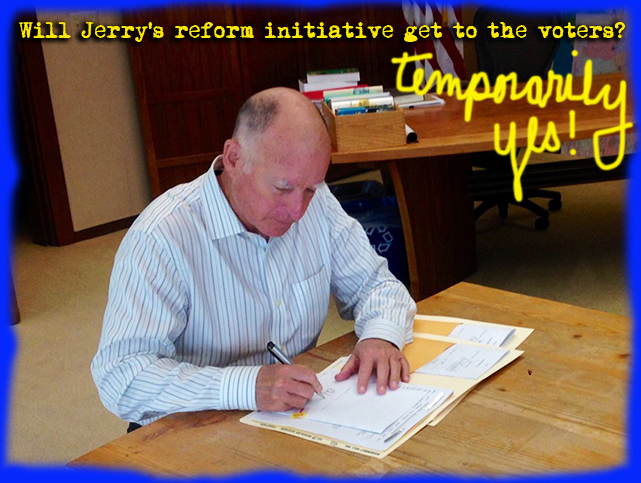 On Friday evening, the California Supreme Court cleared the road of obstacles—at least for the moment—allowing Gov. Jerry Brown to proceed in gathering signatures for his ballot initiative that proposes reduce
The high court, originally planned to consider the matter on Monday, but instead acted Friday after Brown warned that further delay could make it difficult to get the necessary 585,000 voter signatures needed to put his initiative on this year's ballot.
On Thursday of last week, Governor Jerry Brown and his attorneys filed an emergency petition with the California Supreme Court requesting an immediate stay of a ruling issued by a lower court judge that could keep the governor's new sentencing reform ballot issue out of the voters' hands until 2018.
The came after, on Wednesday of last week, Sacramento County Superior Court Judge Shelleyanne Chang blocked Governor Jerry Brown's proposed ballot initiative, known as "The Justice and Rehabilitation Act," ruling amendments to the initiative were not done correctly.
This is the ballot initiative that would take the decision about whether a child defendant will transferred to adult court away from prosecutors, and put it back into the control of judges who—unlike prosecutors—are presumably neutral parties.
The initiative also makes it easier for adult offenders to earn credits awarded by prison officials through educational and rehabilitative efforts and good behavior.
In addition, Brown's initiative would allow non-violent inmates to be eligible for parole after they have completed their full sentence for their primary offense.
Brown characterized this second part of the proposed ballot measure as more than a way to lower the state's prison population (as demanded by the U.S. Supreme Court in it's 2010 Plata v. Brown ruling), but also a much needed strategy to make the state's prison system more rehabilitative.
"By allowing parole consideration if they do good things," the governor told reporters in a conference call at the end of January, "they [prisoners] will then have an incentive…to show those who will be judging whether or not they're ready to go back into society."
Although various law enforcement figures across the state agreed and came out in support of Brown's initiative, the California District Attorney's Association was not at all pleased to have yanked from them the power to have teenagers as young as 14-years old tried as adults.
In an effort to defeat measure before it ever got to the ballot, the CAL DAs who brought the lawsuit that resulted in the lower court's block.
Friday's CAL Supreme ruling is only a temporary victory, however, allowing Brown and Co. to gather signatures while the court considers the whether or not Brown and company and Attorney General Kamala Harris followed the law.
For details of the legal argument, check our earlier story on the lower court ruling, and Brown's lawyer's emergency petition to the California Supreme court.