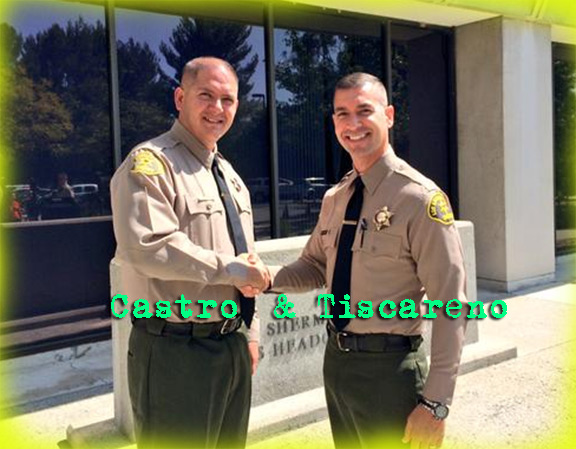 LASD DEPUTY FINDS HE IS COMPATIBLE TO DONATE PARTIAL LIVER TO HIS DYING TWIN TOWERS PARTNER
On Thursday, LA County Sheriff's Deputy Javier Tiscareno will donate part of his liver to save the life of his deputy partner, Jorge Castro, whose own liver is failing.
After numerous unsuccessful treatments, and learning that none of his family members were a match for a liver transplant, Castro was placed on a waiting list.
California is not an ideal place to live if you need a liver transplant. Once you're on the UNOS (United Network for Organ Sharing) waiting list, the wait in the golden state is commonly 12-36 months. (With this in mind, Apple founder Steve Jobs got on the list in Tennessee, instead of California.)
When Castro, told his partner about his health issues, Tiscareno decided to get tested for liver donation. The two deputies were a match.
At a press conference outside Twin Towers jail, where both men are correctional officers, Tiscareno said, "He told me he would be dead by the end of the year. That was unacceptable to me."
A partial liver transplant is considered a relatively safe procedure for the donor, but it is still a major surgery, and complications do sometimes occur. Tiscareno said, regarding his decision, "I'm not going to a funeral knowing I could have helped."
---
OP-ED: FED PROSECUTORS MANIPULATING A 45-YEAR-OLD STATUTE TO FORCE LOW-LEVEL DRUG OFFENDERS TO TAKE UNFAIR PLEA DEALS
Enacted in 1970, statute "851″ was originally intended to give federal prosecutors the ability to seek double or more the usual sentences for serious drug dealers, while exempting those with lower-level drug charges from the sentencing "enhancement" that 851 provided.
But that's not how things turned out.
Mona Lynch, a professor of criminology, law, and society at UC Irvine, says federal prosecutors have severely misused 851, employing it, instead, as a tool to force low-level drug offenders to take plea deals.
By filing the 851 enhancement against defendants with prior convictions, prosecutors can turn what would normally be a 10-year mandatory minimum into life without parole in the most extreme cases.
Lynch says this weapon federal prosecutors use to coerce plea deals must be eliminated.
Here's a clip from Lynch's op-ed for the NY Times:
I have conducted in-depth qualitative research and interviews in four federal districts; in each, the 851 threat loomed for nearly everyone with the eligible prior record. In the words of one of my interviewees, "the 851 is the ultimate lever" used by prosecutors to force a guilty plea. And it almost always worked: Defendants were compelled to waive their rights and plead guilty to ensure that their sentences were not doubled, or worse.

What happens to the defendant who doesn't go along? The threat becomes a reality. Take the case of a former defendant whom I'll call Brandon.

Brandon may not have been squeaky clean when he landed in federal court on drug charges, but he certainly was no drug kingpin. A week or two before his arrest, he reignited a friendship with a high school classmate — I'll call him Frank — at the time a relatively large-scale crack dealer. After reconnecting, Brandon went for a drive with Frank and Frank's girlfriend on a single drug-supply run, something the couple did on a weekly basis.

On the way home, a state trooper pulled over Frank's car, searched it, retrieved the drugs and arrested them. Each was charged with conspiracy to distribute hundreds of grams of crack cocaine.

All three had prior drug convictions, so the 851 threat loomed. Frank and his girlfriend succumbed to the pressure and pleaded guilty. But Brandon had a strong case. By all accounts, including law enforcement's, he was neither Frank's partner nor involved in any continuing conspiracy with the couple.

So Brandon went to trial. And the prosecutor played her ace card, filing the 851 on the eve of trial. He was convicted. At sentencing, Frank received 20 years in prison and his girlfriend received probation. Brandon, who chose to exercise his right to trial, received a life sentence with no possibility of parole.

[SNIP]

Between 1992 and 2012, about 2,300 black men have been sentenced to life for federal drug convictions, 72 percent of whom had asserted their right to trial. While data cannot pinpoint the 851 as the trigger of those life sentences, it does indicate that 96 percent were subject to drug mandatory minimums at sentencing.
---
LEGAL EXPERT GIVES 40 REASONS WHY POOR AND MINORITY PEOPLE MAKE UP SUCH A LARGE PORTION OF THE US JAIL POPULATION
Bill Quigley, Director of the Law Clinic and the Gillis Long Poverty Law Center at Loyola University New Orleans and Associate Legal Director at the Center for Constitutional Rights, put together a noteworthy list of 40 reasons why jails across the US are full of racial minorities and poor people. Here's a clip:
One. It is not just about crime. Our jails and prisons have grown from holding about 500,000 people in 1980 to 2.2 million today. The fact is that crime rates have risen and fallen/a> independently of our growing incarceration rates.

Two. Police discriminate. The first step in putting people in jail starts with interactions between police and people. From the very beginning, Black and poor people are targeted by the police. Police departments have engaged in campaigns of stopping and frisking people who are walking, mostly poor people and people of color, without cause for decades. Recently New York City lost a federal civil rights challenge to their police stop and frisk practices by the Center for Constitutional Rights during which police stopped over 500,000 people annually without any indication that the people stopped had been involved in any crime at all. About 80 percent of those stops were of Black and Latinos who compromise 25 and 28 percent of N.Y.C.'s total population. Chicago police do the same thing stopping even more people also in a racially discriminatory way with 72 percent of the stops of Black people even though the city is 32 percent Black.

Three. Police traffic stops also racially target people in cars. Black drivers are 31 percent more likely to be pulled over than white drivers and Hispanic drivers are 23 percent more likely to be pulled over than white drivers. Connecticut, in an April 2015 report, on 620,000 traffic stops which revealed widespread racial profiling, particularly during daylight hours when the race of driver was more visible.

Four. Once stopped, Black and Hispanic motorists are more likely to be given tickets than white drivers stopped for the same offenses.

Five. Once stopped, Blacks and Latinos are also more likely to be searched. DOJ reports Black drivers at traffic stops were searched by police three times more often and Hispanic drivers two times more often than white drivers. A large research study in Kansas City found when police decided to pull over cars for investigatory stops, where officers look into the car's interior, ask probing questions and even search the car, the race of the driver was a clear indicator of who was going to be stopped: 28 percent of young Black males twenty five or younger were stopped in a year's time, versus white men who had 12 percent chance and white women only a seven percent chance. In fact, not until Black men reach 50 years old do their rate of police stops for this kind of treatment dip below those of white men twenty five and under.

Six. Traffic tickets are big business. And even if most people do not go directly to jail for traffic tickets, poor people are hit the worst by these ticket systems. As we saw with Ferguson where some of the towns in St. Louis receive 40 percent or more of their city revenues from traffic tickets, tickets are money makers for towns.