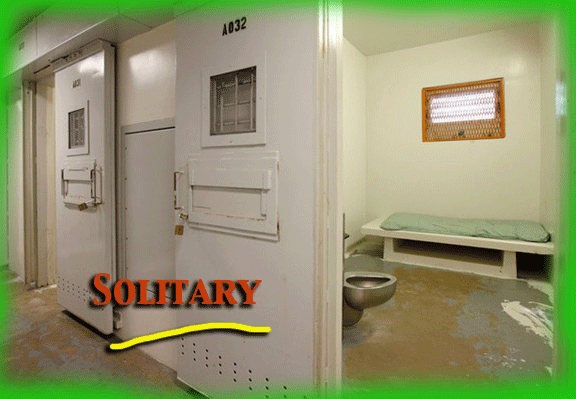 As more and more civil rights organizations and some lawmakers, push for a reexamination of prison policies that keep certain inmates in solitary confinement for years, even decades, in October the California Department of Corrections (CDCR) revised its own policies regarding what can land an inmate in the SHU—or Special Housing Unit—which is solitary confinement. Since then it has been slowly letting some SHU inmates back into the general population.
Critics say the the revised policy doesn't got nearly far enough.
Yet it's a start.
The LA Times Paige St. John has more on this story.
Here's a clip:
Department spokeswoman Terry Thornton this week said the agency has so far reviewed 144 inmates who were placed in the SHU because they allegedly associated with prison gangs, an activity that now no longer merits segregation. Of those reviewed, she said, 78 have been released into the general population and 52 have entered the "step down" program. An additional seven inmates have been retained in segregation, Thornton said, "for their safety," and the remaining 10 have agreed to debrief, the term the corrections department uses for providing prison investigators information on gang activity.

Thornton said the department intends to eventually review all SHU inmates for possible release, though there are about 1,200 in segregation at Pelican Bay State Prison alone, some held there more than 20 years.

The Center for Constitutional Rights has filed a federal lawsuit against the state contesting the indefinite stays, and Amnesty International last year released a report contending SHU conditions are inhumane.
---
GEORGE WILL WRITES ABOUT SOLITARY CONFINEMENT AS TORTURE
Conservative columnist George Will writes a strongly worded column about why solitary confinement qualifies as torture.
Here's how it opens:
"Zero Dark Thirty," a nominee for Sunday's Oscar for Best Picture, reignited debate about whether the waterboarding of terrorism suspects was torture. This practice, which ended in 2003, was used on only three suspects. Meanwhile, tens of thousands of American prison inmates are kept in protracted solitary confinement that arguably constitutes torture and probably violates the Eighth Amendment prohibition of "cruel and unusual punishments."

Noting that half of all prison suicides are committed by prisoners held in isolation, Sen. Richard Durbin (D-Ill.) has prompted an independent assessment of solitary confinement in federal prisons. State prisons are equally vulnerable to Eighth Amendment challenges concerning whether inmates are subjected to "substantial risk of serious harm."

America, with 5 percent of the world's population, has 25 percent of its prisoners. Mass incarceration, which means a perpetual crisis of prisoners re-entering society, has generated understanding of solitary confinement's consequences when used as a long-term condition for an estimated 25,000 inmates in federal and state "supermax" prisons — and perhaps 80,000 others in isolation sections within regular prisons. Clearly, solitary confinement involves much more than the isolation of incorrigibly violent individuals for the protection of other inmates or prison personnel.

Federal law on torture prohibits conduct "specifically intended to inflict severe physical or mental pain or suffering." And "severe" physical pain is not limited to "excruciating or agonizing" pain, or pain "equivalent in intensity to the pain accompanying serious physical injury, such as organ failure, impairment of bodily functions, or even death." The severe mental suffering from prolonged solitary confinement puts the confined at risk of brain impairment.

Supermax prisons isolate inmates from social contact. Often prisoners are in their cells, sometimes smaller than 8 by 12 feet, 23 hours a day, released only for a shower or exercise in a small fenced-in outdoor space. Isolation changes the way the brain works, often making individuals more impulsive, less able to control themselves. The mental pain of solitary confinement is crippling: Brain studies reveal durable impairments and abnormalities in individuals denied social interaction. Plainly put, prisoners often lose their minds.
I was happy to note that Will references "Hellhole," the excellent 2009 article New Yorker article by surgeon/writer Atul Gwande that explores whether or not solitary confinement is torture. (If you've not read it, I strongly, strongly recommend it.)
---
DENVER SCHOOLS LEAD NATION WITH SMART DISCIPLINE POLICIES
This article by Julianne Hing in Colorlines Magazine has the story. Here's how it opens:
Already home to one of the most progressive school discipline policies in the country, Denver has set out to best even its own record. On Tuesday, Denver Public Schools and local and county police departments inked a five-year agreement specifically designed to limit student interaction with the juvenile justice system. The agreement offers a rare example of a school system that is bucking the national trend toward criminalizing student misbehavior.

Just two months after the gun massacre at Sandy Hook Elementary School in Newton, Conn., and in a state that has had its share of mass shootings, the Denver pact comes at a pivotal point in the national debate on firearms and school security.

The school system had already articulated a commitment to minimizing police contact with its students. But because of a lingering zero-tolerance framework that required harsh and automatic penalties for student misbehavior, the 15 officers assigned to the city's schools were functioning as disciplinarians, meting out suspensions, expulsions and tickets for minor infractions like chewing gum, fighting in the schoolyard and exposing their tattoos.

The new agreement—the result of a collaboration between law enforcement, school officials and a Denver-based community organization called Padres y Jovenes Unidos—turns the concept of minimal police contact into an official, districtwide policy.

"This is a historic collaboration between a school district, a police department and an organization [that] represents parents and young people of color who are most impacted by these policies," said Judith Browne Dianis, co-director of the Advancement Project, a national civil rights group that partnered with Denver-based Padres y Jovenes Unidos to secure the agreement.

With the new agreement, police officers are now being directed to know and observe the difference between disciplinary issues and criminal acts. Law enforcement officials have agreed that they will only respond to serious offenses. The district will use restorative justice practices to address routine student misbehavior.

"It's not, 'You did something wrong, go home for five days and watch television,' " Denver Superintendent Tom Boasberg told the Washington Post. "It's, 'What did you do wrong? Who did you harm? How are you going to make them whole, and what are you learning from this?' "
---
SOCIAL TRENDS DRIVING GUN AND GANG VIOLENCE
The Atlantic's Ta-nehisi Coates has a very interesting discussion about trends in gun violence with the Chicago Crime Lab's Harold Pollack.
Here's a clip:
Like everyone, we at The Atlantic have spent the weeks since Newtown thinking about the role of guns in America. In our ongoing effort to broaden the conversation, I spent some time talking to Professor Harold Pollack, who co-directs the Crime Lab at the University of Chicago. Pollack is one of the foremost voices on gun violence from a public health perspective. Pollack and his colleagues at the Crime Lab have done yeoman's work in helping us understand how guns end up on the streets of cities like Chicago, and how precisely they tend to be used.

Ta-Nehisi Coates: Hi, Harold. Thanks so much for taking the time to join us over here at The Atlantic. We've had several off-line conversations which have been illuminating to me. I greatly appreciate your willingness to take some time to do this for the Horde, as we say on the blog.

Harold Pollack: It's great to correspond with you, Ta-Nehisi, regarding what can actually be done to reduce gun violence. I'm a big fan of your work. I should mention by way of self-introduction that I am a public health researcher at the University of Chicago School of Social Service Administration and co-director of the University of Chicago Crime Lab.

Here in Chicago, we have become the focus of much national attention because we had our 500th homicide [of the year in 2012]. We're sometimes called the nation's murder capital — though this mainly reflects the fact that we are a big city. We're more dangerous than L.A. or New York, but we're actually in the middle of the pack when it comes to homicide rates. Still, we're dangerous enough. The declining homicide rates in many prosperous and middle-class neighborhoods casts a harsh light on the high rates facing African-American (and to a lesser-extent) Latino young men on the city's south and west sides. Lots to talk about. I am looking forward to talking. So let's get to it.

I don't know if I've told you how I come to this issue, but I should say for everyone reading this that I am from Baltimore — the West Side, as we used to call it. I came of age in the late 1980s and early 90s, a period in which violence spiked in our cities. I don't know if Chicago today is as bad as it was in, say, 1988, but this was a period of deep fear for everyone in the black communities of Baltimore. And the fear was everywhere.

It changed how we addressed our parents. It changed how we addressed each other. It changed our music. The violence put rules in place that often look strange to the rest of the country. For instance, the mask of hyper-machismo and invulnerability — the ice-grill, as we used to say — looks strange, until you've lived in a place where that mask is the only power you have to effect a modicum of safety.

I'm in my late 40s. I was a typical suburban kid graduating high school outside New York. It wasn't as tough for me as it was on the west side of Baltimore, but crime certainly touched my life. On one occasion, I was in Washington Heights on my way to an AP class at Columbia University. A group of middle-school or early-high-school kids jumped me in the subway station, and they attempted to wrest away my watch. My high school sweetheart had just given it to me; I didn't want to give it up. So a kid grabbed me by the hair and smashed my head against the concrete floor until I finally relented. As you know, my cousin was beaten to death by two teenage house burglars a few years later.

So I remember very well both the fear and the anger that accompanies one's sense of physical vulnerability. Of course this anger often comes with a race/ethnic/class tinge that poisons so much of what we are trying to do in revitalizing urban America.