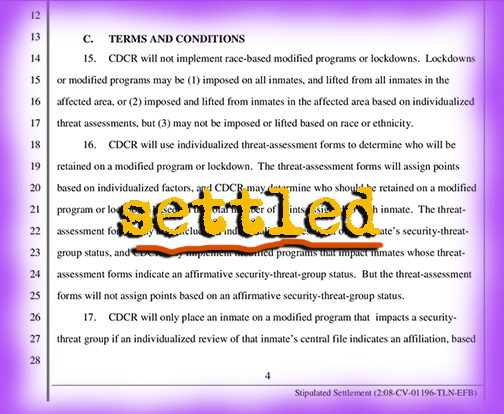 CDCR TO STOP LOCKING INMATES DOWN BASED UPON RACE, AND WILL ALLOW EXERCISE DURING LONG LOCKDOWNS
On Wednesday, the California Department of Corrections and Rehabilitation agreed to stop race-determined prisoner lockdowns, settling a 2008 lawsuit on behalf of male inmates.
The settlement says lockdowns will now apply to everyone "in the affected area" after a riot or violent incident, or will be conducted by assessing individual threat. The CDCR also agreed to give outdoor recreation time to inmates in the event of a lockdown lasting more than 14 days.
The LA Times' Paige St. John has the story. Here's how it opens:
When a group of prisoners attacked two guards at California's High Desert State Prison in 2006, the warden declared a full lockdown that confined African Americans in one wing of the prison to their cells, and kept them there for 14 months.

No outdoor exercise. No rehabilitation programs or prison jobs.

This week, California agreed to give up its unique use of race-based punishment as a tool to control violence in its crowded prisons. Corrections chief Jeffrey Beard and lawyers for inmates have settled a six-year-long civil rights lawsuit, filed in 2008, over the High Desert lockdown.

The case was eventually widened to cover all prisoners and lockdown practices that had become common statewide. The agreement now goes to a federal judge for expected approval.
---
ACLU SUES SAN BERNARDINO FOR CONFINING GAY AND TRANSGENDER PEOPLE, DENYING THEM AVAILABLE PROGRAMS
A new ACLU class action lawsuit filed Wednesday accuses San Bernardino County of refusing gay, bisexual, and transgender inmates education, work and rehabilitation programs to which other inmates have access. According to the suit, GBT inmates at West Valley Detention Center are locked in their cells for 22 hours per day, unable to participate available programs. Jail officials say GBT inmates are segregated for their protection, but the ACLU says there's no excuse for denying access to programs that may help inmates shave off lockup time or help them prepare for successfully returning to their communities.
Here's a clip from the ACLU's site:
The denials of education, work and rehabilitation are particularly galling, as participation in these programs can not only reduce the time they serve, but can also facilitate their integration back into society, reducing recidivism rates and the strain on our already overburdened criminal justice system.

Although in most instances WVDC staff have claimed that this harsh treatment is for their "protection," protective custody and equal protection are not mutually exclusive. Jails and prisons cannot justify discriminatory treatment of LGBT prisoners under the guise of keeping them "safe."

While there can be no doubt that LGBT prisoners are often vulnerable to harassment and assaults by other prisoners and many need protection, it is both possible and imperative that our correctional facilities ensure the safety of their charges while providing equal access to programs, privileges and facilities, as required by the Prison Rape Elimination Act and our constitutional guarantee of equal protection.

Jails are simply not Constitution-free zones.
For further reading, the San Bernardino Sun's Ryan Hagen has some good reporting on the alleged inequality (and harassment from deputies) faced by West Valley inmates.
---
FRANK LYGA FIRED FROM LAPD FOR CONTROVERSIAL COMMENTS
On Wednesday, LAPD Chief Charlie Beck signed paperwork to fire detective Frank Lyga, who was accused of making inappropriate and racist remarks during a department training session. (Backstory: here.) Lyga is reportedly considering appealing or filing a lawsuit.
ABC7's Elex Michaelson has the story. Here are some clips:
Ira Salzman, Lyga's attorney, confirmed on Wednesday that LAPD Chief Charlie Beck signed paperwork to fire Lyga, who had been on home duty with pay since June.

"We didn't get an opportunity to present our appeal," Salzman said, adding that the firing was unfair. "Horribly disappointed."

[SNIP]

In a letter to LAPD investigators, Lyga said he deeply regretted his poor judgment. He said there's no excuse for what he did, but he learned valuable lessons.

"By no means does Frank, to his everlasting credit, or I say it's OK what he said. It wasn't OK," Salzman said. "But that doesn't at all justify a termination over words."

Community activist Jasmyne Cannick, the blogger who first posted the recording online, disagreed with Salzman, saying in a statement, "Detective Frank Lyga wrote his own termination when he said what he said."
---
YEAR-TO-DATE LOS ANGELES JAILS USE-OF-FORCE STATISTICS
New LA County Sheriff's Department statistics show use-oF-force in county jails rose 11% so far this year. It's not yet clear that this number is significant. The numbers were reported to the LA County Board of Supervisors on Tuesday. According to LASD officials, the spike may be attributed to a number of things, including more thorough use-of-force reporting.
The jail that reported the highest percentage jump in use-of-force incidents, 40%, was at Castaic's North County Correctional Facility, while Twin Towers actually saw a reduction of 12% over last year's numbers. You can view the rest of the statistics here (on page five).
KPCC's Frank Stoltze has more on the numbers. Here are some clips:
The biggest increase occurred at North County Correctional Facility in Castaic, where Sheriff's deputies used force against inmates 65 times – a 40 percent increase compared to the same period last year. The jail holds about 3,900 inmates.

"I'm not sure if the actual use of force is up, or if we're doing a better job reporting it," said Assistant Sheriff Terri McDonald, who oversees the county's sprawling jail system. "But I'm concerned it's up."

[SNIP]

In all, deputies used force 512 times during the first nine months of the year. Most of the incidents — 352 — involved "control holds" or the use of chemical agents like Mace. Punches, kicks, the use of Tasers or batons, "and/or any use of force which results in an injury or lasting pain" accounted for 157 incidents.

Three incidents involved shootings, strikes to the head, "and/or any force which results in skeletal fractures and/or hospitalization."

In 53 cases, inmates accused deputies of using excessive force. The department determined 42 allegations were unfounded, ten remain under review, and one was determined to be true.