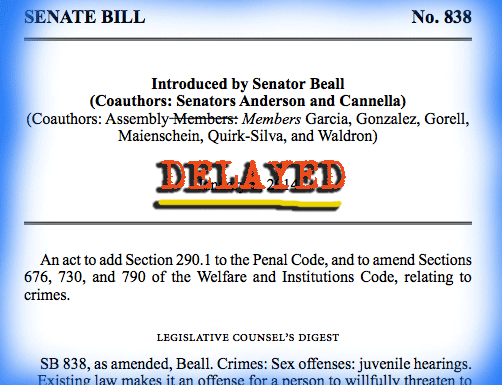 BILL TO CREATE MANDATORY MINIMUM SENTENCE FOR CERTAIN JUVENILE SEX OFFENSES DELAYED IN ASSEMBLY (AND WHY THIS BILL IS SUCH A TERRIBLE IDEA)
A California bill that would impose the first mandatory minimum sentences in the state's juvenile justice system, SB 838, has stalled in the Assembly Public Safety Committee. If passed, SB 838 would impose a two-year minimum out-of-home sentence on kids convicted of sexually assaulting someone who is unconscious or disabled.
The vote was delayed until next week in hopes of coming to a compromise after a number of Democratic Assemblymembers said they would oppose the bill.
The San Francisco Chronicle's Melody Gutierrez has more on the issue. Here's a clip:
SB838 would increase sentences to a two-years minimum at an out-of-home placement like juvenile hall, reduces confidentiality protections for juveniles accused of sex crimes involving unconscious or disabled victims and increases fines in cases when social media is used to share photos of the crime.

However, the bill has been met with significant opposition from juvenile justice advocates like the American Civil Liberties Union, California Alliance for Youth and Community Justice and the California Public Defenders Association. Many opponents said the mandatory minimum sentences create a "one-size fits all" model that emulates broken adult court sentencing laws.

"The mandatory minimum laws have been applied so broadly (in adult court) that it has driven up the prison population," said Patricia Lee of the San Francisco Public Defenders Office. "Now we are poised to apply the same failed experiment with children. I think this is a grave mistake."

The bill cleared the Senate unanimously, but faced a tough vote in the Assembly public safety committee on Tuesday. The Pott family's attorney, Robert Allard, said they were prepared for the bill to be defeated.

Many Democratic Assembly members said they could not support the bill because of the mandatory minimum requirements, prompting committee chair Tom Ammiano, D-San Francisco, to call for Audrie's Law to be brought back next week with amendments that could garner more broad support.
Jeff Adachi, the Public Defender of San Francisco, explains in an op-ed for the Huffington Post why SB 838 is an ill-conceived response to a tragic crime. Here's how it opens:
There is an old adage among judges: Hard cases make bad law. Often, when a terrible crime happens, there is a rush to pass a new criminal law to redress the tragedy. The case of Audrie Potts, the impetus for Senator Jim Beall's Senate Bill 838, is indeed tragic. But SB 838, which creates a mandatory minimum term of confinement that is unprecedented in California's juvenile justice system, is not the answer.

Mandatory minimum sentences are one-size-fits-all sentencing schemes common in adult criminal systems. Designed to prosecute kingpins and crime bosses, they are inherently punitive and intended to exact retribution for crimes committed by an adult. We know from science and from real life, however, that youth are different than adults, and are more amenable to treatment. As the U.S. Supreme Court stated, "[F]rom a moral standpoint it would be misguided to equate the failings of a minor with those of an adult, for a greater possibility exists that a minor's character deficiencies will be reformed."
(The op-ed was co-authored by Roger Chan, executive director of the East Bay Children's Law Offices.)
---
KIDS IN THE CHILD WELFARE SYSTEM MAY LOSE OUT ON MUCH-NEEDED STATE FUNDING FOR LEGAL REPRESENTATION
Millions of dollars earmarked for reducing caseloads in child dependency courts has been removed from the final draft of the state budget sent to Gov. Brown's desk. In Los Angeles alone, lawyers appointed to foster children are responsible for an average of 308 cases—nearly double the 188 case maximum, and quadruple the recommended 77 cases.
The Chronicle of Social Change's Jeremy Loudenback has the story. Here's a clip:
The California State Assembly and Senate had both signed off on a modest pot of money earmarked to help children's legal representatives reduce caseloads that have grown to more than 400 children per lawyer in some counties.

The state would have doled out $11 million in funding over the next year to help lower caseloads in child-welfare courts, followed by $22 million in the second year and $33 million in the third year.

However, that money vanished in the final version of the budget that was sent to the Gov. Jerry Brown (D) for approval on Sunday.

Negotiations over the budget will commence this week, and the San Francisco Chronicle is among the voices urging the governor and legislature to provide relief to lawyers that face sky-high caseloads and frequent turnover

According to Kendall Marlowe, executive director of the National Association of Counsel for Children, the situation in California is not unique. Though caseloads and support vary from state to state, funding for legal counsel for foster children across the nation is frequently threatened by the budgetary process and the perception of legal representation for foster youth as less important than other parts of the judicial system.

"As adults, we would never tolerate walking into our attorney's office and being told to wait behind 50 or 60 other people," Marlowe said. "That's what we're asking foster children to accept."
---
EDITORIAL: DEATH ROW INMATES DO NEED PSYCH HOSPITAL, BUT MORE THAN THAT, WHY THE DEATH PENALTY SHOULD BE ABOLISHED
Earlier this month, under pressure from a federal judge, California prison officials announced a planned 40-bed psychiatric hospital for San Quentin State Prison's death row inmates.
An LA Times editorial says it's welcome news that the dozens of men requiring round-the-clock psychiatric care will receive treatment. But, the editorial also says the move is an ironic one—that condemned men should have their serious mental illnesses treated, only to be put to death afterward.
Here are some clips:
Why is it welcome? According to a federal court-appointed mental health monitor, 37 of more than 720 condemned men on San Quentin's death row are so mentally ill that they require 24-hour inpatient care.

[SNIP]

Yet the ironies are also obvious in seeking to restore mentally ill death row prisoners to a minimal level of sanity in order to kill them. It may be legally necessary, because federal courts have ruled it unconstitutional to execute people who are unaware of what is happening to them, but it is a strange idea. As one death penalty expert observed, "It is a measure of American greatness and American silliness at the same time." Besides, how sane can a man be when he is always expecting to be executed (although the sentence may not actually be carried out for 20 or 25 years, if ever)? Whose psyche wouldn't suffer in such a house of horrors?

And so the absurdities roll on. California executions have been on hold since 2006 because the state has been unable to come up with a constitutional way to kill people. Those who would be best at it — doctors and nurses — usually refuse to take part in the system for moral reasons, and pharmaceutical companies often won't provide the killing drugs.

The death penalty is bad public policy and should be abolished. It is inconsistently applied, subject to manipulation and error, and morally wrong. For the state to kill a person as punishment for killing someone else is a macabre inversion of "do as I say, not as I do."