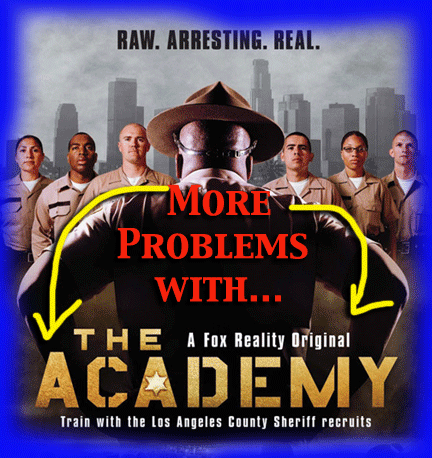 Much has been made about the fact that L.A. County Sheriff's Deputy Henry Marin, who is charged with smuggling a heroin-crammed burrito into a courthouse jail, may have been a less-than ideal prospect for the Sheriff Department—at least according to his bumbling and inattentive performance on the Fox reality show "The Academy." The show, which began airing in May 2007, followed two different classes of Sheriff's Department recruits through their training process. Marin, it turned out, did so badly he was cut from the first class of recruits after a televised failure to pay attention in a crucial exercise. Later Marin was given another chance—and was able to join the department. (The LA Times has more on Marin and his ill fated career as a reality star.)
His poor performance as an LASD recruit, combined with his recent arrest for alleged drug smuggling, has caused questions to be raised about the efficacy of the department's screening and training of young deputies who, right after graduation, are assigned custody duty in one of the the county's troubled jails.
The concern may be well founded. WitnessLA has learned that, in June and July of 2007, shortly after Marin was expelled from his training class, the state Commission on Peace Officers Standards & Training (POST), the agency that certifies law enforcement academies, visited the Sheriff's Academy to make its annual report—and it was a doozy.
What they found and documented in their confidential 29-page report (which was, at the time, obtained by the Daily News) was so alarming that, in May 2008, Sheriff Lee Baca took the unprecedented step of shutting down the training academy for a full month so that the department could address the problems.
Among the violations that POST inspectors documented, according to the Daily News story, were instances of instructors giving cadets the answers to test questions, and allowing cadets to take driving tests and other physical exams multiple times, until they could finally pass—all of which is strictly against state guidelines.
"Significant test security issues were identified during the certification review," the authors wrote. "In one instance, the (training officers) staff was reportedly directed to take a test into the classroom and give the answers to the students."

The report also said inspectors heard anecdotal reports about students who were not required to pass the physical-conditioning sessions and who failed firearms and driving tests and were retested multiple times.
Remember, it is these same poorly prepared cadets from the 2007-2008 classes who were funneled directly into guarding the jails, where they often received inadequate supervision. Worse, as WitnessLA has documented in Matt Fleischer's Dangerous Jails series, when strong supervisors attempted to step in and give the young deputies firm boundaries—or tried to sanction them when they misbehaved—force reports were neglected and reform-minded supervisors were asked by command staff to back off.