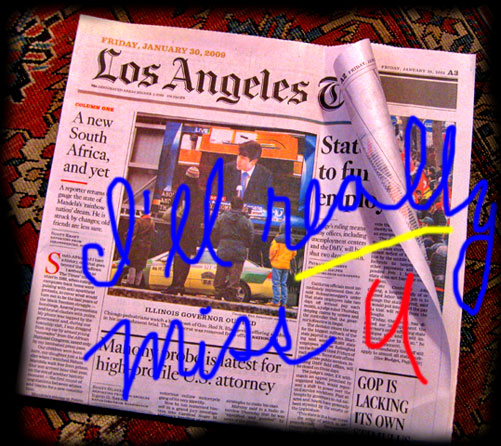 I've subscribed faithfully to the LA Times for over 30 years and, with great regret, I just this minute cancelled my subscription.
I thought about cancelling after the Times folded the Sunday Book Review and the Sunday Opinion into other sections of the paper, but I kept on paying for the daily print edition, even though I'd switched to online reading nearly exclusively a year or more before. I clung to the physical paper, mostly out of loyalty to my wonderful, soulful and very talented friends who still write and edit for the Times.
(Although, just how many of them will be left after the new round of 70 newsroom firings reportedly to come is another question altogether.)
Today's news, however, that publisher Eddy Hartenstein had chosen to yank the California section was simply the final straw. (For the details as to why the decision was made, see LA Observed's announcement from this morning. And here's what Patterico and the LA Weekly's Steven Mikulan had to say.)
To be honest, cancelling the newspaper felt terrible—like a relational break-up, which in a sense it was. But the Times was beginning to resemble an abusive boyfriend who is there for the sex, but then whacks you around with abandon because he doesn't really like or respect you.
Today it became clear to me that the paper's management neither liked nor respected me. Or you. Or your neighbors, if any of them are still subscribing.
My neighbors aren't. I was the last holdout on the street.
When I told Kevin, the very nice subscription services guy, why I was cancelling, he asked me if there was any deal they could make that would get me to reconsider. (When you cancel, like the suddenly apologetic and flower-bearing bad boyfriend, they ask you for a reason, then try to bribe you.)
"Put back the California section," I said.
"I have no confirmation that it's been cancelled…" Kevin began weakly.
"It has. Trust me."
Kevin didn't press it.
I told him that, given the Times' upper management's obvious disregard for the paper's readers, to keep subscribing after today would be "the moral equivalent of enabling a drug addict."
"I see," said Kevin. Then after a pause,"I'll convey your thoughts to the editors." There was fatigue in his voice. I guessed it had already been a long day.
I felt guilty for my drug addict remark, so I told Kevin I knew that there were many excellent people who worked for the Times, and that, no doubt, he was one of them.
"Thank you," he said. Again with the tired voice. After that, we rang off.
Listen: I more than understand the new and grim economic realities of the newspaper business. All papers are cutting. They have no other choice.
I met the art director of the Washington Post when I was in D.C. for the inauguration. When he introduced himself he said, "I work for a dying industry," and we had a mordant laugh about the state of the profession.
Still most papers, the WaPo included, are doing their best to cut with a scalpel, not an ax, whereas the Times has consistently chosen a wood ax as its tool of choice.
I was at the Annenberg School of Journalism all day yesterday. And, despite the bleak outlook for print journalism, the discussions in which I was involved were heartening for their innovative ideas and cautious optimism about the work of news gathering and journalism in general.
Unfortunately, although the paper is blessed with a hardworking and talented news staff, the LA Times/Tribune management seems to possess neither optimism—cautious or otherwise—nor a feel for anything resembling innovation (that awful Abrams man, most prominently included).
So I broke up with them.
Like most break-ups, it hurts. But, while painful—as is always the case—finally doing the honest thing is a relief.
Now, at least, I can respect myself in the morning.