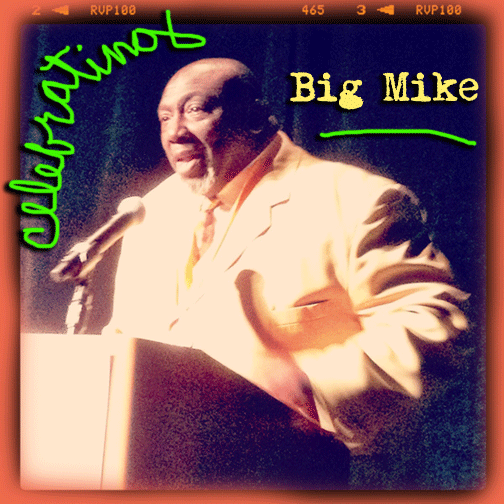 THE WELLNESS FOUNDATION CELEBRATES BIG MIKE
Last night, Michael "Big Mike" Cummings was one of the three winners of the California Wellness Foundation's 2012 Peace Prize, (and the only winner from So Cal).
A mountain of a man with a commanding presence, a grand heart, and excellent sartorial taste in (very large) suits, Big Mike is a former Grape Street Crip turned paster who now runs his own tow-truck service, and is the founder of such community projects as Project Fatherhood, a remarkable program in Watts where, together with my pal UCLA's Dr. Jorja Leap, he helps troubled men find themselves through becoming better fathers and, in so doing, help their communities.
Congratulations to the incomparable Big Mike Cummings.
[I'll be at the Wellness Foundation's Violence Prevention Conference all day Thursday, but will return with news and bulletins.)
---
LA WEEKLY CONTRASTS LA'S "TWO MUCH MR. NICE GUY" SHERIFF, LEE BACA, AND HIS "EVERYTHING TO WIN" SECOND IN COMMAND, PAUL TANAKA
The Weekly's Gene Maddeus has a long, must-read story on Sheriff Lee Baca and his Undersheriff Paul Tanaka. Here's a representative clip:
….The jails are just one symptom of a more general decline affecting the Los Angeles County Sheriff's Department. Discipline is lax. Revelations of cronyism are routine. Investigators and plaintiffs' lawyers are combing through every facet of the department's operations.

"It troubles me deeply to see the reputation of the department where it is now," says William T. Sams, a retired sheriff's chief. "It's a pariah in a lot of ways."

Two men bear the greatest responsibility for the department's low standing: Leroy D. Baca and his undersheriff, Paul Tanaka.

Baca is a nice guy. Even his critics tend to begin by saying, "I like the man." Now 70, he has always been quiet, introverted and a little strange. When he was first elected sheriff, in 1998, supporters hailed him as a Zen mastermind. He was overflowing with ideas about how to make policing more humane.

Detractors called him a social worker with a badge, or Sheriff Moonbeam. But progressives adored him, and so did voters. Scandals that would have scarred others' reputations glanced off him. He got another nickname: the Teflon Sheriff.

But Baca was beset by insecurities and self-doubt, which made it hard for him to see his own flaws clearly, much less confront them. He seemed to resolve his self-doubts by banishing them, closing himself off from anything that might disturb his sunny aura.

Early in Baca's tenure, his deputies learned not to express reservations about his ideas — no matter how impractical they were. Eventually, the doubters retired. "Lee has surrounded himself with people who are going to say yes to everything he says," Al Scaduto, a retired chief, says.

Tanaka has become his most trusted aide. In many ways the men are opposites. Tanaka is an accountant, good with details. He's also a cop's cop — aggressive and wary. Unlike Baca, his critics do not claim to like him. In their telling, he's a full-metal asshole, a shouter, a "little Napoleon."
---
9TH CIRCUIT AGREES TO REOPEN CASE OF BURBANK POLICE WHISTLEBLOWER WHO WAS REPORTEDLY RETALIATED AGAINST BY HIS DEPT. AND SHUT DOWN IN A LOWER APPEALS COURT
Barbara Leonard of the Courthouse News Service has the story about this case. Here're some clips:
The 9th Circuit voted to rehear claims that Burbank, Calif., retaliated against a detective who blew the whistle on abusive interrogation tactics in the department.

Angelo Dahlia claimed that he saw a fellow detective in the Burbank Police Department
stick a gun in the face of a suspect, while squeezing the man's throat and saying, "How does it feel to have a gun in your face, motherfucker?"

Dahlia said he heard yelling and the sound of people being hit as the detective continued to interview suspects.

He said he told Burbank Police Lt. John Murphy that "things were getting out of hand, the interviews were getting too physical, and too many people were doing their own thing and were out of control."

But Murphy allegedly told Dahlia to "stop his sniveling," and the beatings continued.

[BIG SNIP]

Dahlia said he disclosed his colleagues' abusive interrogation tactics in a May 2009 interview by the Los Angeles Sheriff's Department. Four days later, Burbank Police Chief Tim Stehr allegedly placed Dahlia on administrative leave.