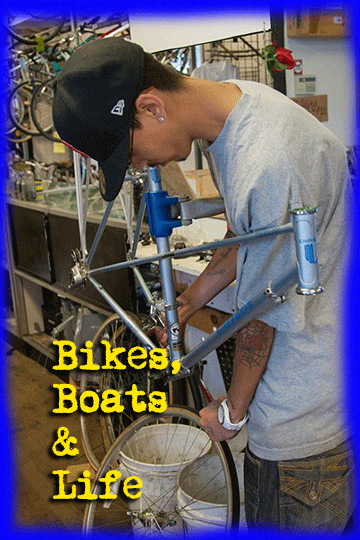 EDITOR'S NOTE: For the past two weeks, we've published stories from the series by John Kelly for the Chronicle of Social Change, in which WitnessLA is collaborating. Each story in the series takes a look at an individual program that uses a strategy known as Positive Youth Justice in order to help kids who have come in contact with the juvenile justice system.
The first segment we ran explored an Oakland, CA, program that uses a process called community conferencing, which asks lawbreaking kids to confront the effects of their crime.
Then two weeks ago, the series looked at a program in Tarrant County, Texas, that has been successful in helping reboot the lives of kids who, two decades ago, would have been sent to a state-run juvenile lock-up.
Last week, we explored Santa Clara County's James Ranch.
Today John Kelly's story profiles a unique, Berkeley-based juvenile reentry program called Waterside Workshops.
---
This story was produced as a collaborative project with The Chronicle of Social Change.
---
POSITIVE YOUTH JUSTICE THROUGH BUILDING BOATS & FIXING BIKES

by John Kelly

Rentry is a complicated corner of the juvenile justice system that was neglected for decades. Youths often return to their communities with court-ordered requirements that run up against other constraints related to their incarceration. They may be ordered to attend school, but unable to find a school that will accept them. The plan might require them to seek a job, something that, statistically, a felony record makes difficult.

But other than regular check-ins with probation or parole officers, most systems have very little to offer in the way of reentry programs.

The issue has garnered some attention in the past decade, in no small part due to the Second Chance Act, a federal law passed in 2008 to support local governments and nonprofits in an effort to "reduce recidivism by improving outcomes for people returning from prisons, jails, and juvenile facilities."

Government reentry programs tend to focus on monitoring and transportation assistance as the young person comes home. In Berkeley, Calif., a small organization called Waterside Workshops goes beyond that for dozens of kids each year using boatbuilding and bicycle repair. Its non-judgmental approach to building job skills, and the open-ended connection between its leaders and participants, sets it apart.

"The personal approach is what makes the difference," said Waterside co-founder and executive director, Amber Rich. "The kids can spot a faulty pretense a mile away."

---

HOW IT STARTED

Rich grew up on a farm in North Carolina, the daughter of two blacksmiths. She studied architecture at North Carolina-Greensboro, and moved to California to pursue a career in 2005.

That year, through mutual friends, she met and began dating Helder Parreira who, at eight-years old, had moved with his family to the United State from the Azores. Parreira has a degree in archaeology from University of California-Berkeley, and had also studied wooden boatbuilding in America and Portugal.

By the time the two met, Rich had grown weary of architecture, and had "always had a strong interest in poverty and its sociological and psychological effects." Parreira had left archaeology to focus on boatbuilding, and was working part time at a hardware store.
Both Rich and Parreira were descended from families who worked the land and built for themselves. They found commonality in the idea of starting a vocational training program for youths who were interested in physical labor.

In 2006, they got a small grant from the City of Berkeley to start up Waterside. The two found adequate space in Aquatic Park, a piece of land near the brackish mix of rain runoff and tidal water that flows from the Bay through barnacle-encrusted tubes, smacked up against Interstate 80.

By 2007, relying mostly on an army of volunteers, Rich and Parreira launched the organization.
Waterside began with one business: Berkeley's Boat Shop, which operates boatbuilding classes and, on the weekend, rents boats to folks looking for a lazy day on the water.

"Once you learn how to build a boat, other stuff comes naturally," said Parreira, who operates the boat shop. "Building a boat gives you tools that can be used anywhere in life."

La Cheim School in Richmond, a nonprofit providing education and mental health services to mostly court-appointed youths, agreed to refer some of their students to Waterside, and continues to do so.

Waterside has since expanded to include Street Level Cycles, a bike repair shop, and two years ago Rich and Parreira opened up the Waterside Café.

---

HOW IT WORKS

Youths between 14 and 24 arrive as candidates for a three-month internship at Waterside.

Not everyone referred to Waterside is reentering from a juvenile lock-up, Rich said, though many have spent at least some time in juvenile hall.

Interns are scheduled for three days each week for between 10 and 15 hours, and begin by simply shadowing staff and some of the program's senior interns. Their schedules are set with expectations about performance and punctuality, but not with the real-world threat of termination. For many of Waterside's interns, this is the first job they've ever had.

"If an issue comes along, we work with them," Rich said. "I'm having a health issue, my cousin got shot, etcetera…we want them to feel comfortable bringing it all up."

One of the problems that frequently surfaces for the interns, according to Rich, is the matter of drug use. "Substance abuse issues are unfortunately quite an issue for a lot of our kids," Rich said, but that too is not grounds for dismissal. Waterside has substance abuse groups to which it refers youths with serious problems, but the staff will also engage users in a discussion about the impact of drug use on independence.

"We try to get them to be very honest about what they're spending on a vice, even just cigarettes, and work with them on what they could be spending that money on otherwise," Rich said. "How is this affecting you being independent?"

That message strikes a chord with nearly every youth that gets involved with Waterside, she said, because they mostly live somewhere they don't want to be. "These are transition age guys. They might be currently living in a shelter, or want to move on from their family's place."

There is no set schedule for the life and job skills discussions that occur between interns and the staff, Rich said. But in the course of a three-month internship, all participants are engaged by staff in discussions about personal budgeting, time management, and workplace professionalism.

After three months, an intern is welcomed onto the staff at minimum wage if they are still interested.

There is no limit on staff tenure, or on the ability of a participant to return. One youth recently stopped working for Waterside after six years (he made a dollar less per hour than Rich by the time he left).

William, a 16-year-old bike mechanic at Waterside, said that before this job he was doing drugs and heading down a troubled path. William spends an hour riding train and bus to get to West Berkeley from his adoptive home.

Working at Waterside keeps him from hanging with "the bad kids," he said, while wrenching at a set of chrome handlebars. "It is the best job ever."

There are two things that distinguish Waterside from other workforce training environs. First, it rejects the notion of rewards and penalties, and of graduating to greater privilege.

"We take them for who they are in the moment, and we trust them, and give them responsibilities," Rich said. "When things go wrong, we work through it. And through that, we build their trust."

The second unique aspect of the program is the personal relationship fostered between the co-founders and the participants. More often than not, a current or former Waterside employee is living with them in their Richmond home.

Rich spent a recent weekend tracking down housing for three Waterside youths and moving them in on short notice. One of the youths is doing electrical engineering; Rich convinced a friend and general contractor to put him up in a studio apartment he owned at half the market rate for rent.

"We get to know them and we do not have preconceived notions," she said. "It's no big secret."

In an average year, Rich said, about 50 teens and young adults will go through the Waterside internship.

---

STAFF

Cory Rich is Waterside's program director for the Street Level Cycles shop. The staff also includes three bike mechanics, a boathouse assistant, and two baristas.

At any given time, Waterside has 30 interns and about 15 other part-time staff (mostly former interns) who work approximately 20 hours per week. Rich estimates that the organization pays about $120,000 in salary to Waterside participants that make it past the internship phase.

Interns are either compensated through the entity that refers them to Waterside, or receive school credit or community service hours for their work.

The participants in the Waterside internship program are mostly male and 60 percent are African-American, Rich said. She hopes to include more girls as they expand the café from a seasonal operation to a year-round one.

---

NO GOVERNMENT, NO EVALS

Rich said while "we certainly do have goals and always will," Waterside is "not focused on outcomes."

The organization has that rare luxury, because it is not beholden to any funder that asks for them.

Waterside does not seek out government grants, and are not referred youth by any government agency. But larger organizations that do have government contracts, such as foster care agencies and alternative schools, frequently send teens to Waterside.

"We did take city money once but it was just too much red tape," Rich said. "We just didn't want to push for X number of kids and X number of outcomes." The city grant also created problems related to hiring people with criminal records to work at the organization.
Though she does not have independent confirmation of it, Rich claims that of the hundreds of former offenders that have spent a year or more with Waterside, only one has been re-incarcerated.

The organization does receive philanthropic support, and Rich said she is working with board member Erika Weissinger on Waterside's "ability to substantiate" its work to foundations and other donors.

"Evaluation is important," Rich said, "but we want to make sure it is not in any way intrusive to the individual and is for the purpose of helping them understand their progress, rather than just collecting data."

---

HOUSING CRISIS

Securing employment and finding viable education options are serious challenges for youths coming from incarceration, Rich said. But securing housing is "unbelievably hard and almost impossible."

"It's hard enough to find housing in the Bay, especially if you're a young African-American kid," she said. "I'd love to think race has nothing to do with it, but it does."

Few of the Waterside youths qualify for public housing, and probation terms often dictate that their names be on a lease. Anyone who lives with them is subject to a full search by probation, which makes group arrangements difficult.

Establishing a permanent housing component for Waterside "is a big topic right now" for the organization, Rich said. An early attempt, influenced by the negative experience her youths had in group homes, involved no regular adult supervision of the house.

"I find they come out ill-prepared because it is so structured," she said, though she quickly learned that the opposite was not much better.

"It didn't work like we hoped it would," she said. "We needed more guidance, more staff there. For kids coming from tough situations, never having a consistent placement, it takes a lot more than just providing a house."

---

John Kelly is editor of The Chronicle of Social Change.

Brian Rinker also contributed to this story.