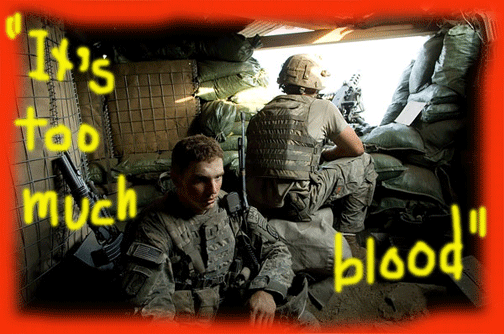 Likely the strongest piece of journalism in our nation's papers this past weekend is a long, disturbing and beautifully written article in the New York Times Magazine called "Battle Company Is Out There." by Elizabeth Rubin, who is embedded with the 173rd Airborne Brigade Combat Team in Afghanistan's notorious Korengal valley.
Interestingly, while political bloggers were mostly busy linking to Frank Rich's and Maureen Dowd's columns yesterday, scores of military and veterans blogs (like these here and here and here) are linking favorably to Rubin's story, although it assuredly does not tell an upbeat tale.

Rubin says she came to Afghanistan with a pressing question:

Why, with all our technology, were we killing so many civilians in air strikes? As of September of last year, according to Human Rights Watch, NATO was causing alarmingly high numbers of civilian deaths — 350 by the coalition, compared with 438 by the insurgents. The sheer tonnage of metal raining down on Afghanistan was mind-boggling: a million pounds between January and September of 2007, compared with half a million in all of 2006.

After a few days, the first question sparked more: Was there a deeper problem in the counterinsurgency campaign? More than 100 American soldiers were killed last year, the highest rate since the invasion. Why were so many more American troops being killed? To find out, I spent much of the fall in the Korengal Valley and elsewhere in Kunar province alongside soldiers who were making life-and-death decisions almost every day — decisions that led to the deaths of soldiers and of civilians.

The answers she found-–such as they were—are what this article is about, and it makes very compelling and important reading.

NOTE: Among the military and vet bloggers I only saw one criticism, but it was leveled at the Times' editors, not at Rubin. A blogger for IAVA (Iraq and Afghanistan Veterans of America) felt that the phrases the Times editors chose to put on the cover of the magazine, were overly sensational and likely to turn-off soldiers who might otherwise read what IAVA's Ray Kimball calls "a fantastic piece."
Photo: Lynsey Addario for The New York Times