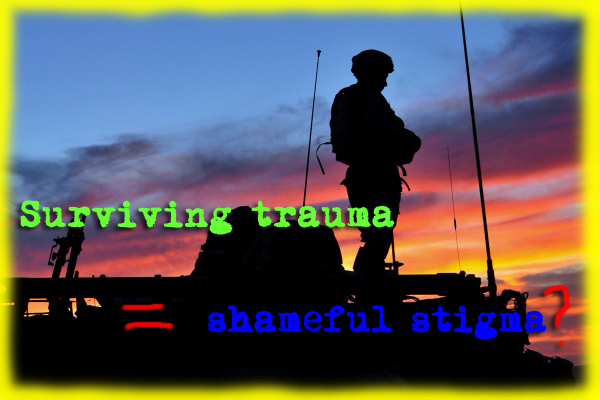 VETERANS COME HOME FROM BATTLE TO FACE PTSD STIGMA
In honor of Memorial Day–and because it's an issue of great import–we thought veteran PTSD (Post Traumatic Stress Disorder) and the attached stigma an appropriate topic. PTSD is not given the same validity as visible injury. Veterans who return home from service with invisible injuries such as PTSD are often perceived as weak, instead of deserving of honor and support. Maybe if we were to stop stigmatizing our veterans, we could move next to understanding our inner city kids with PTSD on par with that of service members.
Time's Frank M. Ochberg addresses the issue. Here's a clip:
There are a few dozen of us who are considered the pioneers of the modern era of traumatic-stress studies, and most of us are worried  – deeply worried — on behalf of the current generation of veterans with invisible wounds.

We thought that by now there would be access to care whenever needed. We thought that by now there would be clear understanding that PTSD is a wound, not a weakness. We thought that a veteran who served honorably and received a compensable medical diagnosis for PTSD due to his or her service on the field of battle, would receive a medal for sacrifice.

But instead of honor, there is stigma. And this stigma must stop.
---
HOMEBOY INDUSTRIES MAKES FRONT COVER OF SOLAR ENERGY MAGAZINE
Chris Warren, editor of a photovoltaic magazine called Photon, chanced upon two seemingly out of place Homeboys at a solar panel convention in Huston, TX. Warren approached them and learned of Homeboy Industries and the Homeboys' preparatory training for careers in the solar power industry.
Photon's Chris Warren's editorial introduction to the article, alone, is a very worthwhile read. Here's a clip of the actual article (which made the cover story, but is not available online without a subscription):
In a weak economy, many struggle to get jobs. But the task is much more daunting for those who have been in prison or involved with gang activity. Since 2008, Los Angeles, California-based Homeboy Industries has provided in-depth training for former inmates and gang members to become PV installers. Despite successes, placing graduates in jobs remains difficult.
---
PULITZER PRIZE-WINNING AUTHOR JENNIFER EGAN POSTS NEW STORY ON…TWITTER?
The New Yorker is testing out Twitter literature with Jennifer Egan, author of 2010's big prize-winning novel, A Visit from the Goon Squad's new story Black Box. The New Yorker fiction feed (@NYerFiction) will tweet 10 daily installments (the first was May 24th), each beginning at 5:00p.m. PST and lasting an hour.
The L.A. Time's book blog has more details. Here's a clip:
Each evening's Twitter postings constitute one installment, and that installment will appear on the New Yorker's revamped book blog, Page-Turner, after the installment has finished. Read it there or complete, in the magazine, when it hits newsstands May 28 — look for the science fiction issue, dated June 4 and June 11.

That's the logistics: In real time (or real-ish time) on Twitter over 10 nights, or serialized on a blog, or all at once in print. It's an interesting experiment, one which seems designed to cover all the bases — if you don't have the patience for the online serialization, just read the printed version.
---
ARMY PHOTO / SPC. RYAN HALLOCK