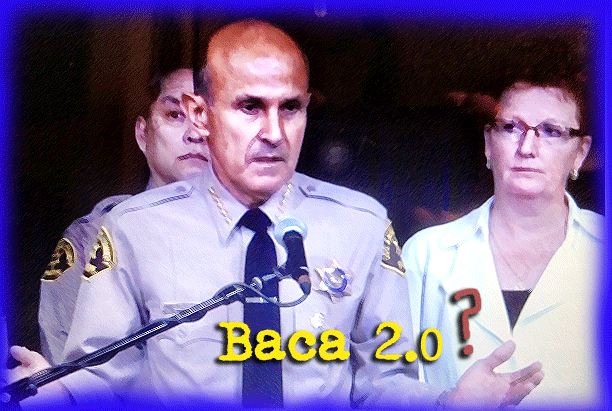 BACA TALKS TO EDITORIAL BOARD OF LA NEWS GROUP AND GETS IMPROVED REVIEWS
The LA News Group includes such newspapers as the LA Daily News, the San Gabriel Valley Tribune, the Long Beach Press-Telegram and so on. Earlier this month, the group published a withering critique of Baca, all but calling for his ouster in 2014 when he is up for election.
But after a meeting with Baca this week, while not by any means offering the sheriff any reelection endorsements, the LA News Group's editorial board was, at least, somewhat less determined to show him the door.
Here's a clip from the editorial:
Los Angeles County Sheriff Lee Baca mentioned two personal goals this week: Winning re-election next year and living to 100. In recent months the latter had seemed more likely than the former.
The dedicated runner's physical fitness wasn't in doubt, but his fitness for office was. After revelations about the unwarranted use of violence by sheriff's deputies, Baca initially passed the blame to subordinates. A citizen's commission probing jail violence cited a "failure of leadership. "

By last fall, the question had become whether Baca, 70, should resign before scandal or voters forced him out.

But the Lee Baca who visited the Los Angeles News Group editorial board this week, to outline responses to the problems in the Sheriff's Department, appeared as fully committed and as creative as ever in his approach to his huge job. It is still not clear that Baca deserves a fifth term, any more than it was clear before that he doesn't. But it is clear that Baca will not be easily brushed aside in 2014.

The question now is whether Baca's wide-ranging responses to the scandals makes up for his inability to prevent them.
The editorial also mentions that, in answer to questions about the exit of Undersheriff Paul Tanaka, Baca said he managed to "finess" Tanaka into leaving.
Here's the clip:
…More-impressive responses are Baca's admissions that much of the ACLU's criticism is correct, and his actions to get to the systemic roots of issues instead of merely blaming underlings.

One was Baca's move to "finesse" Undersheriff Paul Tanaka into announcing his retirement — and then to essentially eliminate the position. Baca thinks this removes a barrier to communication between him and assistant sheriffs.

The insistence on using the word "finesse" to describe his ouster of Tanaka is classic Baca….
In other words, the retirement announcement was not about the undersheriff's sudden urge to play more golf, after all.
For LASD watchers, it's essential to read the whole editorial.
---
ASSESSING OUTGOING MAYOR ANTONIO VILLARAIGOSA'S PUBLIC SAFETY REPORT CARD
KPCC's Frank Stolze talks to a list of LA experts about how Mayor Antonio Villagraigosa should be rated as a public safety mayor.
The reviews are generally good, but qualified with the admonition that Antonio was also the beneficiary of some very good luck.
Villaraigosa's largest stroke of good fortune was his inheritance of Bill Bratton as LAPD's chief after James Hahn arguably lost the mayoral election to Antonio because he fired Bernard Parks, "a beloved figure in the black community. Hahn lost his once bedrock support among African-Americans."
(It should be noted that Parks had come to be roundly loathed by the rank and file, who felt that, as chief, he punished them for small infractions while letting his friends do what they pleased. He also alienated the press, members of the DA's office, and most of city hall for his obstructive handling of the Rampart investigation.)
But while Villaraigosa may not get credit for bringing Bratton to LA, Stoltze reports he does get credit for working very well with him.
Here's a clip:
In a sense, Villaraigosa lucked out.

"I think he was the beneficiary of the very tough decision that Jim Hahn made," said UCLA Adjunct Associate Professor of Anthropology Jorja Leap, who studies crime in L.A. "I don't think Jim Hahn is given enough credit."

Villaraigosa embraced Bratton, who receives a lot of credit for turning the LAPD around and delivering the dramatic drops in crime by introducing new technology and cooperating more with federal agencies. The mayor also deserves praise for working with the chief to repair long-frayed police-community relations, said Alex Alonso, who monitors gangs and policing on his StreetGangs.com website.

"Chief Bratton and Villaraigosa showed up at churches, showed up at community meetings," Alonso said. "That's definitely a plus. Going to the ghettto."
Villaraigosa also is praised, reports Stoltze, for embracing non-law-enforcement-centric strategies for crime reduction.
While she'd like to see more funding for the GRYD program (it receives about $25 million annually), Kayle Shilling of the Violence Prevention Coalition of Greater L.A. said she's glad Villaraigosa embraced the gang strategy along with more police — even if it was four years into his administration.

"There are a lot of different approaches in Los Angeles and I think it just takes folks a little while to get up to speed," Shilling said. "I think he's landed in a good place."

Villaraigosa can hardly take sole credit for the historic crime drop that began before he took office. Community groups — some led by former gang members — are more involved than ever in reducing violence.

"You have a lot of other things going on outside of City Hall and outside of government," said Alonso of StreetGangs.com. "You have nonprofit organizations, you have a lot of gang intervention workers. The mindset is changing within South L.A."

But with Villaraigosa's help, the mindset on how to tackle crime has changed at City Hall, too.
Read and listen to the rest of Frank Stoltze's report here.
---
AND JUST A REMINDER….NEXT WEEK THE U.S. SUPREME COURT WILL HEAR THE TWO GAY MARRIAGE CASES
We'll be linking to what we see to be the best of the commentary. So buckle-up and hang on.
Here, for example, is an explanatory story from Michael Doyle of McClatchy Newspapers.
And here's an interesting blog post by Amy Davidson in the New Yorker about the non-Prop 8 case, that of Edie Windsor. As she writes, Davidson helpfully links to some of the best essays on the two cases.