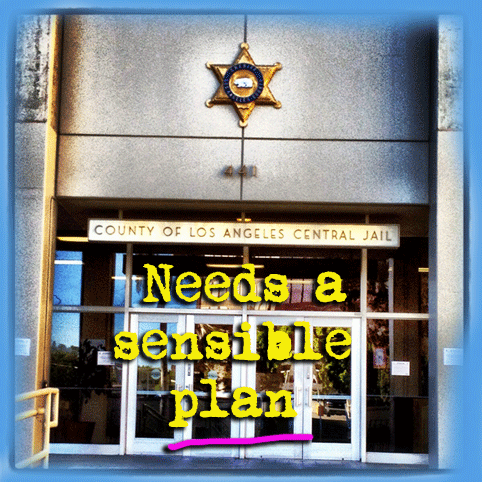 LOS ANGELES SUPERVISORS (THANKFULLY) DECIDE THAT BACA'S $1 BILLION JAIL-BUILDING PLAN NEEDS MORE STUDY
As we reported on Tuesday morning, the planned discussion of Sheriff Baca's nearly $933 million plan to build a new, state-of-the-art jail to replace the bad old Men's Central Jail, was abruptly yanked off the meeting schedule when the LA County Supervisors indicated they intended to vote on a motion to table the building plan pending further study.
The motion that passed unanimously by the Supes—proposed by Supervisors Mike Antonovich and Gloria Molina—ask for a study of the matter that included the following:
*A description of existing facilities, number and types of beds
*A profile of the existing inmate population by classification;
*A trend analysis that projects the need for beds by security classification type over the next ten, twenty and thirty years
*Jail Plan options and related assumptions which include
one-time and on-going funding needs; including State funding options
*A timeline/delivery schedule, which includes swing space during construction.
The building proposal, which was remarkably similar to the plan put forth by Baca and County CEO Bill Fujioka in January of last year. And that plan was tabled pending further study too. Now a year later, a slightly tweaked version of last year's was about to be marched out—even though it appeared to have made little or no use of last year's James Austin analyses of how best to handle the county's inmate population and what kind of facilities were needed.
We know the sheriff has a habit of pushing for more money for this and that, whenever it is possible, but what's the CEO's excuse?
KPCC's Rina Palta has a story on the issue. Here's a clip:
Los Angeles County Sheriff Lee Baca's proposal for a nearly $1 billion jail construction project needs thorough evaluation by an outside entity, the county Board of Supervisors decided Tuesday.

Supervisors directed the county's CEO to commission a study of current jail needs and what they might be over the next 20 to 30 years.

Baca's latest proposal for replacing downtown L.A.'s Men's Central Jail with a more modern facility calls for reopening the shuttered Mira Loma jail to house women, and moving men into the Century Regional Detention Facility—the current women's jail. Baca's proposal also calls for building two new towers on the site of Men's Central Jail.

[SNIP]

Peter Eliasberg, of the ACLU of Southern California—which called Men's Central "nightmarish" in a 2009 report—agreed that it's time for the old jail to go.

"Men's Central jail is a disaster. It needs to be closed," Eliasberg said.

But he said the "parade of proposals" that have come before the supervisors regarding the county's jail needs have lacked a fundamental component: planning.

"One minute they're telling us the jails can hold 21,000 people," said Eliasberg. "Six months later, they're telling us they can hold 14,000 people."

Eliasberg said the county "has not done the basic studies" of the the current jail capacity and the projections for how many inmates the county system will need to house in the future, especially considering the sheriff's plans for alternatives to incarceration.
PS: Baca said this week that, rather than tear down Men's Central Jail, which was the plan last year, he'd like to repurpose it to use for his Education Based Incarceration program, a strategy that—if at all practical—we rather like.
---
DO YOU KNOW HOW YOUR BILLIONS IN REALIGNMENT TAX $$ ARE BEING USED?
In April, Stanford's Dr. Joan Petersilia and her team of researchers, will release a study that looks at California's $4+ billion Realignment plan to see what is effective and what isn't, and how the various counties were spending their millions of state tax dollars.
In this this Huffington Post essay Michael Santos hints at some of the things the Stanford team found.
Here's a clip:

…AB 109, or Realignment, was a legislative response to judicial decisions concerning health care in state prison. Jurists found California prisons were hopelessly overcrowded. The only remedy that would allow California prisoners to receive adequate health care required the state to reduce its prisoner population by tens of thousands of people.

The legislature and Governor Brown responded with Realignment. The AB 109 legislation was designed to lower prison population levels by diverting certain offenders from state prison to serve their sanctions in the county jail or on county probation. Qualifying for the Realignment sentencing meant the offenders were non-sex offenders, non-violent offenders, and non-serious offenders, referred to as non-non-nons, or NNNs.

Many people on parole would also receive different treatment under Realignment. Rather than being sent back to state prison for technical violations, people who violated conditions of their parole (but did not violate new laws) would be sanctioned to the county system rather than to state prison.

[SNIP]

Realignment operated under the ostensible theory that county officials might be more inclined to work toward preparing low-level offenders for law-abiding lives. The AB 109 legislation provided county officials with the funds to implement evidence-based practices that have been shown to reduce recidivism.

[However when Stanford researchers looked at how the counties spent their millions, they] …"found that only 12 percent of the total first-year allotment for Realignment funds across the state was given to community service providers that provided treatment programs and services.

The Stanford analysis also found that about 35 percent of all the allocated AB 109 money was earmarked for probation and sheriff staff salaries. That was the average, though. Some counties, like Sacramento, allocated a much higher percentage of AB 109 spending for traditional law enforcement operations. According to its published AB 109 budget, Sacramento County received $29,988,198. The Sheriff's Department scored with $20,040,553 of those funds, but it only allocated $500,000 for "inmate services," a measly 2.5 percent. Like most counties, Sacramento allocated the lion's share of its AB 109 funding for traditional law enforcement services…..
Read the rest.
By the way, this story in the Union Democrat by Sean Jannson paints a depressing picture of how one of California's counties, Calaveras, squabbled unpleasantly over their realignment $$, getting very little done, and leaving public safety to fend for itself.
---
DO WE NEED LEGISLATION TO "HIT THE RESET BUTTON" ON ZERO TOLERANCE RUNNING AMOK?
This week, the attorney representing the 7-year-old Maryland boy, who may or may not have bitten his pop tart into the shape of a gun, announced plans to appeal the child's suspension so as to get the pastry biting black mark off the kid's record.
Columnist and radio producer Lynda Bekore writes in the Huffington Post that, in light of this sort of idiocy, which admittedly seems of late to be running rife through the countryside, we may need some legislation that lays down some common sense ground rules to prevent schools across the nation from doing harm to kids with whacked out, fear-based zero-tolerance policies.
In other words, sadly, we may need government overreach to prevent school overreach.
Here's a clip:
For any student, the stigma and shame of a school suspension can be emotionally life-altering; for older students, suspensions become part of their permanent record, adversely affecting their chances of acceptance to college.

Most principals would usually not choose to suspend a student for anything but egregious misconduct, or repeat bad behavior, instead opting for discipline more appropriate to that specific student or situation. But their hands are tied by the extreme limitations of zero tolerance imposed by their school boards, who themselves feel constrained by a litigious culture that demands expensive retribution for any perceived slight to another child's precious self-esteem.

We can all throw our hands up in the air or shrug our shoulders, and tsk, tsk the silliness of "other" people's narrow-minded lack of good judgment, or we can try to make it stop. Maryland State Senator J.B. Jennings recently introduced a bill, The Reasonable School Discipline Act of 2013, which calls for clearer disciplinary guidelines at specific grade levels for behavior that is not directly physically violent, such as nibbling a pastry into a gun, or talking about shooting bubbles from a Hello Kitty bubble gun.