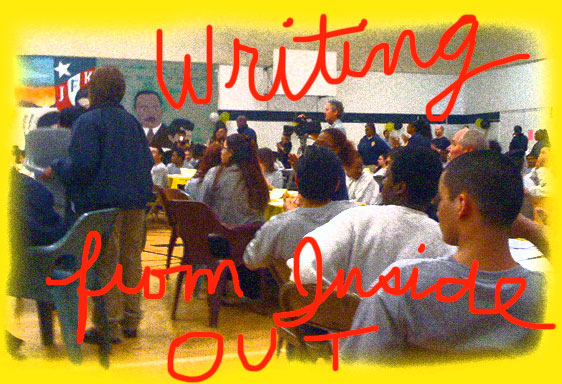 Starting at 4 p.m. on Friday night one large room at Central Juvenile Hall was crammed with around 100 teenagers, all dressed in baggy, LA County-issued pants and tops. The kids sat at long tables in groups of ten or twelve. Every group was overseen by a cluster of badge-wearing probation officers.
Each table also featured a writing instructor, sometimes two instructors, all of whom were part of the InsideOUT Writers program that is now a fixture of three LA County juvenile halls.
The kids clutched printouts of the poems that they had composed and revised during the twice weekly writing classes that InsideOUT has offered to young inmates at Central Juvie since 1996. Every adolescent in the room looked some brand of nervous, although many affected an elaborate casualness to cover their jitters.
The nerves had to do with the fact that this was the yearly event at which those who had participated in the InsideOUT program got to read their work aloud in front each other, plus a gaggle of invited guests and some scattered press.
But this particular InsideOUT performance night also had a special creative twist to it. Some of the student-inmates' poems had been set to music and would be sung as opera.
Reporter Kim Nowacki from Annenberg's Neon Tommy covered the event and you'll find her informative story below. (Kim is another of my smart grad students.)
I was there too, and spent time with some of the young writers.
There was, for example, one table of girls with whom I chatted for quite some time. I learned later they were from the ESU module, Enhanced Supervision Unit. These were the girls who were cutters or who displayed suicidal ideation, or some other worrisome form of risky behavior.
Much of their poetry reflected the varieties of trauma of their respective childhoods-–abuse, neglect, the chronic witnessing of violence.
Still many of the poems suggested budding talent. The phrasing was sometimes startlingly graceful, the images strong and clear.
The same was true of the boys I sat with—who were, to a person, eager for me, the stranger, to read what they had written.
One tall, deer-eyed boy dipped his head shyly when I'd commented on a line of his poem that I'd particularly liked. "The nights after writing class," he said, "they're the only time I ever really can….you know… sleep."
His writing teacher, Roberta Villa whispered to me that his admission was typical. She saw kids get their lives changed all the time when they discovered that they could get their feelings out on paper, she said.
Here's the opening of Kim's story:
In opera, a good story has plenty of tragedy. Or comedy. Or both. There's typically a lot of wishing and hoping and longing. Many times the characters make foolish, rash mistakes. Often, someone dies.

Unfortunately, the same is very true of the stories and poems written over the past 12 years by the teenage boys and girls who participate in InsideOUT Writers (IOW), a creative writing program held at Los Angeles County's three juvenile halls.

Each year, more than 300 incarcerated youths voluntarily take the classes where they write about drugs, rape, suicide, crime, violence, lost freedom, busted families and broken hearts. But they also write about lying in bed at night and dreaming about a better life and about a future free of trouble.

"I love to write, it's my passion, I write everyday," said Michelle, an 18-year-old girl with a million-watt smile but also a serious toughness about her.

There's a similar sense of toughness mixed with vulnerability among the 100 or so other incarcerated youth that guards led Friday afternoon into the boys gymnasium at Central Juvenile Hall, a walled-up, khaki-colored facility off Eastlake Avenue.

But on this afternoon, the teens were here to relax as their IOW instructors served them burritos, soda and cupcakes before watching — in what's a first for Central Juvenile Hall — a performance by three members of the LA Opera.

This special treat is part of the annual IOW Retreat, which honors the students' writing. Attendees included IOW board members and L.A. County Supervisor Zev Yaroslavsky (who this past Tuesday participated in the L.A. County Board of Supervisors' unanimous vote that ordered a thorough inspection of the Probation Department).

This year's retreat also served as the surprise debut of four new LA Opera pieces that put to music four poems written in the IOW program.

One of them, called "Safe," is Michelle's….
Read the rest (and look at Kim's slide show). It's worth it. I promise.