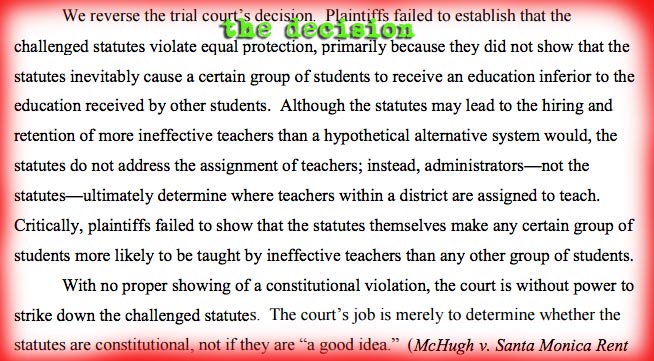 APPEALS COURT DECISION REVERSES RULING SAYING TEACHER TENURE LAWS VIOLATE KIDS' EDUCATIONAL RIGHTS
In what teachers unions are calling a huge victory, a state appeals court reversed a major Superior Court ruling that struck down five provisions of California's Education Code—including teacher tenure, layoff, and dismissal statutes—as unconstitutional.
Here's Students Matter's explanation of the three statutes:
Permanent Employment Statute: The permanent employment law forces administrators to either grant or deny permanent employment to teachers after an evaluation period of less than 16 months—before new teachers even complete their beginner teacher induction programs and before administrators are able to assess whether a teacher will be effective long-term.

Dismissal Statutes: The process for dismissing a single ineffective teacher involves a borderline infinite number of steps, requires years of documentation, costs hundreds of thousands of dollars and still, rarely ever works. Out of 275,000 teachers statewide, 2.2 teachers are dismissed for unsatisfactory performance per year on average, which amounts to 0.0008 percent.

"Last-In, First-Out" ("LIFO") Layoff Statute: The "LIFO" law forces school districts to base layoffs on seniority alone, with no consideration of teachers' performance in the classroom.
The original Superior Court decision in Vergara v. California established that the teacher tenure laws take away kids' right to equal education by effective teachers, and are especially harmful for low-income and minority students.
In a 36-page decision, the appeals court said the plaintiffs failed to show that the provisions violate equal protection and result in some student groups receiving inferior education, and "failed to show that the statutes themselves make any certain group of students more likely to be taught by ineffective teachers than any other group of students."
"Every student deserves a great public education; yet California's education laws make this impossible," said Dave Welch, the founder of Students Matter, the nonprofit organizational sponsor of Vergara v. California. "Today, the courts failed to safeguard students' constitutional rights. I hope and expect that the California Supreme Court will step in and protect the rights of millions of students across California."
"We have a looming teacher shortage that is made worse by lawsuits like this one and the constant attacks on teachers and public education," said Joshua Pechthalt, president of the California Federation of Teachers. "We need to work together to raise up teacher performance and create a climate that keeps veteran teachers in the classroom and attracts young people to the profession."
The nine California public school students who filed Vergara v. California say they plan to appeal the ruling to the state Supreme Court.
---
NEW FOSTER/ADOPTION APPLICATION PROCESS MAY DETER RELATIVES FROM FOSTERING FAMILY MEMBERS
The Resource Family Approval Program, California's new accelerated foster and adoptive family approval process is aimed at qualifying more potential parents, boosting permanency, and increasing preparation for new foster and adoptive parents. But advocates worry that the process—the extra requirements and the earlier 90-day deadline—will discourage relative caregivers from fostering their young family members.
RFA is going into effect statewide with funding from a child welfare system overhaul bill signed by Governor Jerry Brown in October. The new process combines the approval processes for foster parents, relative caregivers, and adoptive parents, which before, had different standards. Now, all applicants, including relatives seeking to foster, will have to submit to a psychosocial assessment, give references, undergo training, and pass an annual review.
Thirty-six percent of the state's foster children are placed with their grandparents, aunts, uncles, cousins, or other family members. After completing a home environment check within five days of taking in children, and a criminal background check within ten days, all applicants have to complete the rest of the RFA requirements within the 90-day time frame, a deadline advocates say may be unrealistic for relative caregivers.
Lauren Johnson has the story for the Chronicle of Social Change. Here's a clip:
Until now, foster parents who wanted to adopt a child have had to repeat portions of the lengthy and invasive approval process that includes a social worker visiting and assessing their home. RFA combines the approval standards for adoption, relative foster homes, and non-relative foster homes. Under the program, every potential parent will undergo a single approval process, authorizing them to be able to both foster and adopt.

"The new coordinated process will eliminate duplication, reduce paperwork and maximize the efficient use of staff and system resources," according to an overview of RFA produced by CDSS.

It will also more thoroughly assess and train potential foster and adoptive families, and a single case worker will shepherd the parents through the approval process. According to a CDSS webinar, this change will allow parents to build a relationship with their case worker, making the process less confusing and intrusive.

At the same time, all parents will be required to complete a psychosocial assessment, provide references, and complete training before they are approved, as well as undergo an annual review. CDSS and advocates hope these steps will better prepare parents for taking children into their home and that, ultimately, this will lead to greater placement stability and the forging of lifelong relationships.

Though RFA is a positive step in many regards, the additional requirements of RFA combined with its time constraints may prove to be a stumbling block for relative caregivers.

When a child is removed from his or her home, the social worker first looks for relatives who may be able to foster the child before searching the pipeline of approved non-relative foster parents.

Unlike non-relative caregivers who typically complete the approval process prior to having a foster child placed with them, relatives often take in a child before they fully complete the process. These relatives step up in an emergency situation to foster a particular child, for instance a grandchild, niece or nephew.

Once RFA takes effect, relative caregivers will have to complete a home safety check within five days of receiving the child and a criminal records check within 10 days. They must complete the full Resource Family Approval process within 90 days.

Meeting these time constraints may prove difficult for relatives given the other demands on their time and the traumatic nature of the situation. While completing RFA requirements, relatives are caring for a child or multiple children for whom they were unprepared. They are helping the child to cope with the trauma of being removed for his or her home. They may also be helping with the legal or psychological issues of the family member from whom the child was removed.
---
BILL TO TRACK AND STOP PHYSICIANS OVER-PRESCRIBING PSYCHOTROPIC MEDS TO FOSTER KIDS CLEARS FIRST HURDLE
A bill to combat the excessive and alarming prescribing of psychotropic medications to California's foster kids has made it past the Senate Committee on Business, Professions and Economic Development in an 8-0 vote. (For more on this issue, read Karen de Sá's five-part investigative series for the San Jose Mercury News, "Drugging Our Kids.")
The bill would trigger quarterly reports of prescription claims, making it easier for the Medical Board of California to confidentially identify, conduct investigations of, and hold accountable doctors who over-prescribe psychotropic drugs to foster children. SB 1174, which builds on a package of similar reform bills inspired by de Sá's powerful reporting, now moves on to the Senate Appropriations Committee.
De Sá has more on the bill. Here's a clip:
California's foster care system has come to rely on powerful antipsychotic drugs to sedate troubled teens, the newspaper's investigation revealed. But while a series of bills passed last year instituted many new measures to curb the practice, the laws did nothing to target the source of the drugs: the doctors who prescribe them.

"The vast majority of medical professionals are doing their job well, but as in any industry there are going to be outliers, and medical professionals are no different," said McGuire, D-Healdsburg, whose bill now heads to the Senate Appropriations Committee. "And if there is an outlier, it could cost someone their life, or cause permanent damage for a child."

Lobbyists for the California Medical Association, the California Psychiatric Association and the California Academy of Child and Adolescent Psychiatry oppose McGuire's bill, unless it is watered down to include an "education-first" rather than an "enforcement-first" approach.

They argue that the additional oversight will drive physicians from working with foster children and "add another bureaucratic layer to a process that is already highly regulated."

Under McGuire's bill, the medical board would monitor physicians through quarterly reports of prescription claims that would not reveal patient names, but rather the prescribers' practices. Prescribing to very young children, high dosages of medications, and the use of multiple psychotropic medications at once could be grounds for investigation under the bill.

While physicians have due process rights to defend themselves, ultimately the worst offenders could lose their licenses. The new scrutiny of psychotropic prescribing is similar in some ways to curbs on the overuse of pain medications, now tracked by the state Attorney General's Office.