THE SHERIFF & HIS UNDERSHERIFF TESTIFY
One week ago, on Friday, July 27, when Sheriff Lee Baca and Undersheriff Paul Tanaka came before the Citizen's Commission on Jail Violence, the anticipation among those who had been following the hearings ran uncommonly high.
At most other commission meetings only a rotating group of hyper-interested parties were present, people like Peter Eliasberg, the legal director of the So Cal ACLU, a lawyer or two from the Office of Independent Review, sometimes Merrick Bobb, Special Counsel to the Board of Supervisors, plus whatever friends and family each "witness' brought as moral support.
Occasionally miscellaneous staffers from the Board of Supervisors' offices would drop in for a while to listen, but they rarely stayed.
Yet when the meeting commenced this past Friday at 9 am, in addition to the usual suspects and reporters, a cheering section of approximately 200 Los Angeles Sheriff's Department employees, some in uniform, some in plain clothes, had taken their seats in the Board of Supervisor's Hearing Room at Temple and Grand in downtown LA.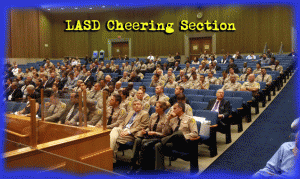 (TAP PHOTO to enlarge)
The size of the LASD contingent was so startling that one of the commission members quipped that he wondered who could possibly be left to patrol the county's streets.
The remark was mostly a joke, but not entirely. Everyone knew that Baca and Tanaka would bring a few support staff and maybe a handful of others, like the specially appointed, five-person Commander Management Task Force, which was part of Baca's push to reform the jails, so its members had an obvious stake in the day's proceedings.
But the 180 or so extras were a surprise, although there had been rumors that calls had gone out to certain contingents within the department, urging them to show up.
"I hope they all came on their days off," a Board of Supervisors aide remarked later. "I mean, I hope they weren't there on county time."
---
TANAKA TALKS
For much of the LA Press, who were also present in greater numbers that usual, especially the TV people, the main event was Sheriff Baca, who was not scheduled to testify until after the lunch break.
But for hardcore commission watchers, the most intense focus was on the undersheriff, Mr. Tanaka, who had been singled out in the testimony of six of the commission's previous LASD witnesses, and not in a good way.
The undersheriff took the witness chair at approximately 9:44 am and proceeded to answer almost every unflattering question lobbed his direction by insisting that those who had found fault with his statements or actions were either fabricating events, deliberately misinterpreting his words for their own agendas, or out-and-out lying.
If there was no one whose veracity he could plausibly impugn to deflect an unpleasant question, Tanaka pleaded failure of memory.
It was an approach that, a couple of hours into the hearing, began to arouse visible ire in the otherwise dignified commission members.
---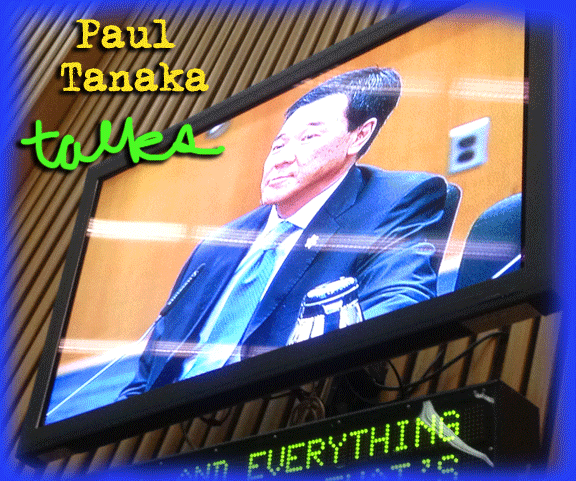 An emblematic example of Tanaka's blame-everybody method came early in his testimony, after the undersheriff was asked about a now well-known series of events that occurred in February of 2006 (that WLA first brought to light here and here), when Captain John Clark, the then head of Men's Central Jail, was looking for ways to get a handle on a disturbing rise in use-of-force incidents at the county's biggest and most troubled facility.
As a proactive measure, Clark decided to institute a job rotation system that would require deputies to be rotated through multiple posts every few months in CJ, rather than becoming calcified in just one post on one floor, the latter calcification being deemed part of the conditions that led to the excess of force in the first place.
"We had some conduct relative to use of force that we had tried normal methods to address," Clark explained in a sworn deposition earlier this year. "And so we decided to make a change that …put the rotation in place to see if we could possibly affect future behavior [with regard to use of force]."
Even prior to Clark's tenure at CJ, the rotation strategy had been suggested by various supervisors, plus Special Counsel Merrick Bobb, in one or more of his twice-yearly reports.
A supervisor who tended to lean in a by-the-book direction, Clark did not make the decision on his own. He went up through the appropriate chain of command and got approval from his boss, Commander Dennis Conti, who then went for an okay to his boss, Chief Sam Jones who oversaw the department's custody division. Conti told Clark he had subsequently gone to then-Assistant Sheriff Tanaka, who too gave his sign off on the plan.
After that, Clark sent around an informational memo to everyone involved with CJ, announcing the policy and outlining what he was doing and why he was doing it. Clark made it clear that the rotation would only pertain to the deputies' work locations in the jails, but not their shifts—as the latter would have wreaked havoc with their home lives.
A slew of deputies, most of them reportedly a part of the deputy cliques that had formed on the 2000 and 3000 floors, were not at all happy with Clark's plan. So some of the ringleaders—O.G.'s as they were reportedly called—sent around an email to all CJs deputies urging everyone to send a letter of complaint directly to Mr. Tanaka. The organizers provided a helpful boilerplate text that could simply be copied and pasted into one's email and sent off with little effort.
[These facts were not in dispute as the commission had copies of all this paperwork, which WitnessLA also obtained and posted earlier here.]
And so it was that Mr. Tanaka got nearly 200 identical emails. Upon receiving the flood of letters, rather than talking the matter over with Clark, or either of his two bosses, and without mentioning his intentions to anyone else in the chain of command, including Sheriff Baca, Tanaka famously called a meeting with all the deputies at Men's Central Jail. It was meeting from which all supervisors were pointedly excluded.
Then, according to those who were present at the meeting, like some all-powerful Norse god, Tanaka metaphorically waved his magic staff over the assembled deputies, and unilaterally and publically rescinded Clark's rotation.
He informed Clark of the cancellation of his rotation order only after it was a fait accompli. A few days later, he called a meeting with the CJ supervisors, several of whom, including Clark, Tanaka reportedly proceeded to dress down and humiliate in front of their subordinates.
At the same meeting, he reportedly announced that he was sending over to CJ three of his own handpicked lieutenants who would whip things into shape.
The commission knew all about the Clark/CJ/rotation debacle through reports and documents, but most specifically because two of their previous "witnesses," Sergeant Dan Pollaro, Lieutenant Al Gonzalez, had been present at the supervisors' meeting, and had each recounted their experiences with the then assistant sheriff at the meeting in harrowing detail.
For instance, Pollaro and Gonzales each told how Tanaka roared angrily at the supervisors that they should "coddle" this new generation deputies, even making a rock-a-bye baby motion with his arms.
Bert Deixler, one of the commission's attorney/investigators, was the person doing the initial questioning of Tanaka at the hearing. In his non-commission life, Deixler is a high profile civil litigator who has also won an impressive string of pro-bono cases, taking at least one successfully to the US Supreme Court. In other words he knew his way around an cross examination. With Tanaka, he was polite enough, but pulled no punches. After grilling the undersheriff about the events that led up to the back-to-back meetings, he asked specifically about the anecdote. "Isn't it true that you said that this new generation of deputies had to be "coddled."
Tanaka was unequivocal "No absolutely not," he said.
Then, what about the fact, Deixler asked, that other witnesses who were in the meeting described that he had even made a cradling motion while he talked about "coddling."
"You can bring them here, you can bring me here and put us on a lie box. I would never, ever have suggested indirectly, or stated directly, that it's the job of a supervisor to coddle a deputy."
As for why he slammed shut the rotation plan, Tanaka was equally dismissive. "It's my recollection that [Captain Clark] was dealing with a handful of problem deputies. That's all. When you have a handful of problem deputies you don't mass punish hundreds of deputies."
Plus, Tanaka said, Clark wanted to the deputies to rotate shifts—not just the floors they worked—which made it impossible to plan their lives. "That to me that was unconscionable."
Of course, all of what Tanaka said about the reasons for the rotation, or the rotation policy itself, was easily disproved as inaccurate—first by the widely distributed and detailed memo announcing the rotation, and also by everyone who had spoken publically on the topic, and finally by Clark himself in his account in a sworn deposition. Yet none of this seemed to dent the undersheriff's unassailable confidence that he was in the right and everyone else was wrong.
"Based on my verbal conversation that I had with captain Clark, I made the right decision," he said of his squelching of the rotation, adding, "Now if this had been more clearly communicated to me, or I had seen [the Clark] memorandum, you're right, it might have changed my decision about not letting him proceed with the rotation plan."
The obvious question would seem to be: why in the world would Mr. Tanaka—who was at the time the highest ranking department executive overseeing the jails—unilaterally reverse a policy decision that affected all those working in and around Men's Central Jail, without ever bothering to learn what the policy actually entailed, or to read any of the simplest paperwork on the policy?
Several times in the course of the hearing, Tanaka was asked a version of that question and, while on the second go-round in response to one of the commissioners, he admitted that he might have done things better, he mostly continued to place the responsibility for the "misunderstanding' directly, if illogically, on Clark's shoulders.
It was this same I'm-right-and-everybody-else-is-lying stance that Tanaka would employ throughout much of the 3 ½ hours of his testimony.
---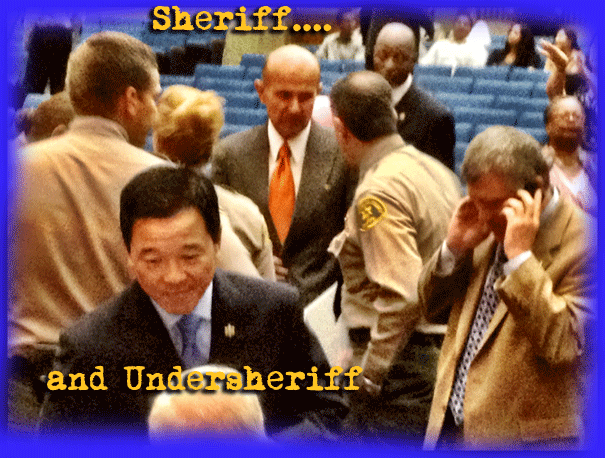 FORCE? WHAT FORCE?
One of the undersheriff's most perplexing denials was his insistence that he was not ever made aware of problems of excessive force in the LA County Jails until federal investigations and a flood of negative press attention brought the matter front and center in the spring and fall of 2011.
"We were caught unawares," he said.
At one point, he did admit to hearing about an isolated force problem that seemed to be an artifact of the function of "pill call," which was the moment during the day when inmates were called out to get their medication. Tanaka said he simply rectified the issue by reverting to an earlier system in which nurses brought the medication around to the individual cells. Presto. Problem solved.
Other than the pill call matter, he said, he'd heard nothing. Given a pile of civil lawsuits, alarming ACLU reports that hit the news at least once a year, and cyclical cautionary reports from Merrick Bobb, and Mike Gennaco's Office of Independent Review, this was hard to understand. Though a Public Records Act request, even WitnessLA was able to acquire comparative numbers on force incidents that clearly indicated an escalating pattern of force in CJ.
So why didn't Paul Tanaka know? Why didn't the sheriff know?
Tanaka specifically denied having seen any of the four reports about widespread uses of force in CJ, that were prepared at the request of Commander Bob Olmsted in 2008 and 2009, reports that all of the commissioners had by now received and read. There was one by a Lt. Mark McCorkle, two reports by another CJ supervisor, Lt. Steven Smith, and a fourth report by Captain Gregory Johnson.
Each of the four reports taken alone contained accounts that should have raised considerable alarm in any responsible supervisor. Together they indicated a crisis.
At least they certainly did to Olmsted, who had previously testified that he gave the memos to his boss, Chief Burns, and then to his boss's boss, Assistant Chief Marvin Cavanaugh. Olmsted said he finally presented the same reports to Paul Tanaka in a face-face-meeting that Cavanaugh arranged.
But Tanaka waved away the notion that he'd been given anything of the kind.
"It was never brought to my attention. Not a single [supervisor] ever raised it as a problem to the level that I needed to get involved. That was never, ever bought up," Tanaka said, his expression nettled, his voice by then very sharp.
Deixler: "Do you know that Commander Olmsted says he brought the McCorkle, Johnson and the Smith memos to you, long ago, and you declined to look at them?" [Backstory on Olmsted here.]

Tanaka: "You're asking me if that occurred? The answer is NO."

Deixler: "You're certain that Commander Olmsted never brought to you the McCorkle, Johnson and Smith memos?"

Tanaka: "One hundred percent. It never occurred."
Tanaka further claimed that when Olmsted met with him, that it was only to resolve a personality conflict between himself and CJ's then captain, Dan Cruz. Force was never mentioned, Tanaka said. Olmsted's account was "a fabrication."
Finally, much later in the morning, after Tanaka had accused still another group of department members of misrepresenting his words and actions, in this case in a meeting with deputies during a 2007 briefing at the department's Century Station, Deixler paused and stared at the undersheriff, then asked deadpan, "Is there widespread dishonesty in the sheriff's department?"
Tanaka snapped back, "There's widespread personal agendas."
---
THE COMMISSIONERS STEP UP
Once Deixler finished with his own list of queries, the seven commission members had a chance to ask their own questions.
They asked about such issues as pay-to-play promotions, Tanaka's criticism of the Internal Affairs, and whether he had a general disregard for the chain of command. The undersheriff predictably denied it all, although his tone was less dismissive with the commissioners whom he seemed to view as having a different kind of gravitas.
Judge Carlos Moreno who, at past meetings, had not been a particularly aggressive questioner now seemed quietly incensed by the undersheriff's seeming unwillingness to express either alarm or personal responsibility for the hundreds of inmate complaints and force reports that had been discovered languishing in dusty stacks and in desk drawers for sometimes several years.
"I don't know if you know," Moreno said carefully, "but a fraud has been committed on the state courts with regard to Pitchess discovery. I've conducted scores of reviews with Pitchess discoveries, and we thought these [Sheriff's Department] files were accurate….." Now it turns out that they were not, he said, due to the languishing of reports unexamined in boxes and in drawers. Moreno wanted to know what Tanaka thought about all this:
Moreno: "Do you have any comment on what I consider frauds committed on the court?"

Tanaka: Well, it's very disturbing.
Moreno is not placated. "It's also unconstitutional—don't you think?—under Brady. (By Brady he meant the Supreme Court decision of Brady v. Maryland.)
When he finished with violations of the U.S. Constitution, Moreno also grilled Tanaka about the deputy cliques….
Moreno "I had trials in the 80s or 90's in a Compton court, many of which had to do with an organization called the Vikings," he said. "Are you familiar with the Vikings in any way?
Tanaka: "Yes, I have some familiarity with the Vikings. I don't consider them an organization."
Moreno: "Well, were they a sports team?"
For a moment it seemed like Moreno might take one more step and ask the undersheriff he himself had been a member of the Vikings, and if so, did he still have his Vikings tattoo?
But the moment passed.
Soon after that, the Tanaka portion of the hearing ended. The commission broke for a 35-minute lunch, and then everyone readied themselves for Sheriff Baca.
---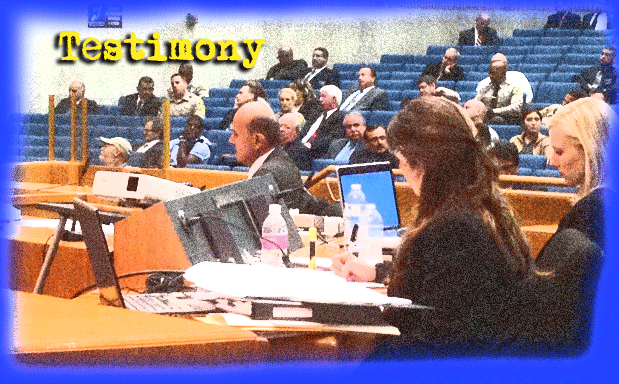 THE SHERIFF TESTIFIES: "I'M A STEWARD OF THE PUBLIC."
Lee Baca looked relaxed and confident as he stepped to the witness microphone wearing his blue and thin white pin-striped suit. He had the aura of an athlete who had trained, and was now ready for the game.
The essence of his message to the commission was, yes, I know there were problems, I admit they were bad, I take responsibility for not being aware of them, but I'm in charge now, and we're making great progress. I'm on top of this.
In addition to his verbal presentation, he provided both commission and press with a 55-page written report.
Somewhere in his monologue, Baca even said he was working on a strategy to handle the campaign contribution issue (that WitnessLA first reported), a topic that subsequently alarmed the Board of Supervisors, and now the commissioners. And he had other planned reforms in the works, he said.
The sheriff talked repeatedly about his favorite topic, education-based incarceration, his model program in the jails. He also waxed eloquent about some of his other theories about violence and violence prevention. Much of this was the sort of touchy-feely-sounding stuff that drives lots of the rank and file crazy. If one listened closely, however, one found that most of the sheriff's progressive concepts were research-based and smart. Yet, they were tangential at best to the hoary departmental problems, and cultural toxicities, that brought everyone to the hearing room.
In addition to his progressive lawman self, Baca also brought out his political trench fighter side, as several times during the the exchange with the commission, the sheriff played his hole card, the fact that he is a popular elected official.
"I'm a steward of the public..'' he said.
"I trust the voters of Los Angeles County, and the voters of Los Angeles county trust me," he said at another juncture.
The biggest laughline of the day came when the commission's lead counsel, Richard Drooyan, asked the sheriff: "How do we hold you accountable?"
"Don't elect me," replied Baca.
And that wasn't the only line in the sand he drew; the sheriff also made it extremely clear he that had no intention of getting rid of his second in command.
"Paul Tanaka is uniquely suited to be the undersheriff," he said after he was questioned about some of the undersheriff's possible missteps. "When you go through two recessions, you need a CPA." In one fiscal year, Baca said, he was 25 million over budget. "I told the Board of Supervisors I'd pay them back. And I did! I'm the only department who paid them back"—the implication being that Tanaka was the budget balancing savior, without whom the department, and Baca, would have been fiscally underwater. And then later, in case anyone's missed the point: "You're not going to tell me how to discipline my command staff," he said.
But Baca also made it clear that he was the boss of the department, not anyone else. There was no shadow sheriff. He was calling the shots. He had taken over the jails, and Internal Affairs, and ICIB.
"I'm the sheriff," he said with a cheerful growl, "and everybody else is a deputy sheriff."
---
When he finished speaking and all the commissioners thanked him, Baca headed out the door and down the front steps with his Commanders' Management Task Force, his mood one of ebullience. "You teed the ball up for me," he said to the commanders, "but then I swung and hit it hard. You teed it up, and I hit it." He grabbed one commander's shoulder. "It made me feel like a teenager again."
(I can't say if those words of the sheriff's are exact. I had stopped taking notes by then. But they are very close.)
But before he disappeared into his waiting car, there was one other thing that some of us observing the sheriff and his entourage noticed. The crowd of 200 that had been present in the hearing room for the undersheriff's testimony had dwindled by a third or possibly a half of the original number. It had happened sometime during lunch, just before was time for Sheriff Baca to walk to the microphone.
(I later attempted a count of bodies in the before and after photos I happened to snap, and my best estimate is that just under half of the LASD audience vanished before Baca walked to the mic. But that's still a guess.)
Maybe those department members who left simply had to go back on shift. Or maybe they were trying to beat Friday the traffic. Or maybe their collective exit meant nothing at all.
But the change was curious. And one could not help but wonder if the sheriff in his happy post-testimony state noticed the difference. And, if so, what he made of it.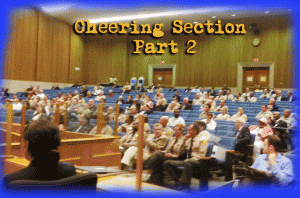 (TAP PHOTO to enlarge)