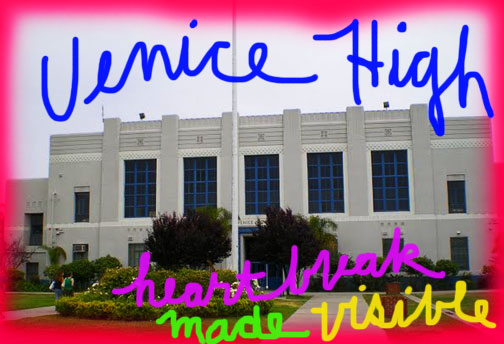 (Posting will be daily, but somewhat light between now and Friday as it is the last week of classes at both USC and UC Irvine, which means I'm reading and making notes on around 5,748,675 pages of rough drafts for students' final stories. (Yes, that is a slight exaggeration. But only slight. The good news is, at both schools, my students are working on some very cool stories.)
---

EDUCATION BLUES I: HEARTBREAK HOTEL

"Every day my heart gets broken," writes Dennis Danzinger, a former TV writer turned impassioned high school teacher.
The hurt starts before I step foot onto my campus. I live six blocks from my work site in a diverse, middle-class neighborhood called Mar Vista where two bedroom homes sell for $700,000 and the gentrified two-story jobs go for over a million.

On my walk to work, I observe the morning rush to school. Kids, in uniforms, hurry toward waiting cars to be whisked away to private schools.
And then, he writes, he crosses the boulevard where teenagers are being disgorged from school buses that have ferried them from elsewhere in the city to the LAUSD high school—Venice High, to be specific— where Danziger teaches English.
All are seniors. Most are smart. All are street smart. Many are shy. Most read and write below grade level. Of the 42 students on my Period 1 Expository Composition roster only three are applying to universities.

I read their personal essays which will be published this spring in an anthology of student writing thanks to a grant from PEN in the Classroom.

[Note: PEN USA's PEN in the Classroom program sends professional poets, novelists, screenwriters and journalists into classrooms—mostly in underserved and under-performing schools—for a 12-week-long creative writing residence.]
These are the stories my 17- and 18-year-old students have shared with me under the tutelage of PEN mentor, Amy Friedman:

A 3-year-old watches from his front porch as his uncle shoots himself in the head.

A mother dumps her 15-year-old son at a police station and tells the cops they can have him.

A father goes downstairs and is shot by a car thief. He leaves behind three daughters.

A four-year-old girl is fondled by her uncle while her father is out on the town, cheating on the girl's mother. The girl holds this secret inside for ten years.

A boy visits his father in jail.

A six-year-old receives a brutal, daily beating from his kindergarten teacher. [

A dad walks in on his daughter as she kisses her girlfriend. He beats his daughter and kicks her out of the house.

Two of my students reveal that they were crack babies.

Another, with an addicted mother, goes home every day and takes care of her autistic brother.

An innocent teen is cuffed and interrogated by the LAPD because he looks like a gang banger though he is not one and has never been in trouble.

A 17-year-old girl buries her boyfriend who is shot in the back after leaving an art class at a local recreation center.

A brother gives mouth-to-mouth resuscitation to his 16-year-old brother who overdosed and died.

What I love about my students' writing is its honesty. What I admire about most of my students is that despite the hurt they've felt, the fear that follows them, they keep showing up. They work hard in class. They know they're behind, but they continue to push, to struggle on. Most of my students hold after school and weekend jobs. They help pay the rent. They hang in. They write. They re-write. They listen. They do whatever is necessary to earn their credits, so that they will graduate and make themselves and their parents proud.
Dansiger is made weary by the fix-it-all socio-political nostrums, he writes—from Race to the Top , to charters, to vouchers, to union busting, to merit pay….and so on.
And when I read these columns and hear their speeches, these people who have all the answers, I wonder what world they live in.

They certainly don't live in mine.
Here is a previous story about and by Dansiger and his student writers.
---
EDUCATION BLUES II: CHARTERS & THE SEARCH FOR THE MAGIC BULLET
On a related matter, Monday's LA Times has a thoughtful editorial about what charters can do—and what they may not be able to do.
It concludes:
Charter schools have played an important role in reform, and the best of them have transformed the educational futures of their students. But so far they have not proved a panacea for what ails public education.
(Well, yeah. The charter structure alone doesn't necessarily fix anything. Like any other schools, there are good charters, and not-so-great charters.)
In any case, it's worth reading as a good addition to the dialogue.
---
EDUCATION BLUES III: AND WHILE WE'RE ON THE SUBJECT OF CHARTERS….
A week or so ago it was reported that Green Dot Charter Schools founder Steve Barr was leaving the chairmanship of Green Dot to found Green Dot America in January. (Actually, initially it was reported that Barr was just plain leaving Green Dot, which caused all kinds of odd rumors to swirl, which turned out not to be true.)
I have yet to call Steve (which I will do, I promise, once I make my way through this weeks student paper storm) but he has spoken to Scholastic's Alexander Russo and to Education Week a bit about his plans.
More soon.
---