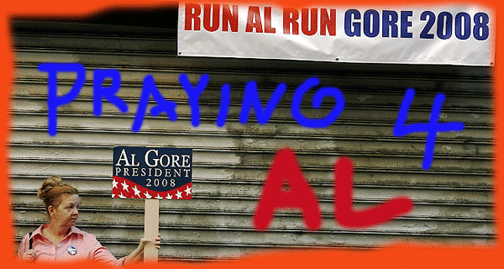 I'm still neck-deep in deadlines but when WLA commenter, Listener-on-the-Sidelines, pointed to the Al Gore rumors that have been popping up, like mushrooms after a rain, in the last couple of hours, it got my attention.
The Nobel Peace Prize will be announced on Friday and it has been long suspected that Al is on the short list. So when news leaked out, via a San Francisco Chronicle blog, that he had suddenly canceled today's high profile fundraising appearance for Barbara Boxer in order to "travel abroad tomorrow for an exciting and urgent mission"….the gossip mill began going crazy.
Here, for example, is what the San Francisco Chron has to say:
Hundreds of loyal "Draft Gore" activists in California and around the nation hope Gore hits a trifecta of public recognition on Friday [he's won an Oscar and an Emmy] when the 2007 Nobel Peace Prize is announced. The award of a Nobel Prize could prompt the 2000 Democratic presidential candidate to change his mind and launch a 2008 presidential run, they believe.

"It's like waiting for Grateful Dead tickets to go on sale, back in the day," says Eric Schiller of Moss Beach, an activist with the California arm of America for Gore (americaforgore.org), one of a coalition of 19 independent groups pushing Gore to run for the White House.

Well, the news is actually a TAD bit more significant than waiting for the Grateful Dead to hit Ticketmaster…but we take your point.
According to the New York Times, the recent no comment comments from his staff have upped the anti on the Will Al Run If Drafted? speculations:
Mr. Gore declined an interview request Wednesday, but his representatives stopped short of declaring that he absolutely would not run. "He really deeply appreciates where this comes from, and what people are trying to say to him," said Kalee Kreider, a spokeswoman, though adding, "I think he's said it many times, that he has no plans or intention to run for president."

With Hilary Clinton the seemingly impossible-to-dislodge as the front runner, many of us wonder disconsolately if the Democrats are once again about to choose a candidate with too much baggage and without the broad appeal necessary for a general election.
Question: But what can we do about it? Answer: Draft Al.
Can He Save the Planet and Win the Presidency? asks Dan Balz at the Washington Post.
It would be nice.

*************************
UPDATE: I'm now getting a stream of press releases from people commenting in advance of Gore's possible win, so it's really in the air.
Here's one, for example, from the Cato institute quoting Senior Fellow Patrick Michaels :
"…He's like the proverbial nut that grew into a giant oak by standing his ground. We can only hope that he can parlay his prize into a run for the U. S. presidency, where he will be unable to hide from debate on his extreme and one-sided view of global warming."

(Photo by Keith Bedford of the New York Times)