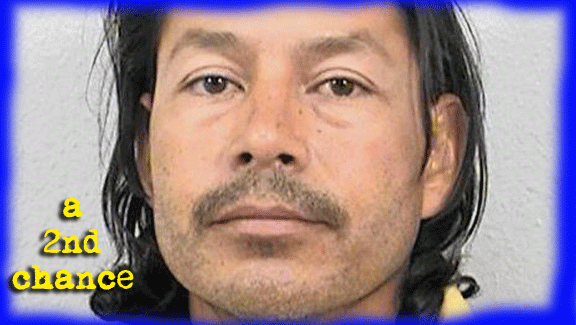 CONVICTED OF MURDER AT 16, RELEASED 24 YEARS LATER IN ONE OF FIRST SB 9 PAROLES
In 1991, the year that LA's gang violence was at its most deadly, Janet Bicknell, a 49-year-old teacher's aide, was driving home from a Westminster supermarket. Five gang members—four of them adults—were looking for a car to jack with the idea of using the car in a drive-by shooting against some "enemy" gangsters and they spotted Bicknell's car. One of the five, 16-year-old named Edel Gonzalez, a gang member since he was 11 and the only kid of the group, stepped in front of Bicknell's car then tried to yank open the driver's side door. When Bicknell attempted to drive away, one of the adult gangsters raised a .44-caliber pistol and shot Bicknell in the head, killing her.
The senseless brutality of the murder shocked Westminster. Although Gonzalez did not himself kill Bicknell, the crime was committed in the course of a robbery, so the other four—including Gonzalez—could legally be tied to it along with the actual shooter. Gonzalez was the first of the group to go to trial and, in 1993, he became the youngest person in Orange County to receive a life sentence without the possibility of parole
Fast forward more than twenty years, to September 2012, when Governor Jerry Brown—after much dithering—signed AB 9, the Fair Sentencing for Youth Act, which allows some of those sentenced to life without parole as juveniles, to apply for resentencing hearings if they have served 15 to 25 years, and have met certain strict criteria.
So it was that that Gonzalez became the first person in California to apply for resentencing under the new law. In December 2013, Judge Thomas Goethals changed Gonzalez's sentence from life without to 25 years to life with parole.
Then in 2014, a second law known as Senate Bill 260, went effect requiring parole commissioners to consider the diminished culpability of youth at the time of their crime.
The combination of the two laws, plus Gonzalez exemplary behavior in prison along with his ongoing expressions of responsibility and profound regret about the murder of Bicknell, helped his pro bono lawyers at USC's Post Conviction Project successfully advocate in his behalf.
On Tuesday of this week, Gonzalez was released from custody.
Back in 2013, Gonzalez told the judge that, if he was released, he hoped to work with kids to help them stay out of gangs. "There isn't a day that goes by when I'm not reminded of the wrong, the harm and the pain I've caused," Gonzalez said.
Gonzalez, who was brought to the US by his parents as a small child, is not a citizen. As a consequence, he will deported to Mexico shortly. He already has plans in place in Tijuana, where he will work at a local church counseling kids about staying out of trouble, in addition to other tasks.
Here's what Marshall Camp, one of Edel's earlier lawyers, said about his client to Super Lawyers after his 2013 resentencing. "He lived a model life in prison, avoiding gangs, drugs, and violence, while taking advantage of educational opportunities and finding religion. I can't imagine how someone could do that with no realistic prospect of ever getting out."
Merisa Gerber of the Los Angeles Times has more.
In California, about 310 prisoners are serving life prison sentences without the possibility of parole for crimes they committed before they turned 18, said Luis Patino, a spokesman for the corrections department. Nationwide, about 2,500 prisoners are serving life-without-parole sentences for crimes they committed as juveniles, said James D. Ross, spokesman for Campaign for the Fair Sentencing of Youth.

The California legislation, SB 9 — which comes into effect as Gov. Jerry Brown has been paroling more "lifers," including adults convicted of murder — shows how the state has "evolved," said Elizabeth Calvin, a children's rights advocate at Human Rights Watch.

"It really shows that California is on the right track," she said, "that it's trying to shape its laws with what we know is true: That young people have a capacity to turn around their lives."

But Jennifer Bishop-Jenkins, who helped found the National Organization of Victims of Juvenile Murderers, said she was concerned about setting violent offenders back into the community.

"If anybody dies because this guy got let out, what are you going to say to those people?" said Bishop-Jenkins, whose pregnant sister and her husband were killed in 1990 by a 16-year-old in a suburb of Chicago. "I know everyone loves to believe every human being is fixable. I used to believe that — sadly, I know differently now."
Two landmark court decisions also paved the way for the laws that resulted in Gonzalez's Tuesday release.
First, in 2012, the U.S. Supreme Court held in Miller v. Alabama that mandatory sentencing of juvenile offenders to life without parole was cruel and unusual. (Superstar civil rights lawyer Bryan Stevenson argued Miller v. Alabama before SCOTUS.)
Then in May 2014, the California Supreme Court handed down its own ruling to modify California's sentencing law, with People v. Gutierrez, which affirmed that juveniles are different from adults, and that these differences must be taken into account in sentencing, even in very serious cases.
While it (obviously) had no effect on Gonzalez' case, it is interesting to note that in Florida, that state's supreme court ruled last week that juveniles not convicted of murder may not be sentenced to life in prison, and that even those convicted of murder may not be sentenced to life without parole.
---
TWO SCOTUS JUSTICES SLAM THE AMERICAN JUSTICE SYSTEM IN CONGRESSIONAL HEARING
In testimony on Monday before a house subcommittee, U.S. Supreme Court Justices Anthony Kennedy and Stephen Bryer surprised many observers by blasting the U.S. Justice System for, among other things, over incarceration, "terrible" sentencing minimums, and the use of solitary confinement.
Justice Kennedy, the much watched swing voted on the court, was up first, and was asked about the nation's "capacity to deal with people with our current prison and jail overcrowding." Think Progress's Jess Bravin has this about what Kennedy said:
"In many respects, I think it's broken," Kennedy said of the corrections system. He lamented lawyer ignorance on this phase of the justice system:

I think, Mr. Chairman, that the corrections system is one of the most overlooked, misunderstood institutions we have in our entire government. In law school, I never heard about corrections. Lawyers are fascinated with the guilt/innocence adjudication process. Once the adjudication process is over, we have no interest in corrections. Doctors know more about the corrections system and psychiatrists than we do. Nobody looks at it. California, my home state, had 187,000 people in jail at a cost of over $30,000 a prisoner. compare the amount they gave to school children, it was about $3,500 a year. Now, this is 24-hour care and so this is apples and oranges in a way. And this idea of total incarceration just isn't working. and it's not humane.

Kennedy, traditionally considered the swing vote among the current set of justices, recalled a recent case before the U.S. Supreme Court in which the defendant had been in solitary confinement for 25 years, and "lost his mind."

"Solitary confinement literally drives men mad," he said. He pointed out that European countries group difficult prisoners in cells of three or four where they have human contact, which "seems to work much better." He added that "we haven't given nearly the study, nearly enough thought, nearly enough investigative resources to looking at our correction system."

Kennedy's comments come just weeks after a federal review of U.S. solitary confinement policy also found that the United States holds more inmates in solitary confinement than any other developed nation.
Kennedy, who seemed to be more voluble in his testimony than Breyer, also slammed the nation's overuse of incarceration.
"This idea of total incarceration just isn't working," said Kennedy. In many instances, he said, it would be wiser to assign offenders to probation and other supervised release programs.
The whole thing just wasn't cost effective, Kennedy told the committee, and wasn't helpful to public safety.
Justice Breyer added that mandatory minimum sentences were "a terrible idea," and urged Congress to "prioritize" improvements to the criminal-justice system. Breyer has long been an opponent of mandatory minimums, which he says "set back the cause of justice."
---
LET'S RECOGNIZE THE MAJORITY OF GOOD PROSECUTORS SAYS INNOCENCE PROJECT LAW SCHOOL PROF
We at WitnessLA are often critical of prosecutorial overreach and misconduct, in which winning seems all important, and seeking justice falls by the wayside.
Yet this Op Ed for Politico by Lara Bazelon—associate clinical professor of law at Loyola Law School and director of the school's Project for the Innocent—is an important reminder that, like journalists and cops, the majority of prosecutors are doing their damnedest to use their profession to make things better.
Here's a clip:
….It is a misconception that prosecutors simply take the job to put people behind bars. Yes, there are bad apples, but they are a minority whose misdeeds attract a disproportionate share of media attention. The vast majority of prosecutors go into this line of work to ensure that citizens get justice—and, in a growing number of cases, that means helping to free wrongly convicted felons.

Last year, 125 men and women were released from prison because they were wrongfully convicted, according to a report by the National Registry of Exonerations. That is more than two people per week and a record number of exonerations for a given year. More than half of these cases—or 67— were overturned because of prosecutors like Mark Larson either cooperated or led the charge to set the record straight and ensure that justice was done.

The irony of my writing this essay is not lost on me. Before directing the innocence project at Loyola Law School, I spent seven years working as a deputy federal public defender where my role in the system was to vigorously defend the criminally accused regardless of whether they "did it" or not. My job description emphatically did not include singing the praises of prosecutors. But it is important to do that. We should call out bad prosecutors and punish their misconduct, of course. Just as importantly, we should make sure that honorable prosecutors get the attention and respect they deserve.

Many exonerations receive extensive media coverage, searing into the national consciousness the image of the prisoner's emotional reaction at the moment of freedom as we learn about the long road from hopeless, unmitigated suffering to sudden and complete redemption.

Afterwards come the recriminations. Prosecutors lied and withheld evidence. Witnesses who claimed to be 100 percent positive were in fact 100 percent wrong, coaxed or coerced into finger-pointing by overzealous police officers. Our system of justice, we are told over and over again, is irretrievably broken.

What receives less discussion is the powerful, positive narrative behind the recent statistics: the story of the good prosecutor. The National Registry of Exonerations records not only the number of exonerations, but their cause.