(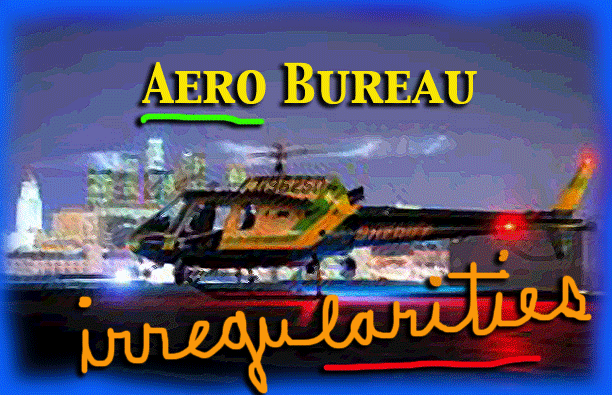 When 31-year Los Angeles Sheriff's Department veteran Lieutenant Edison Cook came to the LASD's Aero Bureau in June of 2009, he was genuinely thrilled about the assignment.
Cook's last two postings had been the department's Palmdale station for a number of years then Catalina Island where he led a swift crackdown on what the department felt was a growing gang problem on the idyllic resort island. The crackdown made national news, which caused local officials to fear that the negative publicity would drive away vacationers from tourist-dependent Avalon.
Yet Sheriff Baca was reportedly pleased with Cook's work and asked him where, if he had his druthers, he would like to be stationed next.
Cook told the sheriff he'd like to become a helicopter pilot at Aero bureau.
He was by no means confident his wish would be granted. Most people who transferred into Aero were reportedly hand-picked by its commanding officer, Captain Louis Duran, who was, as he liked to mention, an old friend of Undersheriff Paul Tanaka. (Some said it was his wife who was the older Tanaka friend. But no matter, the principle is the same.) In any case, since Duran's arrival at the bureau, the majority of Aero transfers were from from Region II, which featured the hard charging stations like Lennox and Century, to which Tanaka was partial.
Still, in short order, Cook was surprised to find that his transfer had been arranged, presumably by the sheriff. He was going to Aero Bureau.
Ed Cook had no inkling of the firestorm that was to come.
---
AERO Bureau, as the name implies, is an elite LASD division that oversees the department's aircraft—mostly helicopters. The bureau has a fleet of more than a dozen single engine light helicopters, Eurocopter AStars, that are used primarily to support law enforcement work on the ground throughout Los Angeles County. In addition to the air support fleet, there are the 2-engine Sikorsky Sea Kings (soon to be replaced by Eurocopter Super Pumas) operated by the department's Rescue 5 pilots. These are the sturdier search-and-rescue aircraft we often see in footage on the evening news performing dramatic back-country life-saving missions. The department also owns a Beechcraft King Air turbo prop, that can seat up to eleven people and is used for specific kinds of personnel transport needs, like if, for example, a couple of detectives need to speak immediately to an inmate in the state prison at Pelican Bay, where there is no big commercial airport nearby, the King Air is the most time and cost efficient way to get the detectives there and back.
When Cook arrived on the job, according to sources who watched his transition to the new assignment, he was well regarded by the deputies under him from the beginning. "You could see he was a straight arrow," said one source, "but he was also this very approachable kind of guy. People liked him."
Cook's performance evaluations prior to his transfer would tend to support that assessment. In addition, to year after year of Outstanding ratings, the comments that accompanied the ratings indicated an unusually responsible and ethical officer with "exceptional interpersonal skills, and "splendid oral communications skills." Judging solely from the last 9 years of work-place evaluations, the cumulative impression is of a capable, ethics-driven supervisor who also inspired confidence in those below him.
Cook was so approachable, in fact, that as time went along, he was reportedly the supervisor to whom deputies who had some concern or other about the bureau came to confide. "They felt they could be honest with him," said one bureau veteran. "With Ed, they weren't afraid of repercussions."
As the months wore on, the deputies' complaints and concerns reportedly began to group themselves into three main categories: the distribution of overtime assignments, the alleged falsification of work records by others in the bureau, including overtime records, and the concern that assignments and schedules were being deliberately manipulated to create missed service calls that would, in turn, give the impression that the bureau needed more overtime, but which raised some clear and troubling ethical issues.
---
THE MATTER OF OVERTIME
After economic crash of 2008 forced both the sheriff's department and the LAPD into angst-causing budget cuts, the issue of overtime—the time-and-a-half-paid work that many law enforcement personnel coveted as a source of extra income, and which allowed more deputies to be available at times of high need—was one of those areas targeted for cutting by both of LA's law enforcement agencies.
The LASD in particular was pressed to make deep cuts after a 2009 audit found that the department had exceeded its annual overtime budget by an average of 104 percent, or $83 million a year, in each of the previous five years.
As a consequence, Sheriff Baca reluctantly imposed a severe overtime diet across the department.
It was in this context that, in the spring of 2010, deputies told Cook that what overtime the bureau was allowed was not being distributed fairly. Cook decided to check into the matter himself. "He went and pulled up the time sheets," explained a source. "Cook allegedly found that a cluster of deputies and a couple of sergeants at AERO seemed to be getting a lot of more of the lucrative overtime than the rest of the bureau's personnel.
In a year's time, these assignments translated into significant dollar amounts—even, surprisingly, in spite of the department-wide overtime diet.
For instance, one pilot, a deputy, who was perceived to be one of those most favored with assignments, made $81,816 in overtime in addition to his base pay and benefits in 2009. A sergeant made $70,178 that same year. Another sergeant made $56,641 in overtime in 2009.
In 2010, when most LASD were making close to zero in overtime, county records show this same cluster still made between 30 and 40 percent extra on top of their base salaries, amounts that were unusual even in the good years. In the belt tightening years, "it was unheard of."
Even weirder, the super-overtime pilot made another 57 percent in overtime income on top of his salary in 2010.
During the next supervisors' staff meeting, Cook brought the matter up to Captain Duran, explaining that he was fairly sure that overtime was being abused, and asked how matters could be rectified. According to Cook, rather than questioning him further to get to the bottom of the matter, Duran's response was, "Who's the snitch?"
"With Louie, everything's all about loyalty"—said one source, referring to Duran. "When you first come to Aero Bureau he actually gives you a loyalty lecture, and he'll ask, 'Are you loyal to me? Are you loyal to me?' And you want to say, 'Dude. I'm loyal to the bureau, but I don't want to swear loyalty to some guy, even if you are the captain.' But you can't say that, of course."
"After that, a group of deputies filed complaints with the union," said another insider. "But nothing seemed to change."
---
MANIPULATING SERVICE CALLS TO PRODUCE OVERTIME
The deputy's complaints kept on coming.. Early in the fall of 2010, guys began telling Cook that some of the supervisors had instituted a plan to "manipulate service calls for the purpose of seeking overtime funding for Aero Bureau personnel." The deputies allegedly said that their sergeants had directed them to "slow down" on service calls—-in order to be busy when other requests for their services came in, thus generating more missed calls on their log. The missed calls would then in turn be reported up the line to sheriff's headquarters as evidence that more overtime funding was needed for Aero Bureau.
Deputies also told Cook that "in-service reports"-–the daily logs that designated where personnel and equipment—were being falsified so that some airships (helicopters) were written down as being in the air and working—making things appear that the unit was working to capacity—-when in fact those birds were on the ground and not in service at all.
This pretense reportedly generated even more missed calls to add additional fuel to the overtime scheme.
Another wrinkle in the reported overtime garnering strategy occurred on or around October 7, 2010 when Cook arrived to work at the Long Beach flight facility where Aero Bureau keeps most of its planes. Right away one of his deputies approached him and told Cook that he'd not been assigned to a helicopter for his shift, and wondered why. Cook simply fixed the matter by adding another flight-ready 'copter to the "in-service" list put himself on as a pilot, taking the man as his tactical flight deputy. (Both positions were needed for every flight.) One of Captain Duran's inner circle, and also one of the overtime favorites, Sergeant John Haughey, approached and, according to Cook, became "very upset." Minutes later, as Cook and his deputy were in the midst-of their pre-flight safety checks, Duran himself came out to the helicopter to talk and, according to Cook, began reciting the now-familiar overtime mantra. "We don't want to field too many ships," he allegedly told Cook, "because then it would look like we could get along without overtime."
Cook said he explained to Duran that the deputy was scheduled to work, but was not on the "in-service" list, so he'd simply corrected the matter as it was a waste of manpower to have a him sitting around. Finally Duran relented and agreed to let them fly.
WitnessLA spoke to other sources inside Aero Bureau who gave us their own versions of the allegations. "We were told, 'We need to miss these calls,'" said one pilot. "When we'd volunteer to fly so that we wouldn't miss calls, we were told not to, 'Because we want to show that we have a need.'"
Instead pilots reported that they often sat behind desks during their shifts, with nothing relevant to do. And once a week we do 'special projects,' explained a pilot. That means we wash cars and aircraft. And on those very same days, calls are dropped due to "Air 23 overtime redirection."
Of course, as the direct and unavoidable consequence of dropped calls officers on the ground did not get the back up they needed.
"It's a fragile thing covering a large area like LA County with a small asset [meaning Aero Bureau's pilots and fleet]," one of the bureau's pilots explained. "We're good at it. But if we even lose one helicopter we have to decide what areas are not going to be covered. Then if you hobble us further, it's hard to accommodate anybody properly.'
The missed call may be something minor, he said. Or it could be a call where the lack of air support is crucial, "something like an officer involved shooting, or a foot pursuit, or a jail escape."
A patrol veteran went further. "Not having air support can be a safety issue. When they play around with dropped calls like that they have no idea which time it's going to really matter."
---
CARPING ABOUT CARPING
Cook soon discovered one more piece of the puzzle of the alleged overtime-generating scheme that had to do with a then-new LASD policy called CARPing.
CARP is a department program that was first introduced in 2009 as a strategy to cut down on the need for expensive overtime hours. CARP—which stands for Cadre of Administrative Resource Personnel—operated on a simple principle: all administrative personnel, including supervisors, would work 4/5ths of their workweek—or 32-hours—at their regular job. Then they'd work the remaining eight-hour shift on a "CARP" assignment, in which they would cover a frontline vacancy where more uniformed bodies were particularly needed, like at say a patrol station, a jail facility, a courthouse or, in the case of Aero Bureau, a shift as a pilot or observer, so that more aircraft could be manned and in the air. Even Sheriff Baca very publicly did a patrol shift. At Aero Bureau, the extra help was most likely to be needed at night, when largest number of the emergency service calls generally came in.
The first irregularities Cook noticed with CARP came in early October of 2010 when he gave one of his sergeants the task of preparing the weekly CARP report, which listed who had worked what shifts on what days and times. As the Sergeant compiled the report, he learned from various deputies that there were supervisors in the bureau who had reported working the requisite CARP assignment on certain days, but who had, in fact, not worked at all.
Matters got worse in mid-October, according to Cook, when an email went out from the bureau's Operations Sergeant, whose name was Casey Dowling, to all Aero Bureau supervisors and managers. It read, "Supervisors that are CARPing need to CARP on days, no more night CARPing. " Since the biggest volume of service calls came at night, Cook feared this was yet another strategy designed to generate more missed calls—-and thus make a stronger case for still more overtime. In fact, Dowling's email reportedly stated as much. "If we go short and calls are missed," Dowling wrote, according to Cook, "we need to record the missed calls and provide our executives with the paper records so they can fight the good fight."
The "good fight" being getting money to pay for yet more overtime.
WitnessLA's sources echoed Cook's allegations. Several reported having seen the Dowling email. They also told us of instances they'd witnessed of manipulating the CARP system by a sergeant or deputy, instead of filling in where the need was greatest, in reality simply moving to a desk one desk over from their own, and marking themselves down for taking a CARP shift.
"We'd see people down for CARPing on shifts when they're not present," said one source. In other instances, said sources, a deputy or a supervisor would be listed as taking a pilot's shift during a high traffic period when calls were likely to be missed, "but we could see by the records, that the helicopter didn't fly during that time period."
Infuriated by what seemed to be a blatant and regular manipulation and/or falsification of CARP and other work logs, in addition to Cook's note taking, some Aero deputies began to keep their own records.
---
FALSIFYING TIME RECORDS
Both Cook and others inside Aero Bureau with whom we spoke, talked about their perception—often backed by first-hand observation— that, apart from the CARP problems, a cadre of insiders routinely changed time records to reflect work times that were false.
Unlike at some work places where a punch-in system electronically records time in and time out, thus making cheating difficult, at Aero Bureau the time sheets are manually recorded.
According to sources, it used to be that monthly time reports—showing all Aero personnel's hours worked, overtime, and sick or vacation time—were printed out and distributed to everyone so that each bureau employee could double-check their own times, and see when the others worked. The transparent method provided a fail-safe of sorts, so that if someone wrote down the wrong time, or claimed to have worked a shift he or she did not actually work, others would see it and could mention the error. By the same token, if someone felt they were not credited for time they worked, they could make that correction too.
"The system wasn't perfect, but it worked," said one pilot.
Reportedly, however, after Cook first took the matter of the inequitable overtime assignments et al, to Duran, all at once the monthly reports were no longer distributed. Moreover, reportedly a cadre of Aero Bureau people—specifically those perceived to be part of Duran's inner circle—no longer had their names in the "in-service" lists that specified daily assignments.
"Suddenly everything got secretive," said a source.
Unhappy at the information blackout by their captain, many Aero Bureau deputies still found ways to ferret out who was cheating, which to them also meant who was being protected.
"Duran always tells people he's protected by Tanaka," said an Aero bureau source. "That's who he wants to be like. He protects the people who are loyal to him, and let's them get away with things, because. in return, he knows they protect him."
---
ERRANT AIRCRAFT
Another of Cook's allegations had to do with questionable use of some of the county's aircraft, in particular the Beechcraft King Air turboprop purchased by the department in 2001.
The King-Air is used by the Sheriff for trips to Sacramento, and by department investigators to fly to remote California prisons, or by other department executives at times of professional need when its use is practical and cost effective. The LAPD also has a King-Air that it uses for similar purposes.
The plane requires two pilots and reportedly costs the department approximately $700 to $1000 per hour to fly, depending upon what costs are factored into the equation.
Cook began to notice that Captain Duran and some of his inner circle took the King Air to conferences and the like although, according to his calculations, commercial flights would have been far cheaper. One of the trips that Cook flagged took place in mid July of 2010, when Captain Duran decided to take the turboprop to an event in Tucson, Arizona, a yearly conference sponsored by ALEA, The Airborne Law Enforcement Association.
The conference was admittedly good for networking, and for examining the array of new flight-related gew gaws displayed by the many venders who had booths at the event. Plus it was fun. But this particular year, travel plans—commercial flights or otherwise—would have been unlikely to have gotten the necessary approval by higher-ups because, a month before, the LA County Board of Supervisors had voted to suspend all county-funded travel to Arizona "unless the county's chief executive determines that county interests would be seriously harmed."
(Sources assured us that missing an ALEA conference for one year would not "seriously harm" the county's interests.)
So, to get around the prohibition, Duran allegedly simply approved his own trip and took the King Air, reportedly asking the plane's pilots to mark it down as a "training exercise."
"Even though we never do training exercises by flying out of state," said a source.
Another example of a King Air flight that caused bureau eyebrows to be raised, occurred in December of 2008, some months before Cook arrived, when Duran reportedly flew the plane to Bridgeport, Connecticut, to visit the Sikorsky helicopter factory. According to several sources familiar with bureau flight logs, the flight to Bridgeport on December 15, took 7.6 hours. The return flight on December 18, was another 14 hours. "They hit head winds," a source said, explaining that the King Air is a small plane ideal for flights within the state or for a hop one state over. "They aren't meant to be flown cross country."
In any case, the Long Beach to Bridgeport round trip amounted to 21.6 total flight hours.
At $700 an hour, this means the flight alone cost $15,121. At $1000 an hour the cost would be …well you can do the math. Whereas to fly a commercial airline on an unrestricted ticket is less than $1800 round trip, even at today's high fuel prices, $7200 if four people went. "And you don't need four people," said a source. "You need one or two at most. Four is just Louie traveling with an entourage."
---
THE TAKE-HOME HELICOPTER
In addition to the questionable King Air trips, three sources have reported to WitnessLA that one deputy, an experienced pilot named Dale Ryken, occasionally flies a department helicopter home. Or to be more precise, the observers allege that Ryken flies from where he works in the main facility in Long Beach (and where most of the aircraft are hangared), to a small satellite Aero facility at the Pitchess Detention Center, which happens to be very close to the deputy's home in Santa Clarita.
"We've had an unmarked patrol car up at Pitchess since 2009," said one of the sources who reported they had observed Ryken's take home helicopter patterns. "So he just drives that county car home and parks it in his garage." In the morning, Ryken reportedly drives back to Pitchess, climbs into the take-home aircraft and begins his shift.
In at least one case, Ryken reportedly kept the helicopter over the weekend.
"The rest of us get in our cars after we finish work, and fight traffic," said a source. "after we've just watched Dale take a helicopter."
Reportedly the take-home helicopter flight was not a daily or even a weekly occurrence. But it happened often enough that several at Aero Bureau claim to have kept written records documenting the incidents, (although WitnessLA has not seen them).
As to whether others had been allowed a take-home aircraft in times of personal need or professional convenience, our sources say no.
"Except for Dale," said one pilot, "I've never seen it happen."
Our sources also said that many at the bureau were dismayed that the practice had been allowed to continue without any seeming consequence for Ryken, whom they named as one of those high on Captain Duran's favorites list. This is the same list of people sources claim were repeatedly assigned a disproportionate amount of overtime—a noticeable proportion of which, according to several sources, he may not have actually worked.
Indeed, county records show that Deputy Ryken's overtime earnings for 2009 was $81,816, the highest in the unit. In 2010, the year in which overtime was cut department-wide to almost nothing, Ryken still pulled in $69,364 in extra pay on top of his base salary of $121,188 plus benefits.
---
THE HANGAR ONE CONTRACT
Cook happened to arrive at Aero Bureau right around the time the sheriff's department was beginning the process of obtaining bids for and negotiating the purchase and outfitting of a fleet of new helicopters. In watching the bidding process, and the further negotiations for and delivery of the 12 new helicopters, Cook began to notice things in the bidding machinations and in the contract itself that seemed alarmingly out-of-whack to him. As he researched further, Cook—like Richard Gurr (see WLA's earlier report)—gradually became convinced that Aero Bureau supervisors had colluded to rig the bidding process so as to exclude all but one vender, the comparatively inexperienced, Carlsbad-based Hangar One Avionics.
He further concluded that the resulting Hangar One contract was loaded with huge overcharges, double charges, and the purchase of equipment that was either excessive or unnecessary, or both—all amounting to millions of dollars of expenditure by which, Cook alleged, someone other than the County of Los Angeles was assuredly benefiting.
[
More on this in Part 3
]
---
KILLING THE MESSENGER
As Cook noticed more instances of what he believed to be misconduct—or worse—he reported what he had observed to his superiors through the appropriate chain of command, going as high up the department food chain as Chief Michael Grossman. In some instances Cook went so far as to request a criminal investigation. According to the statements made in his lawsuit, each time he attempted a report, he was rebuffed and told, in so many words, to sit down and shut up.
When Cook did not shut up, he was removed from his duties as supervising lieutenant at the main Aero Bureau facility in Long Beach and transferred to one of the bureau's satellite facilities in Palmdale, with no supervisory duties at all.
Ed was still a pilot so he decided not to worry about the change. But while Cook was stationed in Palmdale, Captain Duran reportedly upped the ante. According to Cook's lawsuit, Duran "initiated a rumor that [Cook] was moved out of the Long Beach facility for substandard performance," and then was directed by Duran to retire. If he didn't retire, Duran allegedly told him, Cook would be transferred out of Aero Bureau and lose his flight pay. Duran further informed Cook that he was going to be investigated for improprieties, namely taking his "girlfriend" for flights in a department helicopter.
Cook—who is in a long-term marriage and reportedly did not have a girlfriend, then or now,—-responded by telling Duran, in essence: bring it on. "I want you to initiate and IAB investigation," Cook reportedly said. "In fact I'm asking you to do it."
According to Cook's attorney, Greg Smith, no such investigation was ever initiated.
"But," said a source, "they kept on with the character assassination anyway."
And, Cook kept on with his examination of what he believed to be a growing list of improprieties—and possibly illegalities—hoping he could eventually get higher-ups in the department to wake up and look into what he was alleging.
Instead, according to his lawsuit, Cook was transferred punitively to a jail assignment, and then was "constructively terminated," when he was told he must retire "or face continuing retaliatory acts, which could lead to his termination."
Reportedly, it was Undersheriff Paul Tanaka who personally approved the order for Cook's transfer.
It was then that Cook found a lawyer.
"Ed Cook is probably the most honest man I know in the department," said one bureau insider. "He's super nice guy. And he's honest and ethical. That's why the rumors they pass don't hold water. In a way, that's his failing. He's honest to a fault."
---
FURTHER INVESTIGATION
Subsequent to Cook's reports about alleged wrongdoing, ICIB, the LASD's criminal investigative bureau, and the LA County's auditor-controller's office, each opened investigations into some of the Hangar One allegations.
As WitnessLA previously reported, according to Sheriff's Department Spokesman Steve Whitmore, both investigations found Cook's allegations to be "without merit," yet the case was passed along to the Los Angeles District Attorneys office for possible further investigation.
In the meantime, Supervisor Zev Yaroslavsky told his fellow supervisors last Tuesday that he wanted a more comprehensive audit by the County Auditor Controller, whose initial audit he described as narrow.
More specifically, according to some who have read the approximately six-page confidential report from the auditor-controller's office, the report suggests the audit investigated very little, and it gives almost no details about its methods or processes. (By the way, no one has a good explanation as to why the thing is confidential, except that the Sheriff's Department insisted that it needed to be confidential, a choice that it would be helpful if the Supervisors would override.)
IAB, the department's other investigative arm, is reportedly doing its own probe.
Yet, according to all those with whom we spoke inside and close to Aero Bureau, not one of the many investigators has talked to anyone in the bureau save Captain Louis Duran and a handful of his inner circle—who are precisely the people who are accused of wrongdoing.
"We're all waiting for someone to ask us what we know," one source told me last night. "But no one has. We didn't even know there was an ICIB investigation."
With all of the above in mind, WitnessLA would like to respectfully suggest that LASD's Internal Affairs Bureau investigators, and those investigating for the Office of Independent Review, would do well to talk to all of the ordinary deputies and pilots in the bureau.
"Anyone who doesn't bother to come to talk to the rest of us," said another pilot, "is by definition not serious about finding answers. It's just another whitewash."
---
POST SCRIPT: On Tuesday of last week, March 27, the day WitnessLA and the LA Times both ran stories about Aero Bureau and the Hangar One contract, Undersheriff Paul Tanaka reportedly called Lt. Robert Wheat, Sergeant Casey Dowling, Sergeant John Haughey and Sergeant Howard Fuchs (formerly of Aero Bureau, now at Century) into his office for a closed door meeting. These four are the core of Duran's inner circle. This is also the group that reportedly worked on the Hangar One bid and contract, in particular Dowling and Fuchs.
All four are reportedly also long-time Tanaka loyalists.
That same morning, Captain Duran was called in to meet with Lee Baca. It is not clear, however, whether or not Duran was invited to the Tanaka meeting.
---
EDITORS NOTE: To check for yourself the salary, overtime, et al, of any county employee, go here for 2009, here for 2010.
In the meantime, here are the figures for three of Aero Bureau's highest overtime earners:
Deputy Dale Ryken 2009: Base salary – $121,188, Overtime $81,816

2010: Base salary – $121,188 Overtime $ 69,364

Sergeant Casey Dowling 2009: Base salary – $99,982, Overtime – $70,178

2010: Base salary – $105,557, Overtime $35,411

Sergeant John Haughey 2009 – Base salary: $100,896 Overtime: $56,641
2010 – Base salary: $109,739 Overtime: $43,888