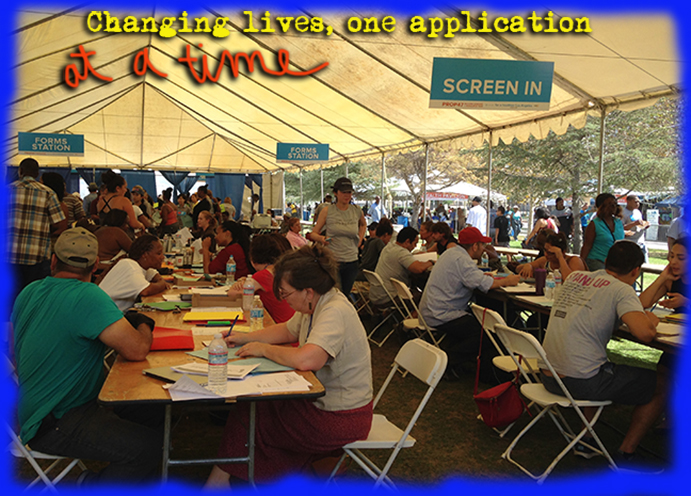 LEGAL AID IN THE PARK—WITH MUSIC
On Sunday at Exposition Park, more than a thousand people, in many cases whole families, showed up for an outing billed as The Proposition 47 Record Change and Resources Fair.
As the title suggests, the event was designed to offer legal help and guidance to at least some of the potentially tens of thousands of LA residents who could potentially benefit from Prop. 47, the state law passed by California voters last year, which changed a cluster of nonviolent felonies to misdemeanors.
The law is also retroactive, which means that those who have previously been convicted of the felonies that Prop. 47 addresses–-namely simple drug possession, petty theft under $950, shoplifting under $950, forgery under $950, receipt of stolen property under $950, and writing a bad check under $950–may be eligible to have those convictions reduced to misdemeanors. Since having a felony on one's record is a barrier to getting jobs, housing, school loans, and more, the conviction reduction that Prop. 47 potentially provides can be life altering.
But, actually getting through the bureaucratic process necessary to get one's record changed, while not entirely impossible to do on one's own, in most cases requires at least some help from an attorney—an expense that those who could most benefit from the charge reduction, cannot easily afford.
Hence Sunday's fair.
The event was sponsored by Californians for Safety and Justice, along with the The California Endowment, Los Angeles Public Defender's Office, and various legal firms offering pro bono time, plus other community organizations such as Homeboy Industries, the Violence Prevention Coalition and more.
All those who believed they were eligible for a charge reduction were urged to bring the latest copy of their RAP sheet to the fair and then to line up outside a large tent labeled Record Change Pavilion. Inside the tent, dozens of volunteer attorneys sat at rows of portable tables, ready to provide free legal help with the record change process.
All day the tables were packed with hopefuls talking to the attorney volunteers, with still more standing in line outside the Record Change Pavilion, waiting their turn.
The wait was made easier by performances by musicians, including Grammy-nominated Aloe Blacc, with his hit, "the Man," plus the appearance of several political figures including LA City Council member Marqueece Harris-Dawson, who showed up in the afternoon to address the crowds.
When the event wound down just after 5 pm, pro bono attorneys and other volunteers were visibly giddy at the number of people who had come to ask for—and had actually received—help in navigating their way through the change that the new law promised.
"Despite the heat and what can be a frustrating process, many of the applicants commented on how much they appreciated the volunteers spending their day at the fair to help them get a new start," said Sandra Fluke, who was one of the volunteer lawyers, in an email to me Sunday evening. "Personally, I found it very gratifying to be partnering with so many colleagues and applicants working together to make the potential of Prop 47 a reality throughout California."
---
THE CRITICS
Prop. 47 has also drawn a flood of criticism this summer after city and county officials announced that crime is up over this same time last year, particularly within city boundaries. In LA City, for example, although homicide was down by 6.7 percent, robbery was up, 16.6 percent, burglary up 15.8 percent, with aggravated assault up even higher at a startling 26.3 percent.
Officials admit that the jump in ag assaults may be caused, at least in part, by the fact that the LAPD is now classifying those crimes correctly, after the LA Times discovered last year that the department had misclassified a slew of violent crimes as misdemeanors.
The point was somewhat supported by the fact that the Los Angeles Sheriff's Department has reported a much smaller crime uptick during the same period with a 3.39 percent increase in violent crime and a 6.9 percent increase in property crime.
But while many officials point to the new law as the culprit behind the crime spike, researchers are less convinced—particularly since big cities elsewhere in the nation are experiencing similar spikes—without benefit of either Prop. 47 or realignment's AB 106.
For instance, Peter Moskos, a criminologist at the John Jay College of Criminal Justice in New York, told Kate Mathers and Ben Poston of the LA Times that it was too soon to say whether Proposition 47 was behind the increase in property crimes.
Well known UC Berkeley criminologist, Barry Krisberg, went further. In a conversation with Sam Levin of the East Bay Express, Krisberg argued that due to the fact that Prop 47's very recent implementation, police departments simply don't have enough data to draw meaningful conclusions about how the new law correlates to crime patterns.
Advocates point out that it is also too early to see the affect of the potential millions of dollars in financial savings that are expected to accrue from Prop. 47, money that is supposed to be use for, among other things, recidivism prevention. Most of the Prop. 47 money—namely 65 percent—will be controlled by the Board of State and Community Corrections (BSCC), which will in turn, dole out grants to public agencies around the state, which are expected to use the cash for programs providing mental health and substance abuse treatment for people involved in the justice system.
Watchdogging the paths taken by that money—to make sure it goes were it is intended—will, of course, be crucial.
---
THE DIFFERENCE "THE BOX" MAKES
In the meantime, on Sunday, the everyday impact of the law on individual lives was demonstrated by the ordinary men and women who lined up outside the Record Change Pavilion tent, hoping to get advice on how to get qualifying felonies off their records and, with any luck, their lives changed in the process.
"I just had a couple of misdemeanors I was hoping I could get expunged," said 40-year-old Andrea Quinn, who works as a treatment counselor at Fred Brown Recovery Center and, together with her fiancé, attended the fair on Sunday. "I got advice on that. But my fiancé was convicted of felony possession a couple of years back," she continued, "and so he was eligible for the Prop 47 reduction, which he got about a month ago."
And so has it made a difference?
"A really big difference," Quinn said. "He's looking for a job right now. Before, he'd fill out applications and…you know….nothing, even though he's really smart and has great experience. Now I see the phone ringing, and he's getting calls to come in for interviews." Quinn paused. "And it's all because now he doesn't have to check that box."