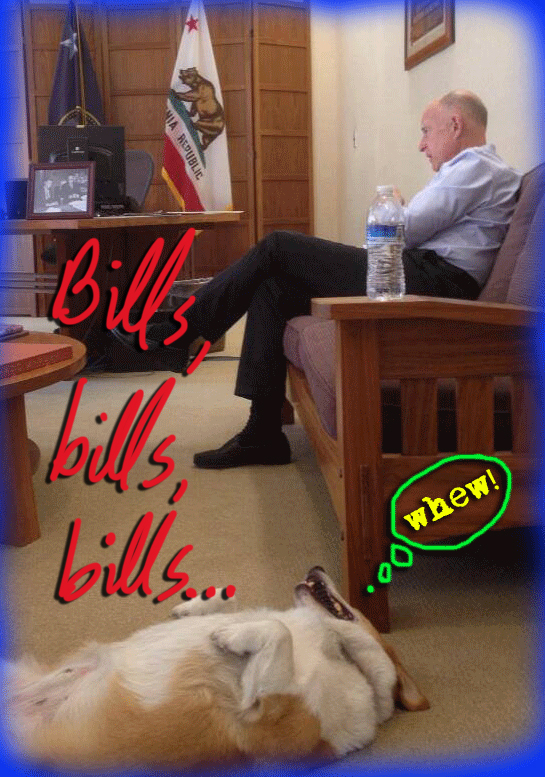 CALIFORNIA BILLS AWAITING GOV. BROWN'S SIGNATURE WOULD CREATE NEW FELONIES AND PUT MORE PEOPLE IN JAILS AND PRISONS, BUT THE PUBLIC SAFETY BENEFITS MAY TO OUTWEIGH THE NEGATIVES
Several noteworthy bipartisan-supported criminal justice bills that have landed on CA Governor Jerry Brown's desk would create new felony offenses. Critics say the bills would contribute to prison overcrowding (backstory on California prison overcrowding saga: here), and go against the national push for decriminalization and decarceration.
But the bills' authors and supporters argue that while keeping California's prison population down is important, these public safety measures are more important.
A bill by Sen. Cathleen Galgiani (D-Stockton) would bump possession of date rape drugs with intent to commit a sexual assault from a misdemeanor to a mandatory felony offense. The bill, SB 333, would mean that those found with such drugs would face up to three years behind bars.
"The malicious intent behind possessing and using 'date rape' drugs on another individual necessitates an aggressive response from law enforcement," said Galgiani, urging the governor to sign SB 333. "Assaulting a person that has become incapacitated from being drugged is an especially despicable crime."
Under SB 722, sex offenders on probation or parole who disable or remove their GPS ankle monitors with the intention of absconding would also face a three-year sentence. The bill was authored by Sen. Patricia Bates (R-Laguna Niguel).
AB 256 aims to protect people who record law enforcement-involved incidents on their phones. The bill, authored by Assemblyman Reggie Jones-Sawyer (D-Los Angeles), would make video evidence tampering a felony offense punishable by a maximum sentence of five years in prison.
Another bill, SB 347, would not reclassify any misdemeanors as felonies, or create new crimes, but would include two non-violent misdemeanors—gun theft and bringing ammunition to school—to the list of crimes disqualifying gun ownership. The bill was authored by Sen. Hannah-Beth Jackson (D-Santa Barbara).
Governor Brown, who has not hinted about which way he's leaning, has until October 11 to sign or veto the measures.
The LA Times' Paige St. Brown has more on the issue.
---
ANOTHER CONSEQUENTIAL BILL TO WATCH: AB 1012 WOULD BAN FAKE CLASSES IN CALIFORNIA HIGH SCHOOLS
Last October, an Alameda County Superior Court judge issued a Temporary Restraining Order demanding the California Department of Education help the LAUSD fix scheduling issues at LA's Thomas Jefferson High School that gave kids filler classes and sent them home early, throwing many off the track to graduation. (Read that story: here.)
Another meaningful bill passed by CA legislature, AB 1012, would prevent school districts from placing kids in pretend classes without any educational instruction for more than a week per semester (with some exceptions), which has been a problem for students in the LA Unified, Compton, and Oakland School Districts, among others.
"Continual reforms to California's education system have not fixed an underlying cause of education inequity, equal time for learning," said the bill's author, Assemblyman Reggie Jones-Sawyer (D-Los Angeles). "It is time to ensure that all of our schools have the support they need to provide real classes to every student until they graduate."
AB 1012 would also bar schools from assigning students to classes they have already completed and passed.