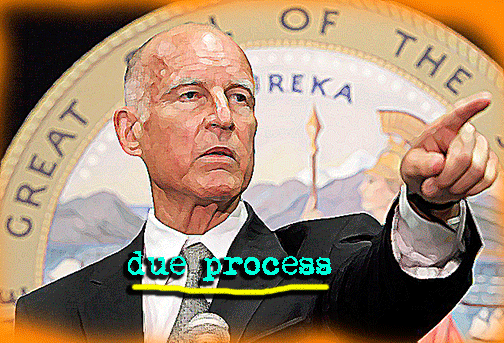 GOV. BROWN AND LAWMAKERS' $3 MILLION LEGISLATIVE PROPOSAL TO PROVIDE LEGAL REPRESENTATION TO UNACCOMPANIED IMMIGRANT KIDS
On Tuesday, Governor Jerry Brown and state lawmakers announced a proposal to allocate $3 million to non-profits providing legal aid to unaccompanied children in immigration court proceedings who are otherwise left to navigate the court system alone.
The LA Times' Melanie Mason has the story. Here's a clip:
"Helping these young people navigate our legal system is the decent thing to do and it's consistent with the progressive spirit of California," Brown said in a statement.

The legislative proposal would give $3 million to qualified nonprofit organizations that provide legal assistance to unaccompanied minors. There are an estimated 3,900 Central American children currently in the state who have come to the country without a parent or other relative.

"These kids face a daunting immigration process and any failures in our justice system that lead to deportation can be a death sentence," said Senate President Pro Tem Darrell Steinberg.

Assembly Speaker Toni Atkins (D-San Diego) and members of the Latino Caucus paid a visit this summer to a temporary detention center in Ventura County where some children were being housed. Atkins said that visit was a catalyst for the legislative action.

"We all came away with a feeling that these kids needed our support — that it was about their safety, their due process, the ability to look beyond bigger political considerations and deal with a humanitarian crisis," she said.
---
$10 MIL SETTLEMENT TO WRONGFULLY CONVICTED MAN DOES NOT ADDRESS THE PROBLEM OF UNCHECKED PROSECUTORIAL MISCONDUCT
New York City will pay a $10 million settlement to Jabbar Collins who was wrongfully convicted of murder for which he spent 15 years in prison.
Collins' battle with the city also helped to bring down Brooklyn District Attorney Charles Hynes, whose top aide Michael Vecchione prosecuted Collins, allegedly withholding evidence and coercing witnesses to win a conviction. Collins and his lawyer, Joel Rudin, exposed extensive prosecutorial misconduct emanating from the DA's office.
In an editorial co-published with the NY Daily News, ProPublica's Joe Sexton says Collins' win does not mean that the system worked: Vecchione paid no consequences for misconduct, and it's likely that he never will. Instead, tax payers will foot the bill for Vecchione's misdeeds in the Collins case. Prosecutorial misconduct goes largely unchecked, thanks, in part, to laws protecting prosecutors from liability. Here's a clip:
So many shortcomings spotlighted by the Collins case remain unresolved.

Michael Vecchione, the prosecutor who gained a murder conviction against Collins in the 1990s and who was later accused of having committed an array of misconduct in the case, has to date faced no sanction.

And history suggests he won't. He even managed to cash out a couple hundred days of vacation as he quietly left the Brooklyn district attorney's office last year.

The taxpayers who paid for those vacation days are now on the hook for $10 million more, footing the bill for Collins' wrongful conviction.

The lack of consequences for Vecchione — who was accused by Collins and his lawyer of intimidating witnesses, suborning perjury and lying about it all for years while Collins sat in prison — get at larger problems with the system of prosecutorial oversight.

Two federal judges ultimately came to damning conclusions about Vecchione's conduct. They upbraided him in open court. But there's no evidence they reported him to the state disciplinary committees appointed to investigate complaints of attorney misconduct.

The fact that it is not clear whether any state panel charged with policing attorneys has or will take up Vecchione's history underscores what many have complained about for years: The state's disciplinary system operates almost entirely in secret. Its rare disciplining of prosecutors, then, often remains unknown to the public, including the men and women later facing those prosecutors in court.

The system offers the innocent and the damaged only one meaningful recourse for exposing prosecutorial misconduct: a civil lawsuit. But such suits require years of expensive effort, and, of course, are only even theoretically available to those who have managed to win their freedom.
---
SOCIAL WORKERS GAIN MORE ACCESS TO CRIMINAL HISTORY OF FOSTER PARENTS AND PROVIDERS TO KEEP KIDS SAFE
On Thursday, Gov. Jerry Brown signed an important bill, SB 1136, to allow social workers to access foster care parents and providers criminal history data before placing kids in their care. Foster care providers have to receive a criminal record clearance or exemption from the state, according to existing law.
To help them better protect vulnerable foster kids, social workers will now be able to see if (and why) parents or providers have received a suspension, probation, or a revoked license.
The LA Times' Garrett Therolf has more on the bill. Here's a clip:
The legislation, SB 1136, comes in response to Times reports documenting instances when children were harmed and taxpayer money was allegedly misspent by people with criminal backgrounds who had been granted special waivers from the state to receive foster children.

In the past, county social workers, who have the responsibility to place at-risk children in safe homes, were unable to view criminal records of foster parents or workers at agencies that help find and train foster families.

The law takes effect on Jan. 1.
---
CALIFORNIA AG KAMALA HARRIS TO APPEAL RULING AGAINST CALIFORNIA DEATH PENALTY
California Attorney General Kamala Harris has decided to appeal a federal judge's ruling against California's death penalty.
U.S. District Court Judge Cormac J. Carney ruled last month that delays keeping inmates on death row for decades amounts to cruel and unusual punishment.
Here's what AG Harris had to say about her decision: "I am appealing the court's decision because it is not supported by the law, and it undermines important protections that our courts provide to defendants. This flawed ruling requires appellate review."
KPCC's Nathan McIntire has the story.