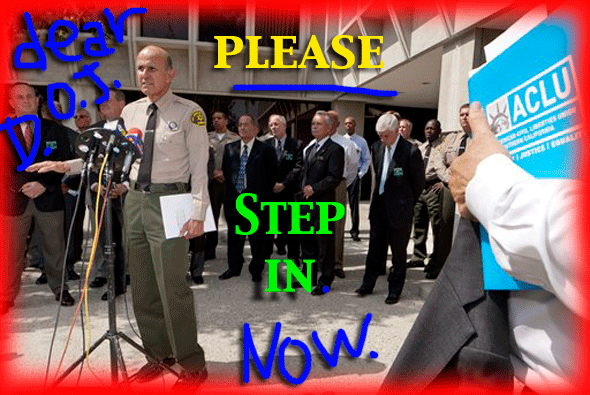 THE LETTER
On Thursday afternoon, the ACLU released a letter signed by 26 criminal justice, civil rights and religious leaders that calls for a broader Federal investigation of the alleged abuse of inmates and misconduct by sheriff's deputies inside the LA County Jails.
The letter is addressed to US Attorney General Eric Holder, US Attorney Andre Birotte, FBI Director Robert Mueller, Thomas Perez, head of the DOJ's Civil Rights Division, and Steven M. Martinez, the Assistant Director in Charge of LA's FBI Office.
In other words, nobody with any power in the matter got left out.

The message conveyed is sober-minded and respectful but leaves no room for doubt about the seriousness of the request:
We, the undersigned, respectfully request that the federal government pursue a thorough criminal and pattern or practice civil rights investigation into the allegations filed by the ACLU yesterday in the U.S. District Court for the Central District of California in Rutherford v. Baca, with documentation of a persistent pattern of deputy-on-inmate assaults, deputy-instigated inmate-on-inmate assaults, and use of excessive force in the Los Angeles County jails.

We understand that the FBI is currently investigating the beating of James Parker in Twin Towers Correctional Facility on January 24, 2011 based in part on the eye-witness statement of a civilian, ACLU jails monitor Esther Lim, and that the investigation has widened to include other such incidents in the Los Angeles County Jails. We are pleased that federal law enforcement officials have undertaken this investigation.

We note that Sheriff Baca, through a spokesman, responded to the report of this investigation in Sunday's Los Angeles Times, by categorically denying the need for a federal investigation and insisting that the Sheriff's Department has already investigated inmate accounts of deputy beatings and found most of them to be unfounded. Based on evidence presented by the ACLU, however, including sworn statements not only from some seventy inmates and former inmates but also from prison chaplains and civilian eyewitnesses to deputy-on-inmate assaults, we are concerned that despite the Sheriff's protestations there appears to be a pattern of violations by deputies against inmates in the Los Angeles County jails that should be independently investigated.

We therefore respectfully urge you to proceed with a broad inquiry.
Former California Attorney General John Van de Kamp tops the list of those who signed. He is followed by 2 former US Attorneys, 3 former assistant US Attorneys, Los Angeles County Public Defender, Ron Brown, the former head of the Civil Rights Division of the Department of Justice, plus 2 high profile law school deans, some well-known civil rights lawyers and religious leaders.
---
THE SHERIFF
It is interesting to note that, several of those who signed on to the plea for the Feds to step in consider themselves to be personal friends with Sheriff Baca, people like Connie Rice and Father Greg Boyle— among others.
Indeed Lee Baca is a very likeable man who has for many years expressed a deep commitment to criminal justice reform. For those who know him, this progressive and humanistic vision of LA's popular Sheriff has always been hard to square with the hard fact that the jail system he oversees is a shameful quagmire of ongoing civil rights violations.
---
THE PAST
After the release of our recent jails story by Matt Fleisher, and in the run-up to the this week's release of the harsh ACLU report on abuse at the jails, a lot of us who write (or litigate) about this topic wondered if any of the new round of stories and witness accounts would make any difference.
Now, with the appearance of this letter, I think maybe…..maybe we have reached a tipping point. The moment feels weirdly like period after the Rampart scandal broke about the LAPD. For a long time after the scandal, disbelief still governed public perception. It couldn't be that bad, people said; even editors I worked with, said it; people experienced enough to know better said it.
But it was that bad. Most LAPD officers were excellent people. Yet there was a toxic culture inside the department that was doing terrible damage to the fabric of our communities and to the people within them—and to all the good cops who were doing their damnedest every day to protect and serve..
And so it is with the Los Angeles County Jails.
So maybe that's the good news. In the case of the LAPD, eventually enough people acknowledged that the LAPDs problems were greater than the existence of a few bad apples that it led to a widespread push for reform.
---
THE FUTURE
As a consequence, the Los Angeles Police Department is now fundamentally different than it was in the bad old, pre-Rampart days.
So perhaps there is reason to hope the same will ultimately prove to be true for LA County's jails system.
Of course, several elements went into the LAPD's transformation. Good leadership at the top was essential. Bill Bratton and Charlie Beck, and their command staffs made a world of difference.
But equally important was the existence of a very sharp-toothed Federal Consent Decree.
Which brings us back to the letter at hand.
What those who signed it have requested is crucial.
Let us hope that those with the power to trigger a comprehensive investigation understand that.
****
What happens inside jails and prisons does not stay inside jails and prisons. It comes home with prisoners after they are released and with corrections officers at the end of each day's shift. When people live and work in facilities that are unsafe, unhealthy, unproductive, or inhumane, they carry the effects home with them. We must create safe and productive conditions of confinement not only because it is the right thing to do, but because it influences the safety, health, and prosperity of us all.
—2006 report by the Commission on Safety and Abuse in America's Prisons, Vera Institute of Justice
---
---
AND IN RELATED NEWS….WHICH WAY LA? DOES THE JAILS
Warren Olney's Which Way LA had a segment on the jails on Tuesday and another segment with Sheriff Baca on Thursday.
Plus there was a segment on realignment—the transfer of a large segment of parolees from state custody to the various California counties—which begins this weekend.
AND WHILE WE'RE ON THE TOPIC OF REALIGNMENT…
NPR Carrie Kahn did an excellent show on LA County's role in realignment with some mention of the jails issue.
AND ONE MORE WRINKLE IN THE JAILS STORY
An inmate allegedly beat up by deputies in front of ACLU jails monitor Esther Lim and another witness was tried for assaulting those same deputies although Lim says he did not. Not even close. The trial ended in a hung jury that was reportedly leaning toward acquittal.
The LA Times Robert Faturechi has the story.
---
Photo by Damian Dovarganes/AP
---