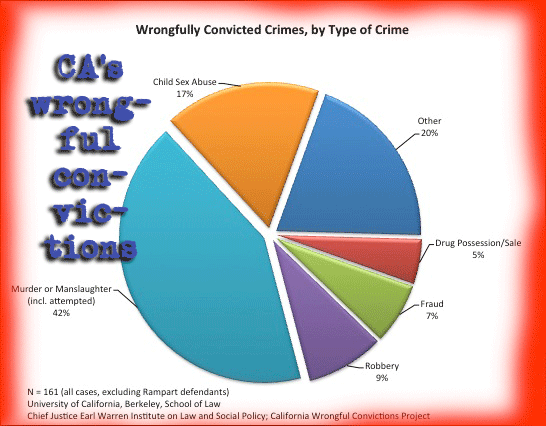 Light posting today. Working on a number of interesting thing for next week and the following week.
---
COPS AND PROSECUTORS HELP MORE IN EXONERATIONS IN 2012
According to a new report released Wednesday, 2012 was a good year for exonerations, with California adding the most exonerations to the list last year.
On notable difference in last year's innocence cases is that more police and prosecutors assisted in the exonerations.
Maggie Clark has the story for Stateline.
---
D.C. STUDENTS SHOOTING PICTURES TO PROTEST ADDED SCHOOL SECURITY
Gotta love the proactive attitude of this group of students using their cameras to protest what they view as an overzealous security, post Newtown. Annie Gowen at the Washington Post has the story. Here's a clip from the opening:
The small band of guerrilla photographers spread out in schools across the District, snapping photos of metal detectors, police pat-downs, and scuffles between security guards and students.

The dozen or so teens, who hail from some of the area's most troubled neighborhoods, are trying to document the kind of school security issues that have taken center stage in the wake of the Newtown, Conn., shootings.

Since the December tragedy, the question of whether schools are safe has gained new urgency, with the Senate weighing $40 million in funding for school security plans and the National Rifle Association — which has called for armed teachers, administrators or guards in every school — releasing recommendations from its experts Tuesday.

But H.D. Woodson High School senior Mike Ruff and other classmates have armed themselves with cameras to make the opposite point. They say that their learning environment has been scarred by relentless security. They say their high schools, among an estimated 10,000 nationwide with police on campus, feel like prisons….
Read the rest here.
---
MORE SLOPPY REALIGNMENT REPORTING, THIS TIME HAVING TO DO WITH THE NORTHRIDGE CHILD ABDUCTION
Tobias Dustin Summers is suspected of kidnapping the 10-year old Northridge girl last week, and is now on the run. It seems, however, that when Summers finished his most recent prison term and got out, he was assigned to a probation officer, not a parole officer, under AB 109. His practical requirements were basically the same. And he, reportedly, hit most all his marks. He drug tested when he was required to do so. He didn't test dirty. He met with his PO on schedule.
Then the day after one such meeting, he went out and allegedly abducted a little girl.
Unfortunately, the horrific abduction is being blamed—with a blithe lack of fact-checking—on realignment. Scads of reporters are advancing this sloppy theory, as is LA County Supervisor Mike Antonovich.
In the midst of all this misinformation, WLA sends a gigantic thank you to Rina Palta at KPPC for reporting on the story like the smart, hard-working, clear-minded professional she is–(AKA someone who thinks that accuracy and logical thought are both good things).
You can read Palta's story here
---