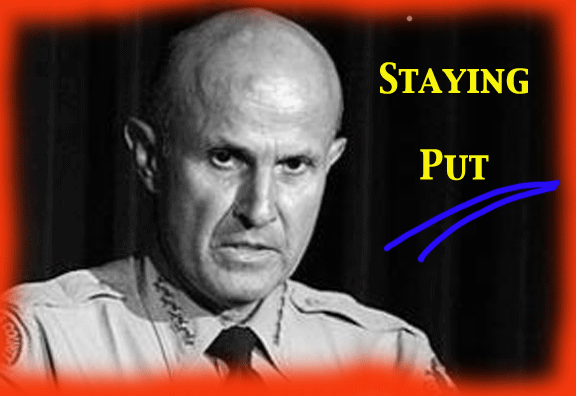 In a blogpost that appeared on the LA Times website in the late morning this past Friday, columnist Steve Lopez called for Sheriff Lee Baca to resign.
A lot of frantic chatter about whether the Sheriff should, could or would resign followed the appearance of the column. (The ACLU also called for Baca's resignation at their September 28 press conference, but it was Lopez's column that tipped the law enforcement watchers into chattering.)
"How bad does it have to get at L.A. County's jails before Sheriff Lee Baca is either pushed into stepping aside, at least temporarily, or has the integrity to volunteer for a leave of absence?" Lopez wrote.

Then farther down in the post: "…..If Baca's got any self-respect, he's got to walk. Given his record, Baca can't be trusted to handle even more inmates who flood into his jails because of the realignment that will shift responsibilities from the state to the counties.

"Do the right thing, Sheriff Baca. I know you were elected to the job, but I don't think many people would object if you decided on early retirement."

Actually, there are a couple of very large reasons why some of us who have been closely tracking the ballooning LA County jails scandal would object very loudly to Baca getting shoved out.
---
REASON #1 WHY BACA SHOULDN'T STEP DOWN: DO YOU KNOW WHO WOULD LIKELY REPLACE HIM, STEVE? WELL, DO YOU??
The Sheriff is an elected official—and an extremely popular one at that, despite his various blind spots and peccadilloes. This means that, unlike with the soon-to-exit Chief of LA County Probation, Donald Blevins, the Board of Supervisors cannot simply find and hire some other swell gal or fellow to take his place.
Until an election could be held, one of the members of his command staff would be tapped to replace him. The most likely candidate is his second in command, Undersheriff Paul Tanaka, who is reported to want to run for Sheriff in the future.
---
THE PAUL TANAKA FACTOR
As regular readers are aware, WitnessLA has been writing about the horrorshow that is the LA County jails system since the Spring of 2009. (You'll find representative posts here and here and here and here. .
In March we went so far as to say that the jails needed its own Christopher Commission.
Then in September, we posted the first part of our DANGEROUS JAILS investigative series by Matthew Fleischer, in which Matt documented a particularly horrific case of inmate abuse in which deputies allegedly beat an unresisting inmate so badly that they broke a bone in his eye socket, marched him naked up and down a cell block, and then tossed him in a cell with a bunch of gang members who raped the already injured inmate throughout the night, while patrolling deputies "failed" to notice.
In that same story, with the help of an LASD whistleblower, Matt revealed that higher ups on the Sheriff's Department command staff—people like Paul Tanaka— were aware of the abuse of inmates by deputies and yet did little to stop it.
Of course, the buck stops with the Sheriff, thus he deserves the blame doing nothing about what has become a culture of violence that flourishes unchecked in many areas of the jail system.
However, in the case of Paul Tanaka, it isn't merely that he did nothing to check the abuse after it was brought to his attention by other LASD officers who tried to raise the alarm. Worse, according to several sources, Tanaka actively stifled an attempt at reform:
As Matt Fleischer reported, in 2006 the commanding officer at Men's Central Jail (CJ), a Captain Clark, became so concerned about by abusive cliques of deputies at CJ—like the now infamous 3000 Boys— that Clark attempted to institute a shift rotation system that would split up these deputy "gangs" who were causing most of the problem.
Unfortunately, that attempt at reform was aggressively shut down by then-Assistant Sheriff, now Undersheriff Tanaka—i.e the guy who would be most likely to replace Baca.
(That would be the same Paul Tanaka who was once a tattoo-sporting member of another infamous deputy clique The Vikings, as the LA Times reported here and here.)
Sheriff Baca's egregious mistake has been handing authority to some of the hard chargers in his department, like Tanaka and others, who cultivate the respect of certain swaths of the rank and file, but who have demonstrated a less than ardent concern for pesky little issues like inmates' civil rights.
So now we want Baca to step aside so we can hand over the entire department to one of those guys? Uh, no. I don't think so.
---
REASON #2 WHY BACA SHOULDN'T STEP DOWN: RIGHT NOW, THE BEST REPLACEMENT FOR LEE BACA IS A NEW AND IMPROVED LEE BACA
Lee Baca is a complicated man. Whatever his failings, Baca very much wants to be a reformer. Despite the sometimes gross inconsistency of his actions (as in the horrific case of the jails), this is not a pose. He genuinely believes in rehabilitation and reentry programs. He doesn't think we can arrest our way out of every problem. He sees inmates and prisoners as human beings who should be treated as such.
All this is precisely why it has long been so confounding that Baca looked the other way as his jails became an ever fouler swamp of violence, abuse and malignant neglect—as solid report after report from the ACLU painstakingly documented, to little avail.
When the ACLU's newest report came out featuring sworn affidavits by two jail chaplains and a film producer who volunteers at the jail, plus a former FBI agent, it was discouraging to hear Baca again dismiss the allegations.
It was even more perplexing when, after the Times' Robert Faturichi reported that the FBI was investigating some of the allegations of deputy misconduct, the Sheriff got angry—not at his allegedly abusive gangs of deputies—but at the FBI for their investigative tactics.
But, for once, the pressure was kept up: A letter signed by prominent California figures—some of them personal friends of the Sheriff—-called for a full on Federal investigation into "pattern and practice" violations in the jails. The LA Times' Faturechi dug up more tales of abuse.
Late on Friday, two of the five Supervisors, specifically Zev Yaroslavsky and Gloria Molina, talked to Times about their distress at the Sheriff's handling of the jails.
Finally, over the weekend an interesting thing happened: Baca snapped out of his defensive fog and began to respond differently to the rising clamor. First he did an about face on the matter of the FBI poking around in the jails and said he welcomed the Feds and, heck, he would even welcome a wider federal investigation.
Then on Sunday Baca sent a letter to Supervisor Mike Antonovich that Faturechi and Jack Leonard of the Times acquired. In it, among other things, the Sheriff pledged to create a 35-person task force of "seasoned investigators" and "force subject matter experts" to examine the growing pile of allegations of deputy misconduct in the jails.
In short, in the last 72 hours or so, the Sheriff has made some heartening gestures. There is, of course, still a long way to go.
And, yes, we still need a full pattern and practice investigation by the Feds, likely including a Federal Consent Decree.
Nothing less will really do.
"I'm hoping that the feds won't do a drive-by investigation," civil rights attorney Connie Rice told he Times. "There needs to be a carefully planned, systematic excavation of the sheriff's culture."

….Rice said such a jail probe should involve interviews with deputies, inmates and people outside the department who understand the jail's problems, such as civil rights attorneys who have sued the county and advocates for the welfare of inmates.
Affirmative to all of that.
But NO to a Baca resignation.
---
NOTE: A PERSONAL STATEMENT FROM SHERIFF BACA
Shortly after I pressed PUBLISH for this post, a personal statement by Sheriff Baca appeared at the Chatsworth Patch site.
(See REASON #2 above.)
Here is the statement in its entirety:
By Leroy D. Baca, Sheriff

I believe in the principle of dignity for all, including those who are incarcerated. The deputies and staff of the Los Angeles County Sheriff's Department are entrusted and obligated to serve the constitutionally-bound civil rights of all, and to protect and enhance everyone's human potential.

A number of allegations of misconduct including excessive force by Sheriff's Department jail staff have been brought to my attention by way of a report from the American Civil Liberties Union.

I take these allegations very seriously.

While safety and security for staff and inmates are paramount, we have to treat the inmates as our community, and we want it to be the best community it can be. This can in part be gained through Education-Based Incarceration.

Stress, anxiety, depression and the threat of violence interfere with the educational process and personal growth. All of this has a significant effect on inmates as well as employees.

In order to address concerns about the jails and to ensure that we are doing the best we possibly can, I have implemented two separate task forces as outlined below. These task forces have already begun their purpose of providing leadership and investigative efforts devoted to the jails.

Commander Management Task Force for Custody Operations Division

The Commander Management Task Force for Custody Operations Division includes four hand-picked and highly respected commanders. These commanders have been selected from throughout the Sheriff's Department due to their well-earned reputations as outstanding communicators and problem-solvers. Commander Eric Parra will partner with three newly promoted commanders: Joseph Fennell, Christy Guyovich and James Hellmold. These commanders will be assisted by six lieutenants who were also hand-picked from throughout the Sheriff's Department.

The Commander Management Task Force will work under the supervision of the Sheriff's Executive Offices with the specific assignment of Custody Operations Division. Their focus will include but not be limited to:

1. Effecting positive change within the Los Angeles County jail system. The mission is to help people realize their human potential by creating a custody setting that offers educational opportunities, health benefits, and spiritual growth.

2. Holding Community Town Hall meetings with jail inmates, including making themselves available to hear directly from inmates about their concerns and complaints.

3. Ensuring that all personnel interact with inmates in a manner consistent with the Core Values of the Sheriff's Department. Disrespectful behavior on the part of deputies or any other jail personnel will not be tolerated.

4. Mentoring, teaching, and enhancing the communication, patience, and problem-solving skills of our jail personnel. This includes ensuring employees are at all times attentive to all aspects of their duties, beginning with security, and including the providing of basic needs, medical and mental health attention, and more.

5. The complete implementation of Education-Based Incarceration into all areas of the Los Angeles County jail system.

6. Conducting a comprehensive review of our current inmate complaint process to ensure that it meets the needs of inmates who wish to express concerns or complaints.

7. Ensuring that Sheriff's Department supervisors seek feedback and listen to the knowledge gained by employees, encourage leadership and patience, and are commended, counseled, or disciplined when warranted.

8. Building on partnerships with employees, clergy, educators, volunteers, and independent oversight to further enhance services to inmates, as well as being open and transparent.

The Special Jail Investigations Task Force

In response to the 78 declarations alleging criminal or administrative misconduct, I have brought together a Special Jail Investigations Task Force consisting of 35 full-time investigators to thoroughly investigate each of these allegations. While some allegations were previously investigated, each will be thoroughly re-investigated by this task force. The progress of each investigation is available to the Office of Independent Review.

Personnel Performance Monitoring System

I have also ordered a complete review of our current Department-wide employee personnel performance monitoring system. This database helps us monitor our personnel for early warning signs of employees whose performance may need to be addressed today, to avoid problems in the future. Improvements will be made.

Our Core Values

As a leader in the Los Angeles County Sheriff's Department,

I commit myself to honorably perform my duties

with respect for the dignity of all people,

integrity to do right and fight wrongs,

wisdom to apply common sense and fairness in all I do,

and courage to stand against racism, sexism, anti-Semitism,

homophobia and bigotry in all its forms.

Until all deputies and jail personnel feel a sense of professional accomplishment while providing sensible and constitutional services to inmates, our success as a Department is not accomplished.

I believe that by ensuring a more productive and beneficial environment with improved coping skills in the jails, negative results will decrease and a more positive view of life will increase.

__________

Education-Based Incarceration (website)

http://www.lasdhq.org/divisions/correctional/ebi/index.html

Education-Based Incarceration (book)

http://file.lacounty.gov/lasd/cms1_145553.pdf
---
NOTE 2: WitnessLA will be helpfully keeping up the pressure on the Sheriff with Part 2 of Matt Fleisher's DANGEROUS JAILS series due next month.