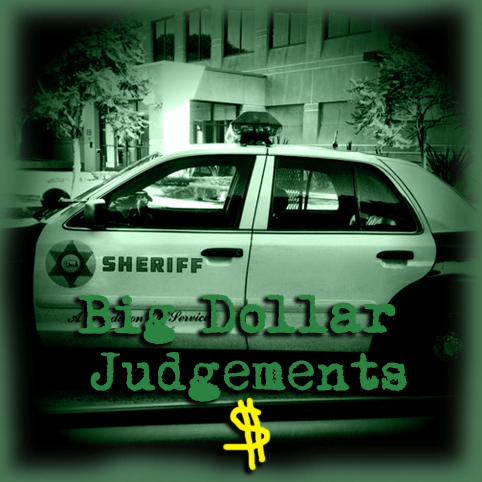 JURY AWARDS $1.1 MILLION TO PALMDALE TEENAGER SHOT BY LASD DEPUTY WHILE ON BIKE WITH TOY GUN
This week a jury awarded 19-year old William Fetters $1,127,600 in medical bills and damages for pain and suffering, after Fetters was shot on May 10, 2009 by Los Angeles County Sheriff's deputy, Scott Sorrow.
Fetters, who was then 15-years -old, was riding his bicycle, and playing a tag-like game with his brother and friends, when he was shot.
Deputy Sorrow testified at trial that Fetters was brandishing a realistic looking toy gun that he refused to drop. This, the deputy said, caused him to fear for his life and that of his partner so he fired a single shot at Fetters.
The teenager was hit in the rear of the side of his chest.
According to Fetters, matters went as follows: he was riding his bike down the street toward a local baseball diamond, playing "cops and robbers" with his brother and friends as they went. As the boys rode, Sorrow approached in his car and asked Fetters to stop riding and drop the toy gun he was holding, and that he dropped it right away. After that, Fetters said, the deputy shot him. Then, as he lay on the ground wounded, yelling that the gun was just a toy, Sorrows handcuffed him.
(Sorrows also testified that he handcuffed the wounded boy after shooting him and seeing that the gun was on the ground and out of his reach.)
At the trial—and according to interview transcripts—-Sorrows insisted that Fetters did not drop his toy gun when ordered to do so, while Fetters said the opposite. The teen said he was scared, and when the deputy barked the order, he dropped the gun immediately, then tried to get off his bike, at which point Sorrows shot him.
Oddly, according to Fetters' attorney Bradley Gage, in an earlier version of an interview transcript that was presented at a hearing for the case in 2012, Sorrows appears to say that that Fetters did drop the gun.
But for this month's trial, said Gage, the same transcript was amended to read that Fetters did not drop the gun. When questioned about the discrepancy in trial, Gage said that Sorrows discribed the first version as a "typo."
(Here is the first version of the interview with Sparrow: EXHIBIT 35 – 1st INTERVIEW)
About the matter of whether Sorrow shot Fetters "with malice," which the court was also asked to consider, the jury as unable to not a verdict. Thus a mistrial was declared for that part of the case. The question of "malice" is due to be tried again in mid April.
Sheriff's Department spokesman Steve Whitmore said that the department strongly disagrees with this week's jury judgment, and that Fetters was holding what appeared to be a real handgun which he pointed at the deputies when he was shot.
---
WHY ARE PEOPLE ARE DYING LIKE CRAZY IN SAN DIEGO COUNTY JAIL?
Reporters Dave Maas and Kelly Davis, have a startling story in San Diego City Beat showing that the jail death capital of California is….San Diego County.
Didn't see that coming.
Maas and Davis note that jail inmate deaths have been tracked nationally only since 2000, when Congress passed the Deaths in Custody Reporting Act (DCRA) to "help address increasing reports of neglect and abuse in U.S. jails."
According to Department of Justice statistics tracked from the period of 2000 to 2007, for that time period, San Diego was second in the state, for jail deaths. (Alameda county was first.)
Then when the reporters began gathering stats from 2007 to the present through public records act requests, things got worse for SD, not better. In this newer period, San Diego County was at the top of California's list—based on a calculation of deaths per 100,000 people (the standardized metric that is most often used for this kind of calculation so that one may compare apples to apples).
Riverside County, Alameda and Los Angeles ranked 2nd, 3rd and 4th, respectively, behind San Diego.
Next the reporters plan to drill down into the county's figure so try to determine if any of those deaths were preventable.
---
SCOTUS JUSTICE RUTHIE'S VERY POWERFUL WHISPERS
One of the most to-the-point remarks in this week's gay marriage hearings was said so softly that many in the court gallery didn't hear Justice Ruth Bader Ginsburg's words when she talked about "skim milk."
Greg Stohr at Bloomberg has a nice story about the physically diminutive, but intellectually and strategically powerful Miz Ruth.
Here's clip:
Justice Ruth Bader Ginsburg is sometimes barely audible when she speaks at the U.S. Supreme Court. That doesn't mean she isn't heard loud and clear.

As the court took up same-sex marriage this week for the first time, the 80-year-old justice offered a reminder that she remains a force, the anchor of court's liberal wing. At various points, she served as the hard-hitting questioner, the voice of experience and a source of wit.

Ginsburg delivered one of the most memorable lines of the two days of arguments when she said yesterday that a federal law limiting benefits to married gay couples would create "two kinds of marriage — the full marriage, and then this sort of skim-milk marriage."

The quip drew chuckles throughout the packed courtroom. The laughter would have been louder except that many of the 500 onlookers couldn't hear Ginsburg, whose soft speaking style means her words often get lost in the corners of the courtroom.

Her quiet manner and diminutive stature make Ginsburg an easy justice to underestimate — for those not familiar with her work.

"It is clear that she is respected and even somewhat feared by her adversaries on the bench," said Garrett Epps, a University of Baltimore law professor who attended the argument.
The skim-milk analogy was her way of "explaining in clear terms — terms that will be remembered and carried forward to judges and citizens outside the court — what is wrong with the idea that the federal government can withhold the title of marriage to couples legally wedded in their states," Epps said….
The New Yorker's Jeffrey Toobin has a terrific profile of Ginsburg in the New Yorker earlier this month, but regrettably it's hidden behind their paywall. However, if you don't have your own subscription and can't snatch a friend's magazine, Toobin was interviewed on Fresh Air with Terry Gross about his profile, and it's very good (and covers many of the same points as he did in the profile).