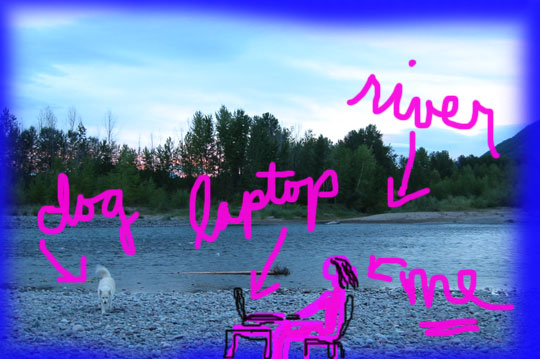 Here's the deal: this past year, I was supposed to be putting the finishing touches on the first 2/3 of my next book, An American Family.
But what with teaching and blogging and other projects, somehow the book never made it to the front burner.
So from today, July 15, until Wednesday, August 11, I'm going to temporarily recalibrate my priorities.
I'm packing the dog, the cat, my laptop, and a large pile of very good books (some are physical books, many are audible versions loaded on to my iPod) and I am driving to West Glacier, Montana, to sit by the Middle Fork of the Flathead River and write.
I may post things intermittently along the way, —you know, strange interviews with people I encounter, photos of wandering grizzlies, random but impassioned book recommendations. I cannot say with what frequency though.
HOWEVER if something really essential happens in LA that motivates me to comment, I will do so.
So check in.
---
NOTE: Shortly after I get back, the first LA Justice Report (see below) will appear here.
Also, during those first days back from vacation, writer/teacher Dennis Dansiger will have the next chapter in the story of his talented student John Rodriguez who has been charged with attempted murder.
In the meantime, may your summer days be good ones.
---
Just for the record (for those who are madly into summer reading themselves), the first books I've got queued up on the iPod for the drive are (not necessarily in this order):
1. David Mitchell's The Thousand Autumns of Jacob de Zoet.
Mitchell's the literary IT guy this summer. And according to Dave Eggers, he really is that good. I feel it behooves me to find out if Eggers is right.
2. James Lee Burke's The Glass Rainbow.
I'm a complete Burke fangirl. This book came out Tuesday. I downloaded it on Wednesday. (Happy now.)
3. Faithful Place by Tana French
French is something of a rising star in the mystery world. Her first two books were psychologically-nuanced, character-driven and pleasantly quirky, written in a dreamily literary prose style. Yet French is Irish, so all of the above is also torn and dark at the edges. I read her first two, In the Woods and The Likeness, and liked them a lot. I hear her third is the best of the three.
Burke and French seem like the perfect people to hang out with while driving north—with Mitchell up next, once I'm on the river.
Let me know what you're reading this summer, if you're in the mood.
Otherwise, I'll see you in a few weeks. (And maybe a little in between.)