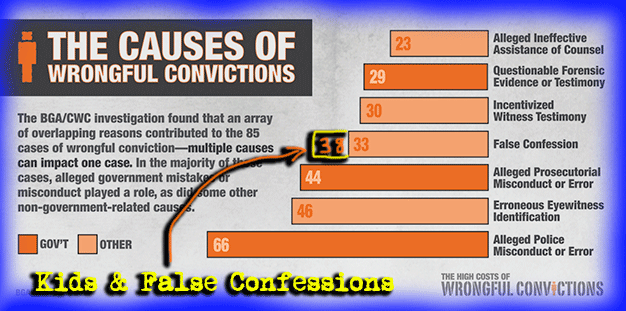 We know that a significant percentage of those who are falsely convicted—and later exonerated-–have been convicted largely because they confessed to crimes they did not commit.
It turns out, however, that kids are far more likely to falsely confess than adults, according to a new database of more than 1,100 exonerations that have occurred over the last 25 years.
In a story for the Juvenile Justice Exchange, Gary Gately asked a bunch of experts why this is so?
Here's a clip from Gately's report:
The National Registry of Exonerations, put together by the Northwestern University Law School and the University of Michigan Law School, showed 38 percent of youths who were convicted and later cleared had given false confessions, compared with 11 percent of adults.

Experts note juveniles' brains aren't fully developed and that teens tend to be impulsive and less mature than adults. Juveniles often don't weigh long-term consequences of their actions and can be more easily intimidated than adults, and teens have typically been taught to respect authority figures like police officers.

Samuel R. Gross, a professor at the University of Michigan's Law School and editor of the National Registry of Exonerations, pointed out there's a high proportion of false confessions among juveniles and suspects with mental disabilities, for some of the same reasons.

"These are people who are easier to mislead [than adults], easier to manipulate, more trusting, more likely to be afraid, more likely to be confused, more likely to not understand what's going on, and we see that repeatedly in the descriptions people give after the fact of why they falsely confess," Gross told JJIE.
---
LAPD UNION LIKES MOVE BY NEW COMMISSION PREZ TO GET BODY CAMERAS BUT URGES WISE USE OF THEM
Monday, the LAPPL—the LAPD's union—put out a statement regarding the fast track move by new police commission head, Steve Soberoff, to get body cameras for the department's officers. In essence the union officials are very much in favor of the cameras, but urge wise protocols. (Indeed, like any tool, the cameras may be used well or poorly.)
Here's a clip from their statement:
The Digital In-Car Camera System has proven to be another tool to improve officer safety and accountability, enhance training and improve prosecution of criminal cases. The review of videos by arresting officers has proven valuable in the documentation of criminal activity and subsequent testimony. However, concerns have been raised as to how the Department uses the videos for administrative purposes, and we are addressing those issues as they arise, so as not to allow "gotcha" mentality or misuse to derail the intended purpose. We believe that our officers have not only a duty to be accurate, but a right to be accurate. To that end, the review of video and/or audio evidence before writing reports, testifying, or submitting to interviews in not only important, but vital to that goal.

While video can be helpful, we should all remember that video images and/or recordings are two-dimensional and therefore are not by themselves complete investigations. The work rules for the deployment and use of body cams must assure our members that they not be used to unfairly or unreasonably scrutinize an officer's work performance.
---
CELEBRATING BANNED BOOKS WEEK—BY READING AND CHEERING BANNED BOOKS
Banned Books Week has come around again. And a number of publications—- like Forbes….the LA Times….The Washington Times—are celebrating the week by calling attention to their favorite banned books.
This year, in addition to the perennial classics like Lolita and To Kill a Mockingbird, we find on the list The Kite Runner by Khaled Hosseini.
(Oh, book banning persons, you never cease to amaze!)
---
NOTE: I'm up in the state of Montana this week and much of next, so this is a shorter-than-usual post. More tomorrow.