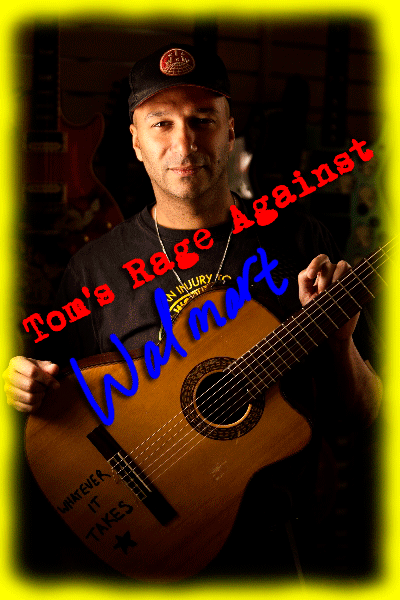 TOM MORELLO TO HEADLINE…CHINATOWN WALMART PROTEST?
Saturday's protest against Chinatown's new planned Walmart, expected to draw 20,000, has some surprising musical advocates. Tom Morello (Rage Against the Machine) and Ben Harper are said to perform at what LA Weekly is now referring to as "Walstock."
LA Weekly's Dennis Romero has the story. Here's how it opens:
Walmart has been bracing itself for what union organizers are calling the largest ever protest against the big-box chain, scheduled this weekend. The store even hosted a traditional Chinese lion dance to ward off bad luck (really). But can Walmart really prepare for the rage against its non-union machine that is … Tom Morello?

As part of Saturday's massive protest against the Chinatown Walmart (it's actually planned as a little baby Walmart and not a fullsized, fill-your-SUV-with-crap-you-don't-need Walmart)…

…labor leaders say Morello is going to perform. Ben Harper will be there with his blend of mellow anti-capitalism as well. And heck, Steve Earle says he'd be there if he wasn't working in the studio in Nashville.
---
GOV. BROWN OKAYS CDCR'S BLUEPRINT PROJECT
Gov. Jerry Brown signed a huge corrections reform plan, called Blueprint, into the California budget Thursday. CDCR Press Secretery Jeffrey Callison told WitnessLA that the drop in prison overcrowding has made room in the budget to increase rehabilitation programs. (We'll be tracking this to make sure it happens.) Blueprint also calls for the closure of the California Rehabilitation Center–an old, cost-ineffective facility that was once a resort for 1920's-30's biggest Hollywood names. Callison said that the CDCR will move those beds at the CRC into "more modern cost-effective facilities."
You can read the press release on the CDCR's blog. Here's how it opens:
Governor Edmund G. Brown Jr. on Wednesday signed into law an historic reform of California's penal system. Known as the blueprint, the plan will cut billions in spending, comply with multiple federal court orders for inmate medical, mental health and dental care, and significantly improve the operation of California's prison system. The Governor's approval of the blueprint follows its release by the California Department of Corrections and Rehabilitation (CDCR) in April and its approval by the State Legislature yesterday.

The multi-year plan for CDCR will cut billions in spending, enable the State to comply with multiple federal court orders concerning inmate health care, and significantly improve the operation of California's prison system.

"We appreciate the confidence of the Legislature in our plan for a safer and more efficient correctional system," said CDCR Secretary Matthew Cate. "The passage of our blueprint will show the federal courts that California is serious about ending the long-standing lawsuits overseeing much of our operations."
---
"CRUEL AND UNUSUAL" PHOTO GALLERY SHOWCASES LIFE BEHIND BARS
Social justice photographer Pete Brook's "Cruel and Unusual" exhibit–displayed in shipping containers in Brooklyn–has brought together photos depicting juvenile and adult incarceration across the nation.
Juvenile Justice Information Exchange's Daryl Kahn has the story. Here's a clip:
The geo-physicist turned documentary photographer had never been behind the walls of the juvenile detention facilities that dot the outskirts of Los Angeles along the spine of Interstate 5 in the Central Valley, but the following morning he was going to take his camera, walk in, and take pictures of killers and gangsters.

"I expected the worst," he said. "The worst of the worst; The ones glaring at you in those orange jumpsuits. You see how they're portrayed. I expected them to be standoffish, imminently violent, unstable. Ready to do anything."

What he encountered subverted his anxious expectations. He found a teenager, a piano prodigy before he was tried as an adult and put behind bars. The young inmate was tinkering with an electric piano, and in the grey gloom of the facility echoed the same funereal, haunting sonata he heard in the comfort of his son's nursery the evening before. The inmate played Beethoven with precision and feeling.

"What I met weren't monsters," Oshagan, now 47, said. "They were normal kids. I knew the system wasn't working — I didn't know exactly how bad it was until I started talking to these kids and seeing what happens to them."

The pictures Oshagan took that day and for years after from 2001 to 2005, are part of a exhibition called "Cruel and Unusual" on display inside a massive 40-foot long shipping container stacked on the uplands of Pier 3 along the Waterfront in Brooklyn. The show features a collection of pictures by photographers from across the country chronicling life behind bars, some of which were gathered by co-curator Pete Brook during what he calls the Prison Photography on the Road.
You can take a look at Brook's fascinating work here.
---
Photo taken from Tom Morello's Nightwatchmen site.