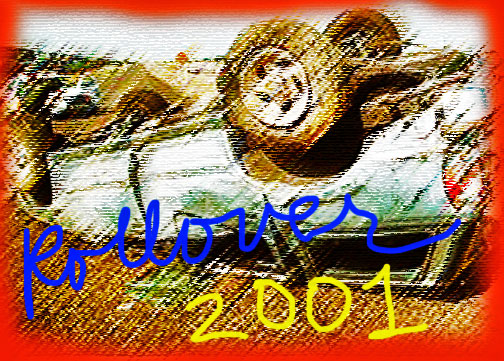 On Monday, a federal grand jury opened an investigation to look into whether Toyota tried to cover up the acceleration problems that led to its massive vehicle recall. Even prior to the criminal probe, Toyota was already facing congressional hearings later this week.

All this recall business got me to thinking about another big, bad automobile recall-—one in which I had a personal stake.
It began in 2000 and continued into 2001. At the time, we had just elected a new president (or the Supreme Court had chosen the president, depending upon your outlook). No airplanes had yet crashed into the Twin Towers.
Back then, the multinational corporations being accused of cover-ups and worse were Firestone, the tire makers, and the Ford Motor Company.
It seemed that the Firestone Wilderness tires that were commonly put on certain Ford light trucks-–most often the Explorer—began coming apart at the treads. Basically, the tires exploded. When the tires blew apart they, in turn, caused the SUVs riding on them to swerve, leap and to rollover. In so doing, they frequently killed and/or maimed their occupants.
After an impressive string of rollover-related deaths triggered an even more impressive string of lawsuits, a massive recall was instituted.
Back then, I had an Explorer. And, I had Firestone Wilderness tires on my Explorer.
Yet, when I began the recall-related adventure you'll find below, neither Firestone nor Ford thought it necessary to replace myFirestone Wilderness AT tires.
I wrote about what occurred next, first for MSNBC and then for the LA Weekly.
Here is the result:

As this Alice-in-Wonderland inauguration approaches, during which a president who may or may not have actually been elected will be gloriously and officially sworn into office, it would be nice to be able to trust somebody — like maybe your tire company. For four months straight I tried my best to do just that, even though everywhere we went, people pointed at our tires. One of the last times it happened we were all loaded into my 1997 Ford Explorer, ready to head out for a Sunday excursion. We, in this case, meant me, my 14-year-old son, Will, two of his best friends, plus a tangle of skateboards, pads and helmets. Our destination was the boys' favorite indoor skate park, 45 miles north of our house. Just before getting on the 101 freeway, I pulled into a gas station for a quick fill-up, and two 19-year-olds in a Camry cruised by and glanced in our direction.

"Hey, look!" barked the Camry driver at a volume intended to be within our earshot, his left arm gesturing out the window toward our vehicle. "They've got those exploding tires!"

Yes, indeed, we surely did. We had Wilderness ATs, the tires recalled by Firestone last summer on account of their habit of parting from their treads at sudden and inopportune moments. It seems that when these ATs separate at freeway speed, they often cause the Explorer wearing them to roll. At present count, tire failures by ATs and two other Firestone tire models, the ATX and the ATX II, have led to 148 deaths and more than 681 injuries in the U.S. alone, according to the National Highway Traffic Safety Administration (NHTSA). This tally of crashes ranks among the highest number of fatalities and injuries the agency has ever recorded in its 30-year history of defect investigations.

2000 was a record-smashing year for auto-related defects in general. In addition to last summer's BridgestoneFirestone recall of 6.5 million tires, the largest automotive recall in U.S. history, there have been an unprecedented number of recalls on everything from infant car seats to school buses. In early November, the Ford Motor Co. announced that it was recalling 430,000 Ford Mustangs because of a faulty parking brake. A few weeks later, Ford issued a recall of 846,000 Explorers. Last fall, Continental-General tires were linked to a string of fatal tread-separation accidents, and, on November 21, federal regulators announced they were looking into a possible Goodyear exploding-tire problem. Yet it's the Wilderness AT tire that continues to cause an ongoing controversy. Eight weeks ago, Firestone announced it had exchanged 80 percent of its hazardous tires. Well, maybe yes, maybe no. As with the Florida election recounts, the truth is in the eye of each beholder, and the facts of the situation vary wildly depending upon whom you ask.

I bought my Wilderness ATs new from my local Ford dealership this past July 24, exactly 16 days before the recall was announced on August 9. When the news broke, I quickly called the dealer to ask how I might get my tires replaced. The service manager himself got on the phone with me, his tone concerned and accommodating. "Just bring your Explorer on in," he said. "We'll get you fixed up as fast as we can." When I arrived at the Ford lot, an earnest, 20-something mechanic, whom I'll call Matt, told me that he would first have to check to make sure that my tires were part of the recall.

"What do you mean?" I wanted to know. "Of course they're part of the recall."

Matt patiently explained that the only ATs eligible for replacement were those made at the Firestone plant in Decatur, Illinois. Those were the ones causing all the trouble, he said. With that, he rolled under my Explorer and began looking for what is known as the DOT code, a set of distinguishing letters and numbers printed on every tire's inside wall indicating where it was manufactured. The Decatur tires have a DOT code beginning with the letters VD. After a minute or two of poking about, Matt rolled out once again. "Great news," he announced. "Your tires are all 8Xs. Not a VD in the bunch. That means they're perfectly safe."

I stared at the tires, then back at Matt. "Says who? Firestone?"

That would be the same Firestone who pronounced the Decatur ATs safe until the fatalities and the lawsuits started piling up. I said as much to Matt, who appeared to wish he were elsewhere. When I spoke to the service manager, he didn't seem any happier. "All we know is what Ford and Firestone tell us," he said. "I just hope they're correct and I'm not lying to my customers."

At home, my son accosted me the minute I walked in the door. "Did you get new tires?"

"Um, no," I told him. "See, we don't have the bad Wilderness ATs. We have the good Wilderness ATs that are not part of the recall because, um, they're perfectly safe."

"Yeah, right," Will said. "Do you believe that?" I admitted I didn't know.
Read the rest. You'll be glad you did, I promise. (And, yes, Virginia, the little guy—or in this case, the 5′ 4″ journalist/mom—can sometimes make a difference.)