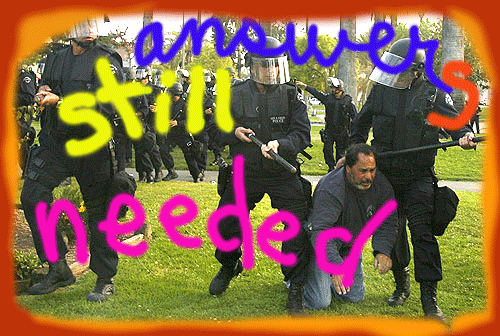 As I posted yesterday, the "Final Report on the MacArthur Park Incident"-–also known as the May Day Melee report— was presented to the Police Commission Tuesday morning.
And, in your spare time, you too can download all 80 plus pages in PDF form from the LAPD website. The thing includes diagrams, training manual excerpts, and a minute-by-minute timeline of how matters went south—and it actually makes for pretty interesting reading (or skimming, if I am to be completely honest).
While some people present at MacArthur Park that day (and their lawyers) have already disagreed with certain perceptions put forth in the timeline, nearly all agree that the report is truly heartening for its detail and transparency.
From nearly day one, Bill Bratton and his command staff have displayed a willingness to issue in-depth mea culpas—a 180-degree change from the pre-Bratton years when the LAPD's knee-jerk MO was to place blame anywhere BUT on the department's shoulders—no matter how laughable the logic required to perform this pretzelling of responsibility.

Yet, again Tuesday Chief Bratton apologized to both the rank and file and to the public—an act that most listening agreed is completely unheard of. "In 33 years," said Police Union head, Tim Sands, "I've never seen it."

The report was written in the same spirit by Deputy Chief Michael Hillman, and LAPD Consent Decree head, Gerry Chaleff, and it lays out with unusual candor all the missteps made by those in command that ultimately resulted in the mayhem that left 40-some people injured and resulted in more than 100 lawsuits.

Among the problems cited are the following:
There were contradictory orders given….there was a failure to "issue a lawful dispersal order" to the crowd….there was an inexplicable okay of the use of force on the crowd…..plus a lack of communication and "abrogation of responsibility" by incident commanders.

And then, even when things started to get really out of control, none of the on-scene shot callers bothered to pass that information up the chain of command (a VERY big deal, according to Chief Bratton).
Moreover, the report doesn't just list failures, it names names, calling out all those brass who blew it—something that is, in itself, unprecedented.

The seriousness with which the department intends to take the report was heralded last spring when Bratton made swift changes at the top, yanking two of the men who take the much of the report's heat. Former South Bureau Deputy Chief Caylor "Lee" Carter, and Commander Louis Gray were replaced by Deputy Chief Sergio Diaz, and Commander Andrew Smith.

Unfortunately, the report is far less complete when it comes explaining the acts of the Metro guys (and/or women) who actually did all the whacking and "non-lethal" shooting of reporters and fleeing parents with children, which turned up in video form on YouTube for the viewing pleasure of millions.


Since it's the actions of the rampaging Metro officers that most concern us, in this respect the report is unsatisfying.
In deference to state law, the names of the 26 officers who've been identified as having used force have not been released. Yet, according to the Chief, those same 26 are still being investigated by Internal Affairs.
"Each officer who used force that day is responsible for explaining his or her actions," said Bratton on Patt Morrison's show Tuesday afternoon.
But, we've been down this road many times with the department, and too often in the past, "reasonable explanations" somehow magically appear once use of force incidents arrive at Internal Affairs.

All day Tuesday, the Police Protective League's Tim Sands, continued to beat the drum about May Day being the result of a lack of adequate training. But, as one member of command staff put it to me privately, "You don't need more training to know that its not okay to hit nonviolent immigrant mothers with your baton. That's not a training issue.
It's a common sense issue.
Yesterday, I was chatting with my journalist pal and long-time LAPD chronicler Joe Domanick, about what was left out of the report. Joe said that he too admired the way that Bratton has reacted to the incident—now and back in May.
"But neither the Chief," he said, "nor anyone else on his command staff has satisfactorily explained what was going on in the minds of these Metro officers that caused them to do what they did to the public and the press, five years into Bill Bratton's leadership."
Exactly.
In the end, that's still the question that needs to be answered. Or, to put it another way: Why after all this time, do we still have 26 cops who felt it was permissible to embody the attitude expressed by a Metro officer who was overheard saying on one of the May Day audio recordings:

"I don't care if they're not throwing stuff at us now….we get to roll."