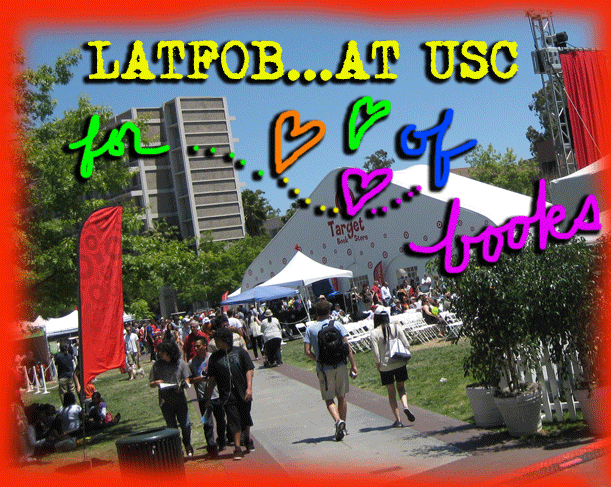 Today, Friday, Festival of Books weekend begins with the LA Times Book Awards tonight, followed by two full days of fest-ing on the USC campus, featuring author interviews, panels, readings, cooking demonstrations, kids activities, and all manner of other events centered around the celebration of writers and readers.
I'm moderating a panel on Saturday at 3:30 pm called Crime Fiction: Out of the Box
It features a stupendously cool line up of gifted authors, each with an ardent following. (If you like very smart, very literary, very original and culturally savvy noir-ish crime fiction, that also has something interesting to say, these are your guys.)
Nelson George
Gary Phillips
P.G. Sturges
Paul Tremblay
I pre-interviewed them all Thursday, and trust me, the audience is in for a treat.
As for what else you should see? Oh, there's an embarrassment of riches. Susan Orlean, John Green (author of the new, hot book, "The Fault in our Stars), Joseph Wambaugh….. Just page through the list.
As always, you should go to any panel that involves my pal Tod Goldberg in any way-–either as a panelist or a moderator. (Really, just trust me. Every year there's a legendarily funny Tod-related panel that everyone talks about in the Festival's Green Room, causing those who have missed it to look….you know….sad. But even his non-legendary panels will be good. Just go.)
And my brilliant friend, Tom Bissell, has recently moved into town and is on a panel both Saturday and Sunday. If you know his work, you already understand why one would be wise to do whatever it takes manage to catch one of his panels. If you don't know who he is….well, take a look. (To intellectual gamers, he's a god, but he's also beloved by literary types.)
My pal David Ulin has a terrific panel on Sunday at 1 pm with Steve Erickson, Hari Kunzru, and Dana Spiotta—any one of whom alone would be a hot ticket.
Just go to USC and walk in a panel at random. Honestly, you can't go wrong.
I asked WLA's new news aggregator Taylor Walker, who is, like me, a mad reader, for her picks to click. Here are Taylor's LATFOB suggestions:
TAYLOR'S PICKS

I LOVE the Festival of Books. I've attended almost every year with my dad as a quasi-father/daughter tradition.

Here are some of the Saturday panels we will be sitting in on:

1. Robert Kirkman's Q&A with Geoff Boucher at 10:30AM

We're both [not so] secret comic book fans, so this Q&A session is a MUST. Robert is most famous for writing The Walking Dead, a graphic novel series (and TV show) about a zombie-infested dystopian earth and its human inhabitants' struggle for survival. What's not to like?

2. Cheryl Strayed's on the Memoir: Over the Edge panel moderated by Amy Wallen at 1:30.

Cheryl's new memoir Wild: From Lost to Found on the Pacific Crest Trail follows her on her 1,100 mile trek from Mohave to Washington along the Pac. Crest Trail as she hazards physical extremes to find herself. Her hyper-realistic style and literary flourish make her novels that much more delightful for the lit. nerd in me. She's the witty, slightly vulgar best friend I wish I had.

3. Celeste Fremon's Crime Fiction: Out of the Box panel at 3:30. (A whim, of course, but I may have heard a thing or two about the fabulous panelists.)
________________________________________________________________________________

I won't be able to go on Sunday this year, but here are a few of the events I would have caught:

Rodney King's Q&A with Patt Morrison at 12:30,

Betty White at 1:20

T.C. Boyle at 4:30.

I'm also entirely content spending a few hours meandering through the crowd, looking at the booths, inevitably getting lost, and enjoying the ambiance created by hundreds of book lovers.