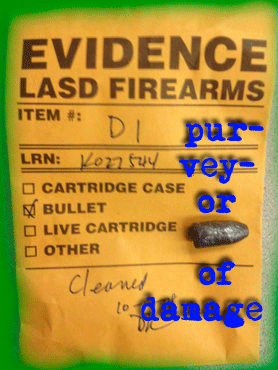 THE AFTERMATH OF BULLETS & THE DANGEROUS DECISION THEY REQUIRED
On Sunday, the LA Times ran the first part of Molly Hennessy-Fisk's remarkable two part series. Part 2 followed on Monday. (The photos accompanying the series by Times photographer Barbara Davidson are also simply stunning.)
The series follows the life of a Monrovia teenager named Davien Graham, a young man who was turning out well, despite the fact that nearly every adult in his family who should have protected him, seemed to let him down in frightening ways. Nonetheless, he worked hard at school, was devoted to church, and stayed away from trouble.
But one day trouble found Davien, and brought with it a dangerous decision.
Here's a clip from Part 1:
The oldest of six children, he learned as a small boy not to feel safe anywhere. He played under the towering pines and sweet gum trees of Pamela Park, where gangbangers stashed guns in bathrooms and addicts left crack pipes in sandboxes.

He witnessed his first drive-by when he was 4 years old. He came to recognize the sound, "like a loud drum, a thunderclap."

He grew leery of sedans with tinted windows, "drive-by cars," and gangsters who sprinted past his house and across "the wash," a drainage canal, with police in pursuit.

For Davien's safety, a relative had walked him to school — until he, too, was shot and his body dumped in the wash.

Davien had one goal in mind: to make it to his 21st birthday.

Drug dealers, bookies and hustlers called to him from the streets: "Hey, Day Day! You just like your dad."

The comparison made him cringe. Davien's father, Steven Graham, or Steve-O, was a Crip who pleaded guilty to cocaine possession weeks after Davien was born. Steve-O would spend several years in prison.

Afterward, on days Steve-O got high or drank too much, he would put on his sunglasses and take Davien out to the yard for lessons in manhood, often bringing a shotgun.

Davien's mother, Sharri McGhee, also struggled with drugs.

Even so, when times were good, Davien felt as though he belonged to a normal family. His mother would check them into an Embassy Suites hotel so they could swim in the pool. It felt like Disneyland.

Then he woke up one morning and all his videos and the TV and VCR were gone, and he saw his dad walking home because he had sold the car, too.

By the time he started school, Davien had learned not to depend on adults for protection. He saw kids whisked away from their parents by the state, or sent to juvenile hall. He promised his younger brothers he would take care of them…
Then the thing happened that Davien had always feared. He got shot.
To make matters worse, he recognized the shooter. They'd been in the same gym class in middle school. When the sheriff's detective asked Davien if he'd seen who shot him, he knew that his Christian beliefs had taught him not to lie. Yet he also knew he was living in a community where "snitching" could be a death sentence.
Here's a clip from Part 2:
Davien knew his biggest hurdle lay ahead; testifying at Santana's trial.

As the case dragged on, Davien felt like he was doing time, waiting. He began to believe that his aunt and uncle, Joni and Terry Alford, resented caring for him, especially when he bumped into their furniture or peed in his shabby wheelchair.

They didn't seem to fear for his safety. Sometimes when they ran errands, they would leave him alone in the car, feeling trapped and exposed.

Davien wanted to put the trial behind him. He wanted out of Monrovia. He decided the best way out was to finish high school and make it to college.
(It should be noted, that the one adult who repeatedly seemed to do right by Davian was Los Angeles Sheriff's Department detective Scott Schulze.)
Read the rest.
This is a story that definitely deserves to be recognized at awards time.
---
WHEN YOUR MOTHER GOES TO PRISON
Violent crimes produce many collateral victims, in addition to those most directly affected.
For instance, the November 26 New Yorker contains an affecting personal account by journalist Victor Zapana called SHAKEN: A mother's conviction. A son's doubts, in which Zapana tells how, in 2007, when he was a senior at Stuyvesant High School, he came home from school one day to find that his mother, Yoon Zapana, had been found guilty of catastrophically injuring an eight-month-old baby for whom she had been the nanny eight years earlier. She had been sentenced to fifteen years in prison.
Zapana describes the effect the sentence had on him, and his Iraq war veteran dad. He also talks about his discovery that his mom, who had always insisted upon her innocence, might not be guilty. Yet despite what the new information that has come to light about shaken baby syndrome suggested for her case, the family decided they simply could not afford to hire another lawyer, as paying the first one had wiped them out.
(Sadly, this story too is hidden behind a paywall. But if you or someone you know has access, do avail yourself.)
---
HOW DID THE MARIJUANA LEGISLATION GET PASSED? WOMEN AND HISPANICS WERE KEY
Or so writes Casey Michel in this week's Atlantic. Here's a clip:
A few days before last Tuesday's election, New Approach Washington, the group pushing a ballot issue to legalize marijuana in the state, posted its final ad of the campaign. The spot featured a "Washington mom" — a woman in her mid-40s, sitting on her porch, flanked by pumpkins — who took the viewer through the assorted restrictions and benefits both minors and businesses would see once the measure, Initiative 502, was implemented: ID checks.Fewer profits for the cartels. Increased funds for schools. More time for police to "focus on violent crime instead." In short, all of the top concerns that an average mom in the Evergreen State would seem to have about making pot legal.

But New Approach's ad was about more than just capturing the votes of a major demographic — the same one that helped reelect President Obama and the one that kept GOP Senate hopefuls Richard Mourdock and Todd Akin at bay. Legalization advocates have found that female support tends to be a leading indicator for marijuana measures. In the case of both California's 2010 and Colorado's 2006 votes, sagging support among women preceded a collapse in men's support too. In California, for instance, support from women saw a 14-point swing against legalization over the final six weeks, dragging support from men under 50 percent.

"Historically, as soon as women really start to create a [gender] gap, a marijuana measure gets killed," says Allen St. Pierre, executive director of National Organization for the Reform of Marijuana Laws. "If women get weak-kneed, the men will start to drop."
---
Photo of evidence, Los Angeles County Sheriff's Department, via the Los Angeles Times.