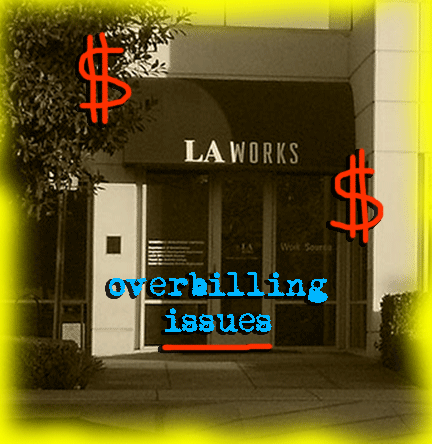 AUDITS FIND LA WORKS OVERCHARGED LASD (AND ANOTHER COUNTY DEPT.) A WHOPPING $1M, SUPES END CONTRACT WITH AGENCY
On Tuesday, the Board of Supervisors voted to end LA County's contract with LA Works, an agency that provides employment training services to inmates and the unemployed, after audits found the organization had overcharged the Sheriff's Dept. and the Dept. of Community and Senior Services nearly $1 million. The job training jail classes run by LA Works will likely be suspended for two weeks while the board negotiates a contract with the second lowest bidder, Five Keys Charter School.
The LA Times' Abby Sewell has the story. Here's a clip:
LA Works, an Irwindale-based joint-powers agency that provides workforce development services, was given a sole source contract in 2011 to teach job training and life skills classes in the jails. A recent county audit found that it had overbilled the Sheriff's Department by about $133,000 for staff time spent on non-sheriff's programs and for vacation, sick and holiday leave costs that were earned before the contract started.

A separate audit found LA Works had overbilled the county's Department of Community and Senior Services more than $850,000 on an on-the-job training program for unemployed and underemployed residents. Under that program, LA Works was to help people find jobs and would then pay a portion of their wages during their training period.

Auditors found that the agency billed the county for training people who had already been hired, including nurses making $32 an hour, which the auditors noted "is well over the self-sufficiency wage of $11.84 per hour" that is the most someone can earn and still qualify for the program.

LA Works initially argued that the on-the-job training bills were proper, but after auditors released a follow-up report, the agency changed its stance and agreed to repay the money. The agency did not dispute the overbilling in the Sheriff's Department and has repaid the money, according to an audit report…

The contract for programming in the jails expires this month. LA Works was the lowest bidder on a new $32-million, six-year contract to provide the services.

But county Supervisor Gloria Molina, citing the "significant and unallowable" overbilling, proposed Tuesday that the board direct the Sheriff's Department to instead negotiate a contract with the next-lowest bidder, Five Keys Charter School.
(LA Daily News' Richard Irwin also reported on this issue.)
---
A LOOK INSIDE SAN QUENTIN STATE PRISON'S AWARD-WINNING, INMATE-RUN NEWSPAPER
San Quentin State Prison may be notorious for being California's only death row facility for male prisoners, but it is also home to the state's only prisoner-run paper, San Quentin News. The monthly paper is circulated among 17 other prisons thanks to subscriptions, grants, and donations. San Quentin News, which recently won a James Madison Freedom of Information Award from the Northern California chapter of the Society of Professional Journalists, provides inmates with an important creative outlet and helps build writing and communication skills. (You can read the current issue on the newspaper's website here.)
The NY Times' Patricia Leigh Brown has more on the paper and the men who run it. Here are some clips:
Founded in 1940 and then revived as a serious journalistic enterprise six years ago, the monthly News, which bills itself as "The Pulse of San Quentin," is the state's only inmate-produced newspaper and one of the few in the world. The paper's 15 staff members, all of them male felons, write from the unusual perspective of having served an estimated 297 ½ years collectively for burglary, murder, home invasion, conspiracy and, in one case, a Ponzi scheme.

In a notorious prison best known for its death row, the men are committed to what Juan Haines, the 56-year-old managing editor, who is serving 55 years to life for that 1996 bank robbery, calls "boots on the ground" journalism, accomplished without cellphones or direct Internet access. "It's about being heard in a place that's literally shut off from the world," he said.

From their newsroom trailer next to the prison yard, where inmates work out amid spectacular views, the reporters and editors delve into issues at "the Q," as San Quentin State Prison is sometimes called, as well as those far beyond its walls. They have covered a hunger strike, crowding in California's women's prisons and a federal court order concerning mental health care for California death row inmates.

But the paper specializes in stories that can be written only by journalists with a "uniquely visceral understanding of the criminal justice system," said Arnulfo T. Garcia, the paper's editor in chief, who is serving 65 years to life for a long list of crimes that includes burglary, robbery and skipping bail to flee to Mexico.

Lately, the paper seems to be gathering momentum. Editors, who sometimes work through dinner over ramen noodles, are talking about expanding the current circulation of 11,500. Students from the Center for Nonprofit and Public Leadership at the University of California, Berkeley, have helped them develop a 12-year business plan that would increase the number of paid subscribers to help subsidize the free copies for inmates.

[SNIP]

Robert L. Ayers Jr., a former San Quentin warden who retired in 2008, said that positive outlets were important for prisoners. He said he decided to revive the publication as a quality journalistic endeavor rather than what he called an "inmate rant rag."

"When they get involved and see they're accomplishing something, that could be the one positive tick mark in the 'good' column for them," he said. In learning how to write, he added, "they start expressing themselves in ways other than physical or violent means."
---
ART EDUCATION PROGRAM EXTENDS TO TEN OF CALIFORNIA'S HIGH-POVERTY, LOW-ACHIEVEMENT SCHOOLS
On Tuesday, First Lady Michelle Obama announced the expansion of Turnaround Arts, an initiative from the President's Committee on the Arts and the Humanities, that uses art education to help bridge the academic achievement gap at low-performing schools nationwide. Ten high-poverty California schools serving 6,000 kids will receive musical instruments, art supplies, and other help from art organizations. (Turnaround Arts was piloted in 2012 at eight schools, helping to bring up attendance, lower discipline numbers, and boost kids' grades.)
KPCC's Mary Plummer has the story. Here's a clip:
The program infuses arts education access into struggling schools by providing musical instruments, art supplies, professional development for teachers and help from arts organizations. It began as a national initiative from the President's Committee on the Arts and the Humanities and expands into six new states in the Fall.

California's program will be the largest, serving 6,000 students in Kings, San Bernardino, San Diego, Los Angeles, Alameda, Monterey, Humboldt, Jan Joaquin and Contra Costa counties this fall. All of the schools are within the bottom five percent of the most challenged schools in the country, according to the selection criteria.

"I hope it means that arts education will become a model for all schools in the future," said architect Frank Gehry, one of several high-profile artists recruited to work with the schools. Gehry and former California Arts Council chair Malissa Feruzzi Shriver are spearheading the effort in California.

Other big names that have signed on include Jason Mraz, Forest Whitaker, Rashida Jones, Jesse Tyler Ferguson, Marc Anthony, Tim Robbins, Chad Smith, Kerry Washington and Russell Simmons.

Turnaround Arts launched in May 2012 at eight low-achieving schools across the country. Officials said discipline dropped by nearly 80 percent at some schools and that English and math scores rose. They also credited the arts instruction with bringing up attendance and enrollment numbers.