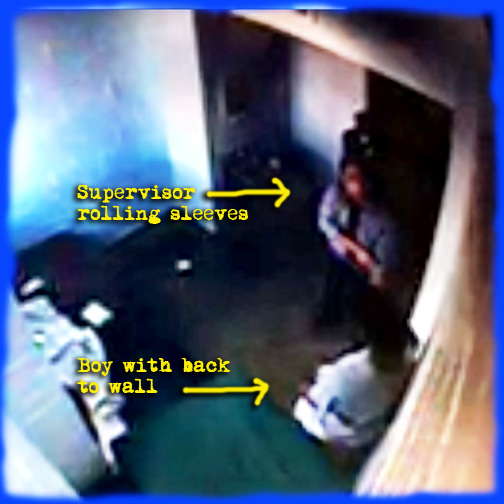 LA COUNTY SUPES TO LOOK INTO ABUSE ALLEGATIONS AT SYLMAR JUVENILE HALL, AND THE COUNTY'S OTHER JUVENILE LOCK-UPS
Last month, WitnessLA broke a story about an incident in April at Barry J. Nidorf Juvenile Hall in Sylmar, CA, involving the alleged beating of a non-combative 17-year-old housed at the facility by four probation staff, while a fifth, a supervisor, watched. The beating incident was captured on video by a camera installed in the teen's room.
At Tuesday's LA County Board of Supervisors meeting, Supe. Mark Ridley-Thomas read in a motion—which will be officially submitted to the board next week—that directs the County CEO, the interim Chief Probation Officer, Director of the Dept. of Public Health, and the Director of the Dept. of Health Services to review policies and procedures for reporting incidents like the juvenile hall beating. "I think we need to get this ball rolling again and again until we get this right," Ridley-Thomas said.
The motion will allow the board to "frankly tell the Probation Department to get its act together," said Ridley-Thomas.
Ridley-Thomas and his fellow supervisors were reportedly disturbed by the Sylmar story, as well as other allegations of staff abuse against kids in camps, halls, and other county probation-run facilities. "The county is responsible for their safety and well-being at all times," said Ridley-Thomas.
NOTE: WLA has some additional reports on other alleged incidents coming soon.
---
SUPES CONSIDER POSSIBLE REFORM-FOCUSED REMODEL OF AN LA COUNTY PROBATION-RUN CAMP FOR GIRLS
The Supervisors also voted Tuesday to have county officials look into remodeling Camp Joseph Scott—one of the county's two probation camp for girls—following the therapeutic dormitory-style remodel that will be completed at Camp Vernon Kilpatrick (soon to be Campus Vernon Kilpatrick) next year.
"Girls and young women who are under Probation Department oversight should have equal access to the same small-group therapeutic model and other benefits available to boys and young men at Campus Kilpatrick that emphasizes: (1) reduced recidivism; (2) positive behavioral change; and (3) improved well-being through education, health and mental health," says the motion introduced by Supes Sheila Kuehl and Michael Antonovich.
While the cost of a dormitory-style remodel at Scott is yet to be calculated, it likely would be far less than the $52.5 million price tag for Kilpatrick's upgrades, as Scott would not need a complete tear-down like Kilpatrick.
The approved motion directs the Interim Chief Probation Officer, the Chief Executive Officer, and the Department of Public Works to report back to the board with an analysis of how feasible renovating Scott would be, along with proposed changes to the county budget for fiscal year 2016-2017, as well as any other possible grant funds to offset the cost to the county.
---
SUPE ANTONOVICH WANTS TO LOOK INTO PLACING AN ANIMAL RESCUE INTO AN LA COUNTY JAIL
In addition, on Tuesday, the LA County Board of Supervisors passed a motion by Supe. Michael Antonovich to look into placing a new animal shelter for small animals at Pitchess Detention Center in Castaic.
The jail animal shelter would both ease current levels of overcrowding at the county's animal shelters, and provide inmates with another avenue for rehabilitation: caring for abandoned animals "who may otherwise languish and be euthanized." This is an issue that appears to be close to Antonovich's heart: the supervisor has facilitated more than 1,000 pet adoptions by holding one sweet critter per week at the board meetings, and urging residents to adopt rescues.
(We've written about other LA County jails that have participated in rescue dog training programs with great success, including Men's Central Jail.)
County CEO Sachi Hamai will now work with the Department of Animal Care and Control and the Los Angeles County Sheriff's Department and report back to the board in 30 days on the feasibility of installing a shelter at Pitchess.