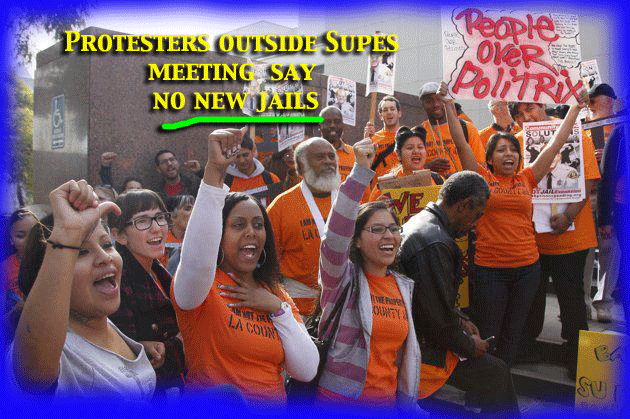 At Tuesday's board meeting, several of the LA County Supervisors surprised many observers by balking at rubber stamping a $5.7 million planning package to design various jail building and jail renovation options. Instead the Supes sent the high ticket planning package, jointly proposed by County CEO, Bill Fujioka, and LA County Sheriff Lee Baca, back to the drawing board.
The $5.7 report was ostensibly aimed at exploring all possible options for addressing the overcrowding issues that plague the county's troubled jail facilities, and that are expected to get worse under the state's new realignment policy, even though the County has somewhere upwards of 4000 empty jail beds, even as I type.
Yet, the Sheriff has strongly suggested that what he really wants is for the Supervisors to authorize $1.4 billion to build a brand new jail that would replace Men's Central Jail, an old and ghastly facility that everyone agrees has to be torn down, thus the suspicion is that he means the $5.7 design report to lay down track that will lead inevitably to his desired goal of construction.
However, Zev Yaroslavsky and Gloria Molina, in particular, made it clear they were not all that willing to climb on the Sheriff's construction train just yet. Instead, they asked for a better discussion of creative alternatives to lowering the jail numbers before rushing any further toward billion dollar building projects.
In the course of discussion, Zev brought up a recently commissioned report-in-progress by prisons and jails expert Dr. James Austin, that is to be completed next month. The Austin report will make recommendations about ways to lower the jail population numbers, by the use of such strategies as a well-run pretrial release program, which other cities have successfully implemented to lower their own jail numbers. (WitnessLA mentioned the existence of the Austin report in Monday's post.)
Yaroslavsky also mentioned a 289-page study by the Vera institute, titled the Los Angeles County Jail Overcrowding Reduction Project, that had been previously commissioned by the CEO's office. (The report was first completed in 2008, then revised in Sept. 2011.)
"There are counties and cities and states all over the country that have rethought the way they deal with their prison populations that could save us hundreds of millions of dollars without compromising anything," Zev said. "At least we have to look at that and go into this whole discussion with open minds about what can be done…….We have the opportunity here to look at alternatives to spending close to a billion and a half dollars on this kind of undertaking—money that, frankly, we can't afford." (Yaroslavsky made sure to note the inconvenient fact that has recently come to light—namely that the billion and a half dollar proposed new jail would only net the county around 400 new beds.)
Molina echoed Zev's skepticism and raised it a notch. "We have the Department of Justice looking at us," she said. "We have the ACLU lawsuit….We have all these issues and they all boil down to one thing: how we handle our jail populations. Yet all we ever talk about on this board is building."
Molina too was high on the Vera Institute report, much of which she appeared to have read—or at the very least she had been fairly well briefed on its contents.
The Vera report has a detailed section about pretrial release and how and why LA' County's bail system needs to be rethought. It shows with plenty of graphs and pie charts how the current system lets wealth, or lack thereof, decide who gets out on bail, and who languishes in a cell while they wait for trial, when the deciding factor really ought to be "risk assessment"—namely who is most at risk of not showing up for trial, or might be a danger to public safety.
Molina pounced on Fujioka about the issue. "I'm asking you a simple question," she said. "Here're all the recommendations from Vera. Why aren't we implementing them?….I don't understand why we are waiting… Why can't we do [some of these things]? We already have the report. It's very thorough."
Good question.—an inquiry that will likely be repeated after the report from the Austin group is delivered next month.
The fact that the Austin report will exist at all, required a confluence of events. Since 2007, Sheriff Baca had been offered Jim Austin's services gratis, but the sheriff repeatedly declined to let Austin look at his jails data in order to make recommendations as to how best to reduce overcrowding—even though the ACLU said it would pay the tab for the study. In the summer, Baca semi-relented and said he'd let the study go ahead, on the condition that the report was sealed, and not in any way made public. Appalled, the ACLU said no to the secrecy required. Then finally, early this past November, Baca gave a total go-ahead. He was no doubt motivated in part by the media storm around the jails abuse scandal, and the FBI investigation. Yet, by all accounts Baca is now being very cooperative and seems anxious to see what Austin and his group will recommend.
Once the Austin report is delivered in February,—as Molina suggests—everything depends on whether it becomes one more stack of paper to be filed, or a roadmap for action.
And, if the county implements some of Vera's and Austin's solutions, will building a new jail still be necessary?
Maybe not, say some experts.
The ACLU, the Vera Report and others have pointed out that the vast majority of the inmates in Men's Central Jail are pretrial detainees—many awaiting disposition on charges of low-level, nonviolent or trivial offenses. This means that a significant percentage of those in jail at any given moment, are there, not because a judge thought they were a danger, but because their families are simply too poor to post bond.
Still, if such policies are reformed, will they and related strategies be enough, or will we need creative building strategies too?
Mr. Fujioka has pledged to come back to the board with a proposal for a new uber planning, analysis and design package that will look at the whole picture and come back with recommendations by the summer.
So stay tuned.
---
PS: The Supervisors did approve an application for $100 million in state funding for a women's jail, but the application does not commit them to taking the money and doing the construction.
---
Photo courtesy of the Youth Justice Coalition