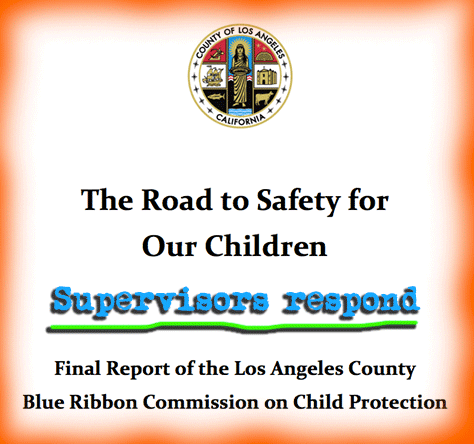 BOARD OF SUPERVISORS RESPONDS TO COMMISSION'S FINAL FOSTER CARE REFORM RECOMMENDATIONS
On Tuesday, the LA County Board of Supervisors responded to final recommendations made by the Blue Ribbon Commission on Child Protection. The Supes did not all agree on specific DCFS reforms—Supe Zev Yaroslavsky called the creation of a separate oversight panel "a non-starter"—but did agree to study the final report before acting on any recommendations.
KPCC's Rina Palta has the story. Here's a clip:
Citing years of reforms, reports, and even court cases aimed at overhauling the Department of Children and Family Services, commissioner Leslie Gilbert-Lurie told the board that the county needs an oversight team to make sure the reform proposals don't gather dust on the shelves in the county building.

"Recommendations will come and go," Gilbert-Lurie said. "As we can all now recite in our sleep, there have been hundreds of them. The problem fundamentally is not a lack of good ideas or of good people."

An oversight panel is the reform several commissioners called the most important. It's also the most controversial among county leaders.

The panel has also suggested creating an Office of Child Protection to coordinate amongst the numerous agencies (DCFS, law enforcement, District Attorney, Department of Health) that touch on child welfare going forward.

"A solid structure that takes in good ideas, assesses them, funds them, implements them, and holds people accountable for better results than in the past will lead to sustainable change," Gilbert-Lurie said.

Supervisor Zev Yaroslavsky, who voted against creating the blue ribbon panel in the first place, called the idea a "turkey."

"What this issue needs is not more bureaucracy and more commissions, it needs results," Yaroslavsky said.

The supervisor said moving resources from one under-funded department to a brand new one is hardly a solution.

"It's a non-starter with me," he said, though he said many of the ideas contained in the report were worth pursuing and more practical.

Board President Don Knabe has also expressed skepticism that more county agencies and commissions is that way to go.

Supervisor Mark Ridley-Thomas, who pushed for the blue ribbon panel, said he's "undeterred."
---
PROPHET WALKER: FROM LOCKUP TO RUNNING FOR STATE ASSEMBLY
To say that Prophet Walker had a rough beginning, would be a rather large understatement. He grew up in the projects in Watts, was abandoned as a young child by his mother, and landed himself in prison at age 16. While in prison, Prophet made impressive use of his time, getting a college education, and helping to persuade the CDCR to allow certain young offenders to pursue education in lower security prisons.
Now, ten years later, Prophet is running for a state Assembly seat with the help of some serious mentors and supporters (namely "Hangover" producer Scott Budnick and Carol Biondi, commissioner of the LA County Commission for Children and Families).
James Rainey has a very cool Column One story about Prophet. Here's how it opens:
The kids at Compton YouthBuild can be a tough audience. Many come from broken homes, flunked out of multiple schools, even spent time in jail.

By the last day of Black History Month, some at the alternative school — which looks boarded shut from Compton Boulevard — had gotten their fill of talk about hope and perseverance.

On this late Friday afternoon, though, a tall young man strode into their big multipurpose room and flashed a flawless smile. He looked a bit like the rapper Drake. Or so said a girl near the front, giggling.

When the visitor began, "How many people here are familiar with Nickerson Gardens?" some of the students stopped mugging and poking one another. They not only knew the housing project where their guest came up, they knew other young men not unlike him whose mothers struggled with addiction, who had children while still nearly children themselves, who had let violence win them over.

But his story didn't end like most. He found a way to keep learning while behind bars, went to college, then got a job overseeing big-ticket construction projects. He told the students of knowing Kendrick Lamar from back in the day and how he recently visited the hip-hop star backstage at one of his shows. Hearing that, one boy in the audience whistled in admiration and exclaimed: "Damn!"

Not only had their visitor played fate for a fool, he had a name that seemed plucked straight from a Spike Lee drama: Prophet. Prophet Walker.

"A lot of people who came from the 'hood don't do anything. But he came back," student Jonathan Chase Butler said after Walker's talk. "He is trying to speak to us and inspire us, and I see I can actually push forward and keep going. That is huge."

Now Walker, just 26, is trying to build on his unlikely story. With no experience in politics or government, he's running for the California Assembly, hoping to represent a district that stretches from South L.A. to Compton, Carson and a slice of Long Beach.
Such is the power of his resurrection tale that actor Matt Damon has donated to his campaign and television pioneer Norman Lear sponsored a fundraiser.

His high-powered supporters tend to focus on Walker's inspiring rise out of bleak beginnings. As he steps onto a bigger public stage, though, he will also have to address more directly what happened during his fall…
---
NEW FEDERAL STUDY ON RECIDIVISM
Two-thirds of inmates released in 2005 were rearrested within three years, and three-quarters were rearrested within five years, according to a new study released by the US Bureau of Justice Statistics.
The study samples former prisoner data from 30 states, including California, between 2005-2010, and is the first large-scale federal study of its kind in almost 20 years.
Here's a clip of some of the study's key findings from the BJS announcement:
More than a third (37 percent) of prisoners who were arrested within five years of release were arrested within the first six months after release, with more than half (57 percent) arrested by the end of the first year…

During the five years after release, prisoners in the study were arrested about 1.2 million times across the country. A sixth (16 percent) of released prisoners were responsible for nearly half (48 percent) of the arrests. About two in five (42 percent) released prisoners were either not arrested or were arrested no more than once in the five years after release.

The longer released prisoners went without being arrested, the less likely they were to be arrested at all during the follow-up period. For example, 43 percent of released prisoners were arrested within one year of release, compared to 13 percent of those not arrested by the end of year four who were arrested in the fifth year after release.

Among prisoners released in 2005 in 23 states with available data on inmates returned to prison, about half (50 percent) had either a parole or probation violation or an arrest for a new crime within three years that led to imprisonment, and more than half (55 percent) had a parole or probation violation or an arrest within five years that led to imprisonment.

Recidivism rates varied with the attributes of the inmate. Prisoners released after serving time for a property offense were the most likely to recidivate. Within five years of release, 82 percent of property offenders were arrested for a new crime, compared to 77 percent of drug offenders, 74 percent of public order offenders and 71 percent of violent offenders.

Released prisoners who were incarcerated for a violent, property or drug crime were more likely than other released inmates to be arrested for a similar type of crime. Regardless of the incarceration offense, the majority (58 percent) of released prisoners were arrested for a public order offense within five years of release. An estimated 39 percent of released prisoners were arrested within five years for a drug offense, 38 percent for a property offense and 29 percent for a violent offense.

Recidivism was highest among males, blacks and young adults. By the end of the fifth year after release, more than three-quarters (78 percent) of males and two-thirds (68 percent) of females were arrested, a 10 percentage point difference that remained relatively stable during the entire 5-year follow-up period.
---
MAN WITH ALCOHOLIC TRIAL LAWYER STILL HEADED FOR EXECUTION
In yet another example of a flawed capital punishment system, a "borderline" mentally disabled man, Robert Wayne Holsey, faces execution in Georgia—a fate he would not likely be faced with had he been provided competent counsel. Instead, Holsey was represented by Andy Prince, a lawyer who says he drank a quart of alcohol per day during the death penalty trial.
Mother Jones' Marc Bookman has the story. Here's a clip:
In the early hours of December 17, 1995, Robert Wayne Holsey was arrested and charged for the murder of Baldwin County Deputy Sheriff Will Robinson, who pulled over Holsey's car following the armed robbery of a Jet Food Store in the county seat of Milledgeville. As with any killing of a police officer, it was a high-profile affair. Most of the county's judges attended Robinson's funeral, and many sent flowers. To ensure an impartial hearing, the trial had to be moved two counties away.

Like the great majority of people arrested for serious crimes, Holsey could not afford a lawyer; he had to depend on the court to appoint one for him. But it is reasonable to wonder why any court would have chosen Andy Prince for the job. Beyond his chronic alcohol problem and the financial judgments piling up against him, Prince did not generally handle cases in the Milledgeville area.

As it turns out, little thought was given to his suitability. The selection process in the Holsey case conjures up the old military trope about volunteering by means of everyone else taking a step backward. "Because of who the victim was, nobody within the circuit wanted to be appointed to this case," Prince later testified. "And I told [the judge], sure, I'd take it."

On one condition: He insisted on picking his co-counsel. Prince had handled capital cases before, and with some success, but he'd only worked on the more traditional guilt/innocence part of the representation—never the crucial sentencing phase. He contacted Rob Westin, the lawyer he'd collaborated with previously. Westin said he'd do it, but then reversed himself in short order. Westin "had gone to the solicitor's office in Baldwin County," Prince later explained, "and had been told that they couldn't believe that he was representing Mr. Holsey and that if he continued to represent him he would never get another deal worked out with that office."

His next attempt to secure co-counsel failed as well; the lawyer quit after a few months on the case and took a job with the state attorney general's office. Seven months before the trial date, Prince finally found his "second chair" in Brenda Trammell, a lawyer who practiced in Morgan County, where the case was to be tried: "She was about the only one that would take it."

As for Trammell, she assumed she was selected "based on proximity," as she later testified. "I had not tried to trial a death penalty case and I waited for him to tell me what to do, and there really was not a lot of direction in that way."

There was still one thing missing. What distinguishes capital murder trials from noncapital ones is the penalty phase, wherein the jury hears additional evidence and determines the appropriate punishment—usually choosing between death and life without parole. During this phase, a "mitigation specialist," whom the American Bar Association (ABA) describes as "an indispensable member of the defense team throughout all capital proceedings," gathers information that might convince jurors to spare the defendant's life. Indeed, the court provided Holsey's defense team with sufficient funds to hire a mitigation specialist, but no one was ever able to account for the money. Prince later said that he didn't remember what happened to it, only that he was certain no mitigation specialist was ever hired. Which may explain Trammell's response to this question from Holsey's appeals lawyer.

Q: When you got into the case, was there any theory with respect to mitigation in the event that he was convicted?

A: No, sir.

Mitigation theory or not, Holsey went on trial for his life in February 1997.