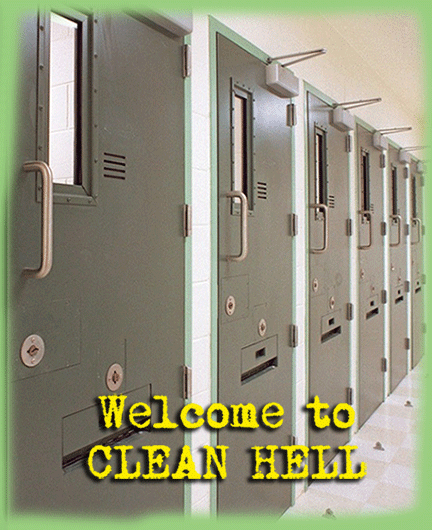 INMATES KEPT IN ISOLATION IN THE NATION'S SECURITY PRISON: "THEY ARE NOT SURE THEY EXIST AND, IF THEY DO, EXACTLY WHO THEY ARE"
The United States Penitentiary Administrative Maximum Facility in Florence, Colo., known by most as the ADX, is the highest-security prison in the country. Inside ADX you will find such high profile inmates as the Unibomber Ted Kaczynski, the Atlanta Olympics bomber Eric Rudolph, 9/11 conspirator Zacarias Moussaoui, the 1993 World Trade Center bombing mastermind Ramzi Yousef, Oklahoma City bomber Terry Nichols, former Bonanno crime-family boss Vincent Basciano and Michael Swango, a serial-killing doctor who may have poisoned 60 of his patients.
These kind of prisoners, most of whom are doing multiple life sentences, are viewed as having nothing to lose, thus potential violent.
But according to a class action lawsuit filed in June 2012, many of those housed in ADX are not high risk prisoners but inmates who've gotten transferred to the prison for a list of less-than-necessary reasons. Moreover, many are mentally ill and the conditions—along with a lack of appropriate care at ADX—make those who come to the facility with mental and emotional problems inevitably grow far worse.
And many of those who come into ADX without serious mental problems, have decompensated mentally and emotionally as a consequence of the extreme isolation to which they are subjected.
Perplexingly, according to the lawsuit, those who are housed in ADX's Control Units-–the most restricted and isolating units in the prison—receive no mental health care or psychotropic medication at all, whatever their needs.
"Currently, the BOP [Bureau of Prisons] turns a blind eye to the needs of the mentally ill at ADX and to deplorable conditions of confinement that are inhumane to these prisoners," states the 2012 lawsuit knowns as Bicote v. The Federal Bureau of Prisons. "No civilized society treats its mentally ill citizens with such deliberate indifference to their plight."
In Sunday's New York Times Magazine, reporter Mark Benelli writes a long and affecting story about what it's like inside "America's Toughest Prison," and about the conditions and the prisoners that persuaded attorneys Deborah Golden, the director of the D.C. Prisoners' Project, and Ed Aro, a cowboy-styled super lawyer from Denver, to file a lawsuit that most considered unwinnable.
Here are some clips:
Robert Hood, the warden of the ADX from 2002 to 2005, told me that when he first arrived on the campus, he was struck by "the very stark environment," unlike any other prison in which he ever worked or visited — no noise, no mess, no prisoners walking the hallways. When inmates complained to him, he would tell them, "This place is not designed for humanity," he recalled. "When it's 23 hours a day in a room with a slit of a window where you can't even see the Rocky Mountains — let's be candid here. It's not designed for rehabilitation. Period. End of story."

Hood was not trying to be cruel with such frankness. The ADX was built explicitly to house men often already serving multiple life sentences and thus facing little disincentive to, say, murder a guard or another prisoner. Still, during his own tenure, Hood said he made a point of developing one-on-one relationships with as many inmates as possible — he described Salvatore (Sammy the Bull) Gravano as "a very likable guy, believe it or not," and he bonded with the Unabomber over their shared interest in running marathons — in hopes of eliciting good behavior in exchange for whatever he could do to make their sentences more bearable. But he also needed them to understand that even as warden, he lacked the authority to change the rules of their confinement. In the past, Hood has memorably described the ADX as "a clean version of hell."

[CLIP]

A Colorado native who looks the part, attorney [Ed] Aro, 50, favors cowboy boots and fleece jackets, and his cheeks have the ruddy, slightly cured quality of a man who enjoys vigorous exercise at high altitudes. "Juries are my stock in trade," he told me. "They bring me in when the story is complicated and there's not going to be a settlement and they need someone to tell a convincing narrative. With this case, I worried, How do you weave a narrative and humanize people at a prison like this?"

As he tried to get a handle on the lawsuit, he made the two-hour drive to Florence nearly every week. For years, conditions inside the ADX had remained largely a mystery; from 2002 on, the Amnesty report noted, ADX officials denied every media request for a visit or prisoner interview, aside from a restricted tour in 2007. (The B.O.P. declined to comment for this article or to allow a site visit.) Aro assumed he would find a small number of prisoners who had somehow slipped through the cracks. "The thing that shocked me most was how massive the problem was," Aro said. "The ADX is the most closely monitored and evaluated subset of the prison population in the entire country. With the extent of the problem, it's incomprehensible to me that the B.O.P. didn't notice what was going on." How, Aro wondered, did the toughest prison in the United States become a mental asylum — one incapable of controlling its own population?

He enlisted Dr. Doris Gundersen, a Denver-based forensic psychiatrist, who was allowed inside the ADX as part of his legal team. After evaluating 45 prisoners, she estimated that 70 percent met the criteria for at least one serious mental illness. She and Aro spoke to inmates who swallowed razor blades, inmates who were left for days or weeks shackled to their beds (where they were routinely allowed to soil themselves), an inmate who ate his own feces so regularly that staff psychiatrists made a special note only when he did so with unusual "voracity." A number of prisoners were taken off prescribed medications. (Until recently prison regulations forbade the placement of inmates on psychotropic medication in the Control Unit, the most restrictive section of the ADX, as, by definition, such medication implies severe mental illness.) Others claimed that they were denied treatment, aside from "therapy classes" on the prison television's educational station and workbooks with titles like "Cage Your Rage," despite repeated written requests. (The ADX lawsuit says that only two psychologists and one part-time psychiatrist serve the entire prison.)

Gunderson and Aro met one inmate, Marcellus Washington, sentenced to life for carjacking and armed robbery, who slashed his wrists in a suicide attempt and was punished for it: He lost his television and radio privileges for several weeks. They met another inmate, Herbert Perkins, also serving life for armed robbery, who, after slashing his throat with a razor and being rushed to a hospital, was returned to the same cell, given a mop and bucket and ordered to clean up the blood.
Binelli's story is a longread, but it's fascinating as well as alarming and well worth your time.
The Atlantic's Andrw Cohn also wrote an excellent series on ADX and the lawsuit. It begins here.
Here's how Cohen's series opens with the harrowing tale of then ADX inmate Jack Powers:
When Jack Powers arrived at maximum-security federal prison in Atlanta in 1990 after a bank robbery conviction, he had never displayed symptoms of or been treated for mental illness. Still in custody a few years later, he witnessed three inmates, believed to be members of the Aryan Brotherhood gang, kill another inmate. Powers tried to help the victim get medical attention, and was quickly transferred to a segregated unit for his safety, but it didn't stop the gang's members from quickly threatening him.

Not then. And certainly not after Powers testified (not once but twice) for the federal government against the assailants. The threats against him continued and Powers was soon transferred to a federal prison in Pennsylvania, where he was threatened even after he was put into protective custody. By this time, Powers had developed insomnia and anxiety attacks and was diagnosed by a prison psychologist as suffering from Post-Traumatic Stress Disorder.

Instead of giving Powers medicine, or proper mental health therapy, officials transferred him yet again, this time to another federal prison in New Jersey. There, Powers was informed by officials that he would be removed from a witness protection program and transferred back into the prison's general population. Fearing for his life, Powers escaped. When he was recaptured two days later he was sent to ADX-Florence, part of a sprawling prison complex near Florence, Colorado often referred to as "ADX" or Supermax," America's most famous and secure federal prison.

From there, things got worse. The Supermax complex, made up of different secure prison units and facilities, is laden with members of the Brotherhood and Powers was no safer than he had been anywhere else. Over and over again he was threatened at the Colorado prison. Over and over again he injured or mutilated himself in response. Over and over again he was transferred to federal government's special mental health prison facility in Missouri, diagnosed with PTSD, and given medication. Over and over again that medication was taken away when he came back to Supermax.

As he sits today in Supermax, Powers had amputated his fingers, a testicle, his scrotum and his earlobes, has cut his Achilles tendon, and had tried several times to kill himself. Those tattoos you see? Powers had none until 2009, when he started mutilating with a razor and carbon paper. He did much of this — including biting off his pinkie and cutting skin off his face — in the Control Unit at ADX while prison officials consistently refused to treat his diagnosed mental illness. Rules are rules, prison officials told him, and no prisoners in that unit were to be given psychotropic medicine no matter how badly they needed it.