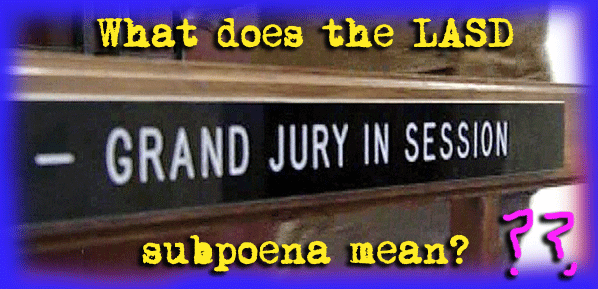 ARE THE FEDS EXAMINING ONE OF THE UNDERSHERIFF'S INMFAMOUS "WORK THE GRAY" SPEECHES?
WitnessLA has obtained the following email that went out to all LASD lieutenants this past Wednesday morning:
From: Federal Grand Jury Inquiry
Sent: Wednesday, August 22, 2012 7:36 AM
To: All Lieutenants
Subject: Federal Criminal Grand Jury Subpoena #1788

Good morning,
The Department has received a subpoena from the Federal Criminal Grand Jury which commands, in part, the following documents:

"4. Any and all correspondence between members or associates of the CCJV [Citizen's Committee on Jail Violence] and any member of the LASD at the level of Lieutenant or above."
YOU MUST RESPOND TO THIS EMAIL. If you possess documents that are responsive to this subpoena, please indicate so in a reply email. If you do not have documents that are responsive, indicate such in a reply email.

It is of the utmost importance that we comply fully with this subpoena.
Your prompt attention to this matter is necessary and your cooperation is appreciated.
In that the memo was notably fuzzy about what this subpoena/grand jury business was about, there has much department speculation about what exactly the Feds are looking for.
Robert Faturechi from the LA Times wrote about the subpoena on Saturday. (You can read his article here.) In his story, he reported that the memo provoked concern that the subpoena could inadvertently "force department members to out themselves" if they have given testimony privately and in confidence to the Citizen's Commission on Jail Violence.
However, a department source has told us that the subpoena may pertain to a story that WitnessLA first reported last month about an incident that occurred in mid-2005, after the murder of Sheriff's Deputy Luis Gerardo Ortiz by a Hawaiian Gardens gang member.
According to our source, Undersheriff Paul Tanaka was ushered in to speak to a room full of 80 to 100 deputies, federal agents and other members of law enforcement, who were all part of a multi-agency task force being briefed before the service of a series of search warrants in connection with the killing of Deputy Ortiz. According to the story, before he began, Tanaka told anyone who was video taping the proceedings, to turn off all recording devices. Then he reportedly gave to those assembled a version of his "work the gray," speech, and some of those listening were concerned by the skate-the-edge ethic they believed the speech tacitly encouraged.
Subsequent to our reporting, the CCJV [Citizen's Committee on Jail Violence] brought the incident into public testimony, and questioned Mr. Tanaka himself on what had occurred. (He denied telling anyone to turn off recording devices or saying anything that implied working on or over the legal line.)
We have been told that pursuant to the commission meeting, the feds became interested and that 11 federal officers have already been interviewed by the FBI on this matter.
Of course, due to what appears to be the general nature of the subpoena request, the "work the gray" incident, may be only one of the things that the feds are looking at.
One thing we do know is that the FBI investigation that began by looking into incidents of violence and corruption in Men's Central Jail continues to widen.
As we learn more about the issue of the subpoena and the grand jury we will let you know.
---
LAPD'S DEPUTY CHIEF PAT GANNON IS RETIRING…AND NEARLY EVERYBODY HE KNOWS WANTS TO TALK HIM OUT OF IT
The South Bureau of the LAPD polices some of the most challenging real estate in in all of California. Yet in the last few years it has been led by a series of commanding officers who have managed to create good relationships with communities whose residents had, for decades, felt themselves to be at war with LA's law enforcement.
The person commanding South Bureau right now is a guy named Pat Gannon, who is extraordinarily well liked by community members, activists, city government types, and the officers under him. Smart, strategic, warm and innovative, it is difficult to find anyone who doesn't like the man.
That's the good news.
The bad news is that Gannon is retiring on August 31.
Now that the dreaded time has nearly arrived, writer Diana Chapman has written a nice profile of Gannon for City Watch explaining why she and those in the communities LAPD's South Bureau polices don't want to see Pat Gannon go. Not at all.
Here's a clip:
He returned phone calls.

He set up water polo and basketball games between his officers and community kids. Sometimes he even played in them. As the captain of the Los Angeles Police Department's 77th Division, he closed down an entire street Halloween night so parents and children could trick-or-treat safely in the neighborhood saturated with crime. His officers policed the event.

Most of all, LAPD Deputy Chief Pat Gannon, who retires from the department Aug. 31, listened to people like you and me.
"He was a saint," said Neal Kleiner, who met Gannon when he was principal at one of the toughest middle schools — John Muir — in the 77th Division. Having called Gannon's predecessor and never getting a response, Kleiner was astonished when Gannon, then the new captain, called him without provocation.

"He initiated a call to me and visited Muir," Kleiner said still with amazement. "He let me know that his men were there to service the community and if I needed help to call. He was a frequent visitor to the school and met with the staff and parents and he demonstrated a genuine concern for my school and the community."

Said Mike Lansing, the Harbor Area Boys and Girls Club executive director: "Pat always supported the Boys and Club and the work we do. He advocated for kids through his police work and had officers interact with our members — including playing basketball. Sometimes, Pat even played himself. He is one of the great leaders who actually wanted to know what we did — he took the time to listen and engage our members."

Gannon, 56, retires not because he wants to, but because he signed on to an economically savvy retirement package the LAPD offered years ago which he now regrets.

[EDITOR'S NOTE: It's called the DROP program and it can seem like a good idea at the time, and then becomes something that LAPD officers wish they could reverse as retirement time approaches. That's the situation with Gannon. I know because I've asked him about the issue mournfully several times.]

"I could have stayed forever," said Gannon, who plans to look for other police work. "I'm going to continue working. It was interesting to me. I worked cases. I solved them and I enjoyed that."
---
ENDING THE OVERUSE OF SOLITARY
The wide use of solitary confinement as a punitive measure in U.S. prisons continues to be controversial. On Sunday, the online only version of the New York Times featured a new op ed challenging the cost/benefit wisdom (or lack thereof) of the practice, written by Vanderbilt University associate professor, Lisa Guenther, who is the author of the forthcoming book "Social Death and Its Afterlives: A Critical Phenomenology of Solitary Confinement."
Here's how it opens:
There are many ways to destroy a person, but the simplest and most devastating might be solitary confinement. Deprived of meaningful human contact, otherwise healthy prisoners often come unhinged. They experience intense anxiety, paranoia, depression, memory loss, hallucinations and other perceptual distortions. Psychiatrists call this cluster of symptoms SHU syndrome, named after the Security Housing Units of many supermax prisons. Prisoners have more direct ways of naming their experience. They call it "living death," the "gray box," or "living in a black hole."

In June the Judiciary Subcommittee on the Constitution, Civil Rights, and Human Rights, headed by Senator Richard J. Durbin, Democrat of Illinois, held the first Congressional hearing on solitary confinement. Advocates and experts in the field were invited to submit testimony on the psychological, ethical, social and economic issues raised by punitive isolation. Among the many contributors was Anthony Graves, who spent over 18 years on death row in Texas, most of them in solitary confinement, for a crime he did not commit. Graves describes his isolation as a form of "emotional torture." Two years after his exoneration and release, he still feels trapped in isolation: "I am living amongst millions of people in the world today, but most of the time I feel alone. I cry at night because of this feeling. I just want to stop feeling this way, but I haven't been able to."

We tend to assume that solitary confinement is reserved for "the worst of the worst": violent inmates who have proved themselves unwilling or unable to live in the general population. But the truth is that an inmate can be sent to the hole for failing to return a meal tray, or for possession of contraband (which can include anything from weapons to spicy tortilla chips). According to the Bureau of Justice, there were 81,622 prisoners in some form of "restricted housing" (code for solitary confinement) in 2005. If anything, these numbers have increased as isolation units continue to be built in prisons, jails and juvenile detention centers across the country. Given that 95 percent of all inmates are eventually released into the public, and that many of these will be released without any form of transition or therapy, solitary confinement is a problem that potentially affects every one of us.