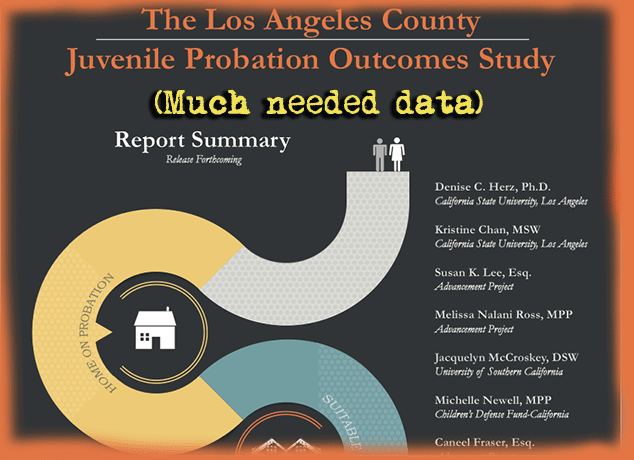 INFORMATION LACKING FOR LA COUNTY PROBATION KIDS
Up until now, LA County juvenile probation—the largest juvenile justice system in the nation—knew very little about the kids in its care, what challenges those kids faced, which methods might be best suited to address a kid's challenges, and whether or not those methods were actually working—and if not, why not.
On Thursday, however, all that changed with the release of the Los Angeles County Juvenile Probation Outcomes Study, a 155-page report that took almost four years to complete, and that will hopefully be difficult to ignore.
The report shows, for example, that one-third of the kids who wind up in the county's juvenile camps or the probation run group homes, get arrested again within a year of their release. But we pretty much already knew that. So it is more interesting to note that nearly all of the kids in either the homes or camps had been on probation prior to the arrest that sent them into the county's care, and had not gotten the help they needed when on home probation either. Moreover, the report digs into what broke down in the kids' lives that could have and should have been addressed for better results for all concerned.
Yet, in addition to delivering those and other pieces of bad news, the report looks deeply at the kinds of problems these youth face, then makes a series of recommendations designed to improve the probation kids' chances of rebooting their lives. The researchers also lay out what they call "targeted reforms" to help LA County Probation fundamentally transform its approach to the youth it serves.
DATA MATTERS
In many ways, the best news out of this study is the fact that the study was done at all. Prior to its release this week, there was—as mentioned above—very little to tell us about the LA County kids who land in LA County's care, what got those kids there, and how well or poorly they did when they got out.
As a consequence, nearly all the decisions made about how LA County Probation dealt with the kids in its care were, up until now, done flying blind. (Not that this is surprising news in that we are talking about the same probation agency that a few years ago misplaced a full third of their workforce. But those were very dark times, so we won't return there.)
Now, thankfully, we have a rigorous piece of research and data gathering to provide a baseline, and that, by its existence, demands ongoing research and data gathering.
Moreover, the study was led by Cal State LA's Dr. Denise Herz, who is considered one of California's go to researchers in the realm of juvenile justice, gang violence and the like. Plus, the report was a collaborative effort that included other top notch researchers as consultants, plus youth advocates such as the Children's Defense Fund, with the Advancement Project providing oversight in addition to getting the money to fund the thing (from the W.M. Keck Foundation and the California Wellness Foundation).
To their credit, probation fully cooperated—even if, at times, reluctantly..
"What is encouraging," said Michelle Newell from the Children's Defense Fund, who was one of the study's authors, "is that many county leaders, including the Board of Supervisors, probation, and judges, seem committed to using the findings in this study to both strengthen data collection, and to improve outcomes for youth."
We'll have more about the study early next week. So stay tuned.
---
AND IN OTHER NEWS….HOW DID ORANGE COUNTY'S WORST MASS SHOOTING TURN INTO A PROSECUTORIAL DISASTER?
Impossible though it sounds on its face, Orange County DA Tony Rackauckas and his prosecutors managed to spectacularly blow the sentencing hearings in a high profile mass murder case in which the murderer confessed. The OC Weekly's Scott Moxley lays it all out for you, and it makes for fascinating reading.
Here's how the story opens:
Orange County's worst mass shooting, the so-called 2011 Seal Beach hair-salon massacre, began as a traumatizing event for all, but it has devolved into one of the most polarizing legal struggles to hit our legal system. The question isn't about Scott Dekraai's guilt. Dekraai admitted to police that he was the killer within minutes of the shooting. Controversy swirls, however, around the tactics of prosecutors and sheriff's deputies trying to impose a death-penalty punishment rather than a 200-plus-year prison sentence without the possibility for parole. With one embarrassing revelation after another, the battle has grown painful, especially for the baffled families of the victims. To help understand why Superior Court Judge Thomas M. Goethals, himself an accomplished former prosecutor, this month made a historic decision to recuse Tony Rackauckas and his district attorney's office (OCDA), we are providing a chronology of events:
---
LOCAL FBI AGENT INDICTED FOR….LOTS OF THINGS
On Thursday, a local FBI agent (who had a very, very small part in the feds' investigation of the LASD) was indicted for obstruction of justice, witness tampering and more. In short, he got WAY more involved than was even vaguely appropriate with a federal witness.
ABC7's Lisa Bartley has the story. Here's a clip:
FBI Special Agent Timothy Joel worked out of the Los Angeles FBI Field Office. The indictment relates to Joel's alleged relationship with a woman who was arrested at the Otay Mesa border in 2007. The woman, a Korean national, was being smuggled into the United States to work as a prostitute. Joel allegedly helped her stay in the U.S. by claiming she was an important witness in a human smuggling investigation.

According to the indictment, Joel provided the woman with regular cash payments from his personal bank account totaling nearly $20,000 and later moved in with her in an apartment in Los Angeles.

In 2013, the Office of the Inspector General for the U.S. Department of Justice launched an investigation into Joel's alleged actions.
Here's the full text of the indictment. Special Agent Joel Indictment