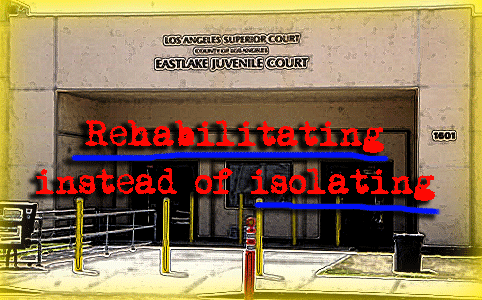 UPDATE ON REFORM BILL FOR KIDS IN SOLITARY
A bill that would define and limit the use of solitary confinement for kids in juvenile facilities—SB 61, authored by Sen. Leland Yee—made it through the Senate Appropriations Committee Thursday and is scheduled to be voted on by the Senate next week.
Here's a clip from the update from Sen. Yee's office:
In 2011, a CDCR internal audit found that youth were often locked up in their cells for over 21 hours a day. In one 15-week period, there were 249 incidents of solitary confinement, and in one case, a youth received only one hour out of his cell in a 10-day period. In local juvenile facilities, there have been reports of youth locked up in isolation for 23 hours a day.

"I felt completely unwanted and unnoticed" said Tanisha Denard, who was held in solitary confinement as a juvenile. "It is by far the worst feeling I have ever experienced."

"The mission of the juvenile justice system is to offer youth an opportunity for rehabilitation while also promoting public safety" said Dr. Laura Abrams of UCLA. "The use of solitary confinement is counter to these goals. Not only does solitary confinement undermine rehabilitation efforts, but also as the potential to return a young person to society with exacerbated trauma and mental illness that can manifest in violence toward self or others."
FYI, here are some of the provisions of SB 61:
– Define solitary confinement as the involuntary placement in a room or cell in isolation from persons other than staff and attorneys.

– Provide that solitary confinement shall only be used when a minor poses an immediate and substantial risk of harm to others or the security of the facility, and all other less restrictive options have been
exhausted.

– Provide that a minor or ward shall only be held in solitary confinement for the minimum time necessary to address the safety risk.

– Empower existing county juvenile justice commissions to report on the use of solitary confinement in juvenile facilities.
(For more recommended reading, Sen. Yee has an excellent editorial on the bill over at U-T San Diego.)
---
METRO STOP AT CULTURALLY IMPORTANT LEIMART PARK
The LA Metro board finally approved funding for an underground metro station in historic Leimart Park, an significant addition to the Crenshaw line that LA Supe. Mark Ridley-Thomas has been pushing hard for since 2011, along with outgoing LA Mayor Villaraigosa.
KPCC's Corey Moore has the story. Here's a clip:
The action comes a day after the L.A. City Council committed $40 million in Measure R funds for the station in the culturally historic African American community. And now, the L.A. County Metropolitan Transportation Authority says it will fund the rest, which in total, amounts to $120 million.

Outgoing Mayor Antonio Villaraigosa pushed to make this happen, along with L.A. County Supervisor Mark Ridley-Thomas, who sponsored the motion. MTA members voted in favor, 10 to 1. Metro plans to choose a contractor for the project next month.
---
HARMFUL IMMIGRATION REFORM AMENDMENTS DISCARDED
Several discriminatory immigration reforms were shot down earlier this week by the Senate Judiciary Committee, including an amendment authored by Sen. Charles Grassley (R-Iowa) that would have banned undocumented immigrants suspected of gang affiliation from becoming legal citizens, even if they had no criminal record. Another rejected amendment by Sen. Grassley would have allowed law enforcement officers to profile based on nation of origin.
Here's a clip from gang intervention non-profit Homies Unidos Director Alex Sanchez's letter to supporters:
Thank you for standing up for justice and dignity. Your calls to the Senate Judiciary Committee members helped to defeat three dangerous amendments to the immigration reform bill: Sessions 32, Grassley 43 and Grassley 49. These amendments sought to increase and normalize the practice of racial profiling by law enforcement in our communities. Session's amendment would have mandated 287(g) nationwide, while Grassley's amendments would have penalized young people accused of gang membership and allowed profiling based on national origin. Thank you for pushing back against these harmful amendments. We could not have won this without you.

Despite the good news, Graham 3 passed. The amendment requires additional screening for individuals applying for "registered provisional immigration" (RPI) status who are from certain regions or countries deemed national security threats by the Department of Homeland Security. This will likely target individuals from predominantly Muslim, Arab, South Asian and Middle Eastern countries and is a setback against the fight to end racial profiling.
LA Times' Sandra Hernandez has more on the defeat of Grassley's amendment targeting suspected gang members. Here's a clip:
Deporting immigrants who have serious criminal records makes sense as a matter of public safety. The Times' editorial page has supported such policies. But Grassley's amendment wouldn't have furthered that goal. Instead, it sought to exclude immigrants who are suspected of gang membership from legalizing simply because their names appeared on a gang database or on an injunction.

Los Angeles pioneered the use of gang injunctions and databases as a way to help neighborhoods plagued by violence regain control of their streets. But these lists and civil restraining orders aren't perfect tools. Individuals can find themselves on such lists because of factors like tattoos, style of dress or identification by an informant.
---
BOY SCOUTS END EXCLUSION OF GAY YOUTH
The Boy Scouts of America voted Thursday to end their policy banning gay youth from participating in the program. There is still a ban on openly gay adults acting as leaders, and gay youth can still be forced out of the group when they turn eighteen, but this is a welcomed step in the right direction.
NY Times' Erik Eckholm has the story. Here's a clip:
The decision, which followed years of resistance and wrenching internal debate, was widely seen as a milestone for the Boy Scouts, a symbol of traditional America. More than 1,400 volunteer leaders from across the country voted, with more than 60 percent approving a measure that said no youth may be denied membership "on the basis of sexual orientation or preference alone."

The top national leaders of the Boy Scouts had urged the change in the face of vehement opposition from conservative parents and volunteers, some of whom said they would quit the organization. But the decision also put the scouts more in tune with the swift rise in public acceptance of homosexuality, especially among younger parents who are essential to the future of an institution that has been losing members for decades.

The decision is unlikely to bring peace to the Boy Scouts as they struggle to keep a foothold in a swirling cultural landscape, ensuring continued lobbying and debate in the months and year to come. The group put off the even more divisive question of whether to allow openly gay adults and leaders, and those on both sides of the debate predicted that, with the resolution's passage, the Boy Scouts would soon be forced to start allowing gay adults, whether by lawsuits or embarrassment at the twisted logic of forcing an Eagle Scout who turns 18 to quit.