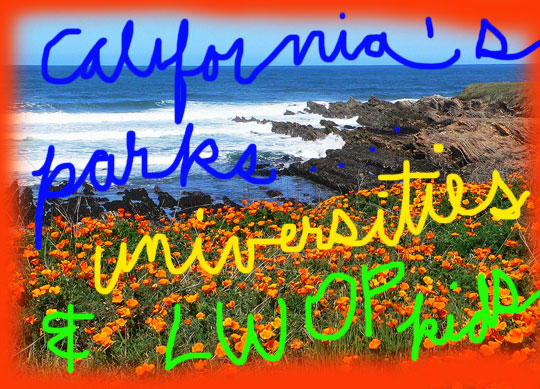 ARNOLD STEPS IN TO SAVE STATE PARKS—BUT MAYBE NOT FOR THE REASON HE SAYS
This past Friday, Governor Arnold Schwarzenegger jumped into the budgetary breach with a plan to miraculously rescue 100 state parks from closing (the same 100 he had personally and unilaterally elected to close, but okay. A niggling point).
The story is that the governor brought out his budget crunchers and told them to go forth and find enough savings elsewhere to be able to keep the parks open with minor cutbacks and partial closures to a few parks. Not a perfect solution but much better than shuttering 100 of California's precious public wildland spaces. That, Arnold! Such a problem solver!
But what, one wonders caused this sudden change of heart?
Could it maybe have been the looming threat of nasty lawsuits and the possible loss of millions of dollars in federal grants?
Yep. Looks like it. In another one of his excellent essays on state and national parks, civil rights lawyer and City Project head, Robert Garcia, pointed out rather presciently, just before Arnold had his come-to-Jesus cost cutting session, that it had been recently been brought to Schwarzenegger's attention that closing the parks would cost a hell of a lot more—in legal bills and funding losses—than keeping them open.
Here's a clip:
[The National Park Service] told the governor in June that state park closures would violate the contracts the state signed to receive $286 million in federal funds for 67 parks under the Land and Water Conservation Fund, and could jeopardize hundreds of millions more in future funds. The land for another six state parks could also revert to the federal government. (Read the NY Times article.)

Months after the plan to close state parks was announced, the department's lawyers finally got around to analyzing the law earlier this month in a memo that was promptly leaked and posted on the Internet. (Read the Mercury News Article on the memo.)

The memo outlines about eight reasons why closing state parks would raise serious problems under contract, property and environmental laws…..

[Here's the rest of Garcia's essay. And here's the memo.]
PS: Try to catch Ken Burns series on the National Parks before it's over. It's fantastically good.
---

THE SUPREMES CONSIDER THE CONSTITUTIONALITY OF LWOP KIDS WHO DID NOT COMMIT MURDER

In Monday's LA Times, David Savage gave a preview of the case that the Supreme Court will consider in November to determine whether or not life without parole for minors who didn't kill constitutes cruel and unusual punishment.
At issue is whether it is cruel and unusual punishment to imprison a minor until he or she dies when the crime does not involve murder.

According to Amnesty International, "The United States is the only country in the world that does not comply with the norm against imposing life-without-parole sentences on juveniles."

Nearly all of the estimated 2,500 U.S. prisoners serving life terms for juvenile crimes, the group said, were guilty either of murder or of participating in a crime that led to a homicide. But 109 inmates are serving life sentences for other crimes committed when they were younger than 18.

[SNIP]

The question will be an early test of whether Justice Sonia Sotomayor, a former prosecutor, will align herself with the court's tough-on-crime conservatives or join with its liberals to strike down prison policies perceived as going too far.
Here, by the way, is a past look at California's LWOP kids.
---
UC PRESIDENT MARK YUDOF TO ALL UNDERLINGS: YOU'RE DEAD TO ME
Okay, he didn't say those words exactly, but in last week's NY Times interview, University of California president Yudof said some things that were a bit flip sounding given how drastic the cuts have been at the state's UCs.
For instance there was this:
….Being president of the University of California is like being manager of a cemetery: there are many people under you, but no one is listening. I listen to them.
("…like being a manager of a cemetery?" Okay, so faculty and staff are either dead to him—or the undead. Hard to tell.)
And, regarding his salary (Yudof makes $540,000 plus $228,000 a year toward his pension plan, plus an annual $120,000 housing allowance, totaling: $888,000 a year), when asked what he thought about the suggestion that no administrator at a state university needs to earn more than the president of the United States, ($400,000), Yudof said:
Will you throw in Air Force One and the White House?
Yudof may or may not be good for the UCs (there are a lot of people lately weighing in on the NOT side of things)—but, given the hits the university system, its employees and its students are taking, a little diplomacy would go along way, dude.
.
---
THINKING OF STAFON JOHNSON
This isn't a social justice issue, but many people—myself included— are sending positive thoughts the direction of USC running back, Stafon Johnson, who went though 6 hours of surgery Monday after a weight room accident in which a weight bar fell on his throat.
---