---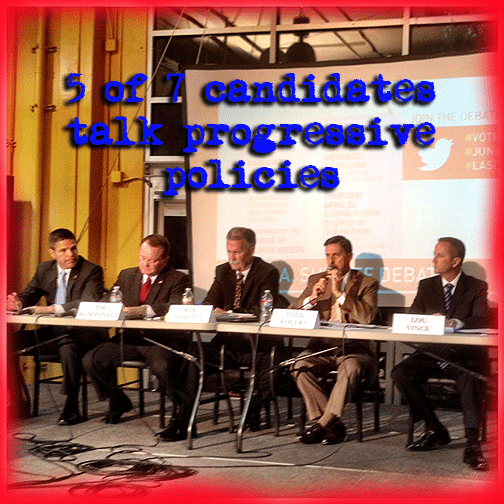 SHERIFF'S CANDIDATES GET NOTABLY PROGRESSIVE AND PAUL TANAKA PULLS A LAST MINUTE NO-SHOW AT THE 2ND BIG PUBLIC DEBATE
Mercado La Paloma in South LA was jammed Thursday night as five of the seven candidates running for LA County Sheriff took their seats for the second public debate, and answered questions on such topics as alternative sentencing, building new jails, immigration enforcement, data gathering on stop & frisk, and more—all topics to which the five men gave consistently progressive-leaning answers that featured more agreement than difference.
For instance, the candidates were asked if they were in favor of solving the jail overcrowding problem by building new jails?
By and large they are not. They'd rather manage the jail population by finding appropriate therapeutic housing for the mentally ill who routinely turn up in the jails, and most favored some kind of alternate sentencing and pretrial release.
Bob Olmsted wants to create a special court for the mentally ill.
"We need to free the bed space for those who really need to be locked up," he said.
"We need community based mental health clinics," agreed Jim McDonnell.
Jim Hellmold and Lou Vince said no to any kind of jail expansion. "Once we do that, those beds are always going to be filled," said Vince.
"Community based alternatives can reduce recidivism by ten or twenty percent," said Todd Rogers and then proceeded to expand enthusiastically on the topic.
The candidates also favored a more appropriate, family-friendly environment for women who are locked up.
"Right now our women are housed in facilities that are intended for men in complete lockdown," said Hellmold.
All the candidates were roundly in favor of a robust citizen oversight body for the LASD
And so it went on topic after topic. While there were degrees of difference, there was more often agreement that leaned in a distinctly reformist direction.
"They were more progressive in many cases than the majority of the board of supervisors," said So Cal ACLU legal director, Peter Eliasberg, after the questioning was over. (The ACLU was one of the event's sponsors.) "For example, there was a real unanimity in the suggestion that LA is incarcerating way too many people. Whereas what appears to be the board's response, which is to build more jail beds, that's clearly not what these candidates want to be doing."
---
WHILE 5 CANDIDATES OPINED, 2 CANDIDATES WERE MISSING
Two candidates in the field, however, were not available for comment.
Pat Gomez had another event he felt he had to attend so wasn't able to take part in the debate, but according to Eliasberg, Gomez notified the debate staff a week or two in advance.
Paul Tanaka, in contrast, cancelled "because of a conflict" at exactly 12:37 pm on the day of the event, said Eliasberg.
---
---
AND IN RELATED NEWS: AD HOC WATCHDOG ERIC PREVIN RUNS FOR SUPERVISOR
Eric Previn, our favorite ad hoc LA County watchdog, would now like to join the ranks of those he has previously enjoyed hectoring mightily on regular basis.
Hillel Aron (whom we're happy to note will now be writing full time for the LA Weekly) has the story. Here's a clip:
Eric Preven isn't like other gadflies, those full-time roustabouts who skulk the halls of L.A. government making public comment after comment until every bureaucrat is ready to put a gun to his or her head. Preven is different; he's… well, he's cleaner. And more normal looking. And: Preven digs up good dirt.

Inspired by something weird that was done to Preven's mom's beloved labrador a few years ago (by L.A. County Animal Control), he's acquired a compulsion to appear each Tuesday to castigate the five powerful members of the County Board of Supervisors, who oversee government programs affecting 10 million people*, control a budget of about $25 billion – and enjoy power and authority virtually unrivaled in California.

They meet Preven with a bitter indifference or, more often, open disdain. But now, the biggest thorn in the Supervisors' sides is running to replace Zev Yaroslavsky, so he can join the bunch he taunts with surprisingly well-informed criticisms and news scoops.
Here's Previn in high theatrical form.
---
CRIMINAL JUSTICE BILLS & BUDGET PRIORITIES TO WATCH in 2014
Californians for Safety and Justice, a non-profit that gives voice to crime victims and brings them together with community leaders, policymakers, law enforcement and more, has created a wish list of 2014 bills and budget priorities to keep an eye on.
Here is a representative sampling of the items on their list:
BILLS

AB 1919 (V.M. Perez) – Increase the Use of Risk Assessments: Research shows that we reduce repeat offenses when people in the justice system are matched with programming and supervision determined by an individual risk and needs assessment. This bill will encourage counties to use a validated risk and needs assessment for people in their local justice system.

AB 2612 (Dababneh) – Increase Access to Drug Treatment Programs: Nearly two-thirds of all jail inmates suffer from a substance abuse disorder, and, if unaddressed, such disorders drive criminal behavior. With the implementation of the Affordable Care Act, California has an opportunity to increase the use of federal Medi-Cal dollars to fund drug treatment programs as an effective alternative to warehousing people in jails. This bill would address existing barriers to increased placement in residential programs.

SB 466 (DeSaulnier) – Creating the California Institute for Criminal Justice Policy: This bill would create a nonpartisan, independent institute to conduct timely research on criminal justice and public safety issues. Its primary responsibility will be creating a Master Plan for California Public Safety based on research and evidence-based practices in the field, and the Institute will also analyze any criminal justice bill to determine its effectiveness, cost-benefit and suitability within the Master Plan.

BUDGET PRIORITIES

Help Crime Victims Recover, Avoid Repeat Victimization by Expanding Trauma Recovery: Victims often experience long-term effects, including trauma and mental health conditions. Left unaddressed, these conditions can impact victims' ability to recover and may lead to financial problems, mental health issues, substance abuse, depression and further victimization. The existing system can be confusing to access and often only offers short-term support. The Trauma Recovery Center model takes a holistic approach to healing the person in a welcoming and safe environment that provides long-term support.

Improve the Outcomes for Women and Families via Alternative Custody Programs: Research has shown that women in the justice system who maintain a relationship with their children are less likely to reoffend, and their children are less likely to suffer trauma and to be incarcerated as adults. By implementing programs that allow women who have committed nonviolent, non-serious to serve their time in alternative custody programs, we can reduce crime and population pressures on prisons and jails.

Ensure Structured Reentry to Reduce Recidivism by Expanding Split Sentences: The first few weeks an individual is released from prison or jail is a crucial time. Structured reentry, through the use of reentry services and supervision, can reduce the likelihood of reoffending and increase public safety. Under Public Safety Realignment, some people are serving their entire sentence in jail and have no support or supervision upon release. By making split sentences the default (unless a judge rules otherwise out of the interest of public safety), we can ensure individuals have a more effective reintegration into the community.

Reduce Jail Pressures, Costs by Incentivizing the Use of Pretrial Programs: Using jail space to house low-risk people awaiting trial is expensive and paid for public safety. For low-risk people not yet convicted of a crime, evidence-based pretrial programs can increase court appearances, reduce recidivism and save valuable public safety dollars.
Click here for the rest..
---
TREATING PREGNANT WOMEN IN CALIFORNIA PRISONS
Dr. Corazon Navarro has been treating pregnant state prison inmates since 1987. She is the OB/GYN at the California Institute for Women in Chino.
In KPCC's First Person project, Navarro tells about her work and what she loves about it.
---