On Thursday afternoon, Los Angeles County Sheriff Alex Villanueva sent a two-page letter to the LA County Board of Supervisors telling the board members that their vaccine mandate "is an imminent threat to public safety."
The executive order issued by the board on August 10, requires all county employees — with some exemptions for medical and religious reasons — to be fully vaccinated by October 1.
If he was to enforce the mandate, the sheriff wrote, he could potentially lose 44 percent of his workforce in one day.

"As homicides continued to rise, the Board of Supervisors voted to require all Los Angeles County employees to be vaccinated against COVID-19 or face discipline, up to and including termination," Sheriff Villanueva wrote in separate public statement posted on the LASD's website, where Villanueva urged department members to contact members of the LA County Board of Supervisors and voice their objections.
"With the pandemic diminishing, there is no justification for the Board mandate," he wrote. "[It] is like putting up the storm windows after the storm has passed. "
His rank and file personnel "already wear masks and would submit to routine COVID-19 testing," said Villanueva.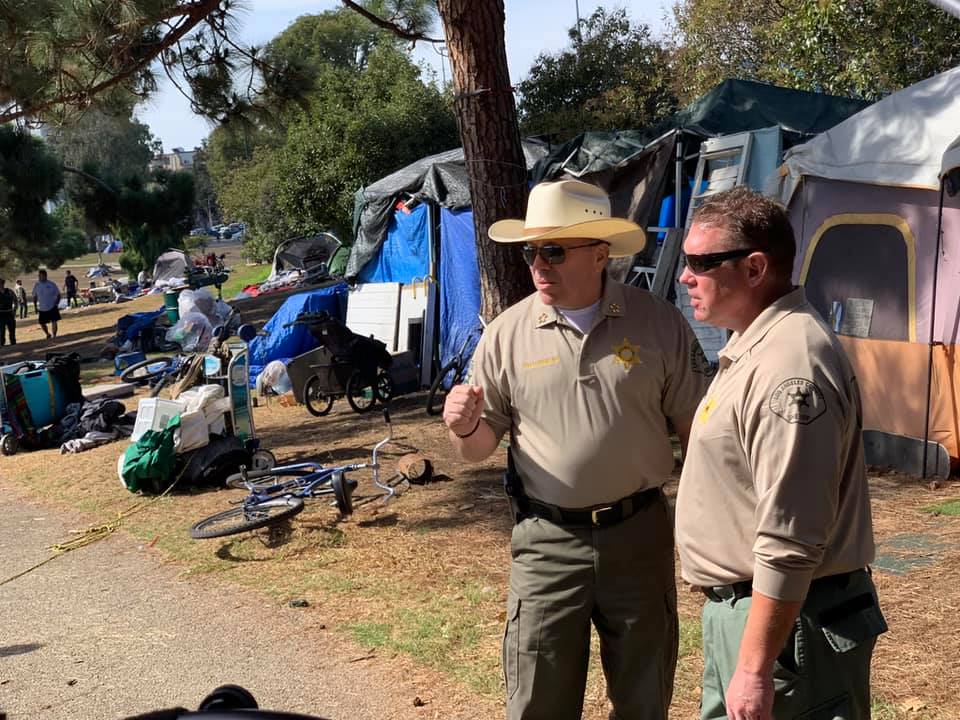 The sheriff blamed the vaccination mandate for causing what he described as a "mass exodus" within the department.

"I have repeatedly stated the dangers to public safety when 20%-30% of my workforce is no longer available to provide service, and those dangers are quickly becoming a reality."
This will cause "homicide rates" to "continue to rise," he wrote. "Response times will increase, solve rates will diminish, arrests will decline, patrol services will significantly decline, and patrol stations will close."
In his letter to the supervisors, the sheriff took his warnings a bit farther.
"Of great concern is the upcoming fire season," he wrote. "With the reduction of personnel, I would be unable to mobilize and deploy mobile field forces which are critical in conducting evacuations in natural disasters."
He didn't stop there, however. "I can firmly tell you," the sheriff concluded darkly, "this mandate will create a pandemic of chaos within our county resulting in tragic losses."
A pandemic of chaos, if sheriff's deputies (and paramedics) who, as part of their jobs, routinely come into direct physical contact with community members, are required to be vaccinated against the coronavirus.
The L.A. County Sheriff's Department which is the worlds largest sheriff's agency, has more than 10,000 officers and 8,000 civilian staff members. 
Late last month, the LA Times wrote that, according to data Times reporters had obtained through a California Public Records Act request, the Times learned that county health officials had "identified hundreds of coronavirus outbreaks" in both the city and the county's police and fire agencies since the start of the pandemic.
To put it another way, out of nearly 2,300 total workplace outbreaks identified by the county between March 2020 and last month, 211 — or about 9% — were within public safety agencies, wrote Times reporter Kevin Rector,
(Each "outbreak," of course, can result in several dozen cases or more. And those numbers presumably don't include anyone among the general public who may have contracted the virus via contact with one of the affected public safety officials.
So are such mandates legal?

It should be noted that Sheriff Villanueva is himself vaccinated.
"But the choice to receive the vaccine is a personal one," he wrote in his message to his troops, "and an individual who served the community tirelessly before there was a vaccine should not now be fired because they made a decision about their own body."
Actually, Jacobson v. Massachusetts, a landmark decision by the U.S. Supreme Court rendered on February 20, 1905, arguably suggests otherwise.
Here's the deal.
Back in 1905, a Massachusetts law allowed cities to require residents to be vaccinated against smallpox during a then-raging smallpox epidemic. So it was that the Cambridge, Mass, Board of Health exercised what it perceived to be its authority to require vaccination against smallpox, and adopted such an ordinance, with some exceptions. Cambridge resident Henning Jacobson and his son refused to comply with the requirement and was fined five dollars.
His attorneys held that forcing Mr. Jacobson to be vaccinated violated Jacobson's Fourteenth Amendment right to personal liberty.
The Supremes, however, ruled that the law was a legitimate exercise of the state's power to protect the public health and safety of its citizens.
There's a lot more to the 114-year-old ruling, of course, but that's the bottom line. One assumes if state and local government can require vaccines under certain circumstances, such as during an epidemic, during a pandemic such as the one we have been living through, even a conservative-leaning high court might find that a county government could require vaccinations of its public safety officers as a condition of employment.
And while we're on the topic of public health and safety, the Fraternal Order of Police, a national union that represents 356,000 officers, has been tracking line-of-duty COVID deaths of law enforcement officers nationwide. As of October 28, 2021, the Order estimates that 764 officers have died from Covid-19 since the pandemic began. In California, 61 law enforcement officers have been taken from their family and friends by the virus.
In the state of Texas — where Governor Greg Abbott continues to hand out executive orders banning vaccine mandates, issued a new executive order this month banning such mandates by any "entity in Texas" — the Fraternal Order of Police shows the highest number of line-of-duty COVID-19 deaths of all 50 states, with 181 law enforcement officers killed by the virus as of this week.
Meanwhile, over at the Los Angeles Police Department, Chief Michel Moore said that the department is committed to a "fully vaccinated police force."
More as we know it