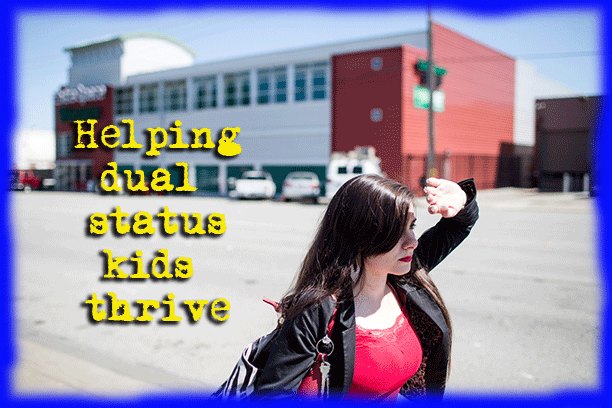 Earlier this month we introduced you to Angel, a young woman, now-20, who had spent much of her adolescence in the care of juvenile probation, not because she was particularly breaking any laws (save things like lying about her name when approached by cops), but because after years of chronicled abuse by her mother, she finally fought back, although she was reportedly the one with the bruises. As a consequence Angel wound up a juvenile lock-up. Then, when her term was finished, she stayed under the care of probation, because—although she should have long-ago been in the foster care system, now that she was a teenager, no one seemed sure where else to put her.
Angel was a "dual status" or crossover kid, which in many California jurisdictions makes kids like her nobody's child.
As defined by the Robert F. Kennedy Children's Action Corps, the term "dual status youth" refers to young people who come into contact with both the child welfare and juvenile justice systems, and occupy various statuses in terms of their relationship to the two systems. A growing body of research has consistently shown that, in comparison to kids involved in only one of the two systems, dual status youth are usually dealing with more in the way of childhood trauma and other daunting challenges. Sadly, despite their needs, these kids often get less consistent help and attention than singly involved young people.
The RFK National Resource Center for Juvenile Justice (a division of the RFK Children's Action Corps) is trying to change all that by offering consultation, technical assistance, and training to local, state and national "youth-serving agencies" to improve the lives and the outcomes of dual status kids.
With this in mind they have worked with 13 jurisdictions around the nation on efforts designed appropriately synchronize the two systems—child welfare and juvenile justice—in order to give dual status kids the consistant care and services they need to begin to thrive.
One of RFK's earliest "demonstration" sites is California's Santa Clara County, which is located at the southern end of the San Francisco Bay and encompasses 1,312 square miles.
Heidi Benson, writing for the Juvenile Justice Information Exchange, has written an excellent profile of what Santa Clara is doing with RFK's guidance, who is involved, and how it is changing kids' lives for the better.
Here are some clips:
SAN JOSE, Calif. — At 8 years old, Marco had spent most of his life in the child welfare system. When an uncle took him in, to the first stable family environment he'd ever known, the boy finally began to thrive.

When he turned 13, his behavior changed. He started fighting at school and smoking marijuana daily. His uncle feared for the family's safety. Marco was sent to a group home. Soon, he was living on the street, addicted to methamphetamine.

The scenario is all too common, said Laura Garnette, chief probation officer for Santa Clara County. "Kids hit adolescence and something snaps.

"We don't know why, whether it's memories or the onset of puberty," said Garnette, who first studied to be a psychologist. "Something triggers past trauma."

[SNIP]

Previously, Marco might have fallen into the bureaucratic and philosophical gap between probation and child welfare. Today, he is back in school and in treatment for substance abuse. Though he is still in a group home, he now lives four days a week with his uncle, whose family is getting supportive services.

"Marco will probably be our first graduate," said Garnette, who sat in on his hearing in January. "Soon, he'll be out of both systems. He'll be living full-time with his uncle. That's our goal."

[SNIP]

Once a case is labeled "dually involved," another team convenes — a family meeting, organized by a facilitator who is also a youth advocate.

"They bring in everybody under the sun," Tondreau said, including parents or foster parents, social workers and probation officers. The group stays on board until a case is decided. The anecdotal evidence is encouraging, he said. "Kids are saying, I really like my team, I'm glad they're involved in my life."

A growing body of scientific research shows that the adolescent brain is more malleable and more complex than previously known. The findings have informed progressive legislation: In 2014, taking a cue from recent U.S. Supreme Court decisions, the California Supreme Court acknowledged that "children are constitutionally different from adults for purposes of sentences."

The distinction has come into play in Santa Clara.

[SNIP]

Even in the best of circumstances, adolescents are vulnerable to poor judgment while their brains are developing. "You're not weighing consequences because you don't have the ability to do it quite yet," said [Presiding Juvenile Court Judge Patrick] Tondreau, who confessed that he knows this through personal experience.

"Part of the reason for my love of juvenile court is that I was in juvenile delinquency court myself," he said. "I was a good kid, but I got involved with a couple of guys and we snuck out every night and were going for joy rides. Nobody locked their cars back in 1961. We'd get in the car. We'd drive around. And we'd park it right where we'd found it. We weren't trying to hurt anybody. Then one night, we hit a telephone pole. Everybody got hurt. Not badly. We were lucky."

At the time he was an Eagle Scout and on the basketball team of his Jesuit high school in Portland, Ore.

He never forgot the sadness he felt, or how deeply upset his parents were. "The shame that they had, that cured everything. The judge couldn't have done anything to me," he said.

"Even as a really good kid, with really good parents, I made some terrible mistakes. Adolescents screw up. It's what happens."

Now, as a judge of adolescents, he brings that awareness to the bench.
And so does Santa Clara County.
---
WHEN A VIOLENT FELONY ISN'T VIOLENT
In federal criminal law, the definition of "violent felony" is an extremely fuzzy one. The LA Times Editorial Board hopes that the U.S. Supreme Court will force Congress into making some needed changes.
Here's a clip:
Twice recently the Supreme Court has chastised the U.S. Department of Justice for stretching criminal laws beyond their rational application in order to secure a conviction. Beyond their consequences for individual defendants, these decisions sent a welcome message to prosecutors that they must not uproot a statute from its clear context in order to get their man (or woman).

Sometimes, however, prosecutors are aided in their overreach by laws that are so vaguely written that it's not clear exactly what conduct is being targeted. On Monday, the Supreme Court heard a challenge to one such law, which allowed the government to define illegal possession of a gun as a "violent felony" justifying an extended prison term.

The exceedingly unattractive defendant in this case, Samuel Johnson, is a white supremacist from Minnesota who pleaded guilty in 2012 to being a felon in possession of a firearm. Under the Armed Career Criminal Act, he was sentenced to a 15-year prison term because he had three prior "violent felonies" on his record. Johnson conceded that two of his previous convictions, for robbery and attempted robbery, were violent felonies. But he disputed the government's decision to classify a third conviction, for possessing a short-barreled shotgun, as a "violent felony."

The notion that the mere possession of an illegal firearm is a violent act defies the dictionary and common understanding, and Johnson initially argued — plausibly — that it was not. But Monday's arguments focused on a broader issue: whether the violent felony provision in the Armed Career Criminal Act was unconstitutionally vague. The answer is clearly yes.
---
AND NOW….FREDDY GREY'S VOICE & A NEW DOJ INVESTIGATION
Now there is an other front-and-center death of a young black man in the nation's vision; that of Baltimore's Freddie Gray. On Tuesday, the U.S. Department of Justice announced that it would launch a civil rights investigation into Gray's death in police custody, which is sparking ongoing demonstrations.
Gray, 27, died this past Sunday, April 19, a week after he was chased by Baltimore officers on April 12, when he took off running after exchanging eye-contact with one of the cops. It is not clear why the BPD chased him, other than the fact that he ran. He was found to have a knife on him, which is not necessarily illegal in Baltimore, and which was not known until he was caught and searched. None of the officers who apprehended Gray described any kind of use of force on the man.
And yet…..Gray reportedly died of a complication of a spinal injury that, barring out-of-season lightening strikes or other forces majeures, almost certainly were sustained during his arrest or during his transport in a police van, or possible both, with the van ride worsening a first injury. According to The Baltimore Sun, members of Freddie Gray's family have said he sustained three fractured vertebrae in his neck and that his larynx was crushed. Since anyone with the slightest amount of first aid training knows that moving a spinal injured person can exacerbate the problem, the van ride, particularly if he travelled without a seatbelt, could have turned a bad situation tragic. The Sun has also reported that officers present in the van said that Gray repeatedly asked for medical attention.
And was Gray spinal-injured in the course of being apprehended by police? A cell-phone video taken by a local observer would certainly suggest so, given the strange limpness of Gray's legs as he is being dragged to the police van, shouting what appears to be intense pain.
Baltimore officials like Mayor Stephanie Rawlings-Blake, and police Chief Anthony Batts, (formerly of Long Beach PD, followed by Oakland PD) have struck most of the right notes, promising an unusually quick and transparent investigation, and being very careful to humanize Freddy Gray with believable empathy, while not demonizing officers as they do so. The BPD has, however, suspended the six officers most involved.
The BPD investigation is due to be handed over to prosecutors on May 1. Mayor Rawlings-Blake said she will launch an investigation by an independent commission. And now we have the feds.
If you haven't yet watched the cell-phone video of Mr. Gray's arrest, you can find it above. It is harrowing. Not so much the look of it. It is the sound of Gray's voice.
Here, if you'd like to read a little further, is a commentary by The New Yorker's Amy Davidson that talks mostly about that voice.
---
Photo of Angel by the excellent Max Whittaker, a freelance photojournalist and founding member of Prime.