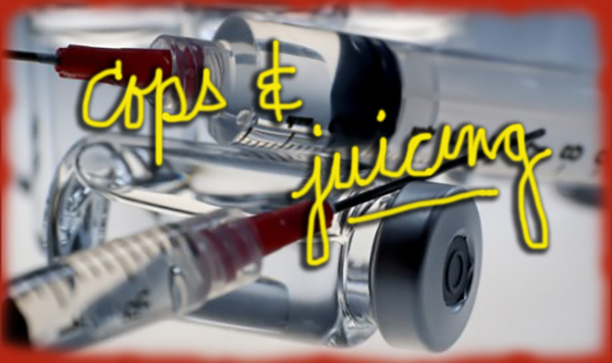 Could steroid use by cops cause officers to escalate in encounters with suspects, when deescalation might prevent tragedy? In a new story for AlterNet reporter David J. Krajicek talks to police experts and others who express concern over a rise in secret steroid use, now that pricy and complicated random testing has fallen out of favor with budget-minded law enforcement agencies.
While we don't necessarily agree with every single one of Krajicek's conclusions, his story brings up some worthwhile questions.
But first here is some background on the issue in general:
In 2004, the DEA became concerned enough about a pattern of steroid use among law enforcement personnel that, together with the U.S. Department of Justice, they created a seven-page booklet titled "Steroid Abuse by Law Enforcement Personnel" to help police agencies understand the problem and how to avoid it.
"Anabolic steroid abuse, once viewed as a problem strictly associated with body builders, fitness 'buffs,' and professional athletes, has entered into the law enforcement community," the DEA wrote in its brochure.
"Law enforcement personnel have used steroids for both physical and psychological reasons," added the DEA. "The idea of enhanced physical strength and endurance provides one with 'the invincible mentality' when performing law enforcement duties." Especially when those duties are of a nature that can easily turn dangerous.
'
But whatever upsides the drugs might provide, the downsides could be considerable, warned the DEA, citing the following psychological side-effects:
– Mood swings (including manic-like symptoms leading to violence)
– Impaired judgment (stemming from feelings of invincibility)
– Depression
– Nervousness
– Extreme irritability
– Hostility and aggression
When the problem seemed to get worse, not better, in 2008 the International Association of Chiefs of Police passed a resolution that "calls upon state and local law enforcement entities to establish a model policy prohibiting the use of illegally obtained steroids" by officers.
That same year, Police Chief Magazine, the publication put out by the IACP, ran a story about dangers of steroid "use and abuse," in which the authors (which included a high ranking Arizona cop, an army doctor, and several medical specialists and researchers) explained why the steroid issue was an essential one to face, despite the admitted difficulties with testing:
"Officers carry weapons, are authorized to use lethal force, and are often involved in physically controlling or restraining people," the authors noted. "If the stories of 'roid rage are true, how often are the officers who use anabolic steroids involved in unnecessary use-of-force incidents that could become a major liability for their agencies? Considering the legal issues, health effects, and commensurate costs associated with inappropriate use, agencies should proactively address this issue. Rather than look back on what could be an embarrassing "steroid era" of law enforcement—one in which the profession might be riddled with lawsuits, corruption, and claims of heavy-handedness—it is critical to address the current and future impact of this issue head-on.
Some agencies, like the NYPD did introduce testing during that era.
But according to more recent stories, even many of the cop shops that did test have dropped testing, including the Phoenix police, whose testing protocol was considered a pioneering model. Yet the problem has not gone away, as demonstrated by this 2014 story in the Augusta Chronicle about a brewing steroid scandal among law enforcement in Georgia—and elsewhere. Here's a clip:
One of the largest cases occurred in New Jersey in 2007 when 248 officers and firefighters from 53 agencies were obtaining fraudulent prescriptions of anabolic steroids from a doctor. According to news accounts, the discovery was made after the doctor's sudden death.

But smaller cases have occurred throughout the country, including one in Atlanta last year.
Five firefighters and one police officer from Cobb County were included in the investigation. Two of the employees resigned almost immediately.

Earlier this year in Washington state, investigators learned a King's County sheriff's deputy had been using steroids and dealing them to others inside and outside of the agency.

The sheriff told news outlets he suspected members of his SWAT team bought steroids, but he would not try to prove it because he needed the 20-man team intact.
(Interestingly, back in 2009, LA County's Office of Independent Review reported, according to the LA Times, that the Los Angeles Sheriff's Department had lowered its hiring standards to the degree that, among other questionable hires, it accepted a recruit who "had abused marijuana and steroids and been convicted of underage drinking shortly before he applied to become a deputy." Such standard dipping has since been corrected, which is good. However, it is no guarantee that steroid use is not continuing under the radar, at both the LASD and the LAPD. As a matter of fact, anecdotally speaking, we hear stories….)
The truth is, exactly no one reports that steroid use among cops is now on the wane, or even less prevalent than it was in the mid 2000s.
In fact, Dr. Harrison G. Pope, director of the Biological Psychiatry Laboratory at Harvard's McLean Hospital told Megan Cassidy of the Arizona Republic last month, "There's no real way to stem the tide, so to speak, as far as access to steroids, and there's no prospect in the near future that use of them is going to decline," said Pope.
"We are going to continue to see its use with law-enforcement officers."
---

AND IN OTHER NEWS: WILL THE JJDPA OPEN THE WAY FOR OTHER JUVENILE JUSTICE REFORM?
The Juvenile Justice and Delinquency Prevention Reauthorization Act (S 1169) will be the piece of legislatation most closely watched by juvenile justice activists when Congress returns from summer recess in September. The JJDPA, as it is commonly known, cleared the Senate Judiciary Committee on July 23, and is headed to the Senate floor.
First enacted in 1974, the JJDPA has been due for reauthorization since 2007. On April 30, 2015, Sen. Chuck Grassley (R-IA) and Sen. Sheldon Whitehouse (D-RI) introduced S. 1169, the bipartisan bill to accomplish the necessary reauthorization. The bill would also strengthen the JJDPA's core protections for kids involved in the juvenile justice system.
Sara Barr, writing for the Juvenile Justice Information Exchange has more on the story. Here's a clip:
If the Senate passes the bill, other juvenile justice legislation could gather momentum in JJDPA's wake, said Naomi Smoot, senior policy associate at the Coalition for Juvenile Justice.

Such reform-oriented legislation introduced in late July and August include bills that deal with solitary confinement, shackling, alternatives to incarceration and record expungement.

Smoot said juvenile justice reforms are a natural fit within broader bipartisan negotiations to reform the criminal justice system.

"Juvenile justice reform really is the first line in those criminal justice efforts," she said.
Barr lists some of the legislation that the JJDPA could tow behind it, including the MERCY Act (S 1965), which is the bipartisan bill introduced by Sen. Cory Booker, D-N.J., with Sens. Dick Durbin, D-Ill., Rand Paul, R-Ky., and Mike Lee, R-Utah, that would prohibit solitary confinement for juveniles in the federal system or held in pretrial facilities and juvenile detention facilities.
---

AND WHILE WE'RE ON THE SUBJECT OF SOLITARY CONFINEMENT: HERE'S HOW SOLITARY CONFINEMENT GOT HARDWIRED INTO THE POLICIES OF AMERICAN PRISONS
NPR's Brian Mann has just kicked off a 3-part series on solitary confinement in America's lock-ups, that is very much worth your time.
Here's a clip from Part 1, which looks at the history of solitary:
In the yard at Eastern State Penitentiary in Philadelphia, gray-haired men make their way up to a small stage. A towering stone prison wall rises overhead. One by one they sit at a scratchy microphone and tell their stories — of being locked up 23 hours a day in a place that just about broke them.

"This place here really did something to me psychologically," says former inmate Anthony Goodman.

Eastern State is the prison where solitary confinement was pioneered in the U.S. It's a museum now, but the reunion here is a chance for former inmates to talk about what it meant to do time here.

"Because this place would make you go insane if you didn't know how to handle it," Goodman says.

Fred Kellner was a psychiatrist charged with looking after inmates' mental health. He says he knew conditions at Eastern State were hurting people, but he felt powerless.

"I remember being bothered by various situations. You can't do much about it because the most important thing in a prison is control. And that rules," he says. "If you expect to change it, you're in for depression."

Here's one of the first things you learn when you study the history of solitary confinement: People have had deep doubts about isolating inmates for a really long time.

The earliest experiments were carried out here at Eastern State in the 1800s in tiny, monastic cells. Sean Kelley, director of education at Eastern State, says at first people really believed that isolating criminals for long periods might help them heal, make them more virtuous.

Critics didn't buy it. The British author and activist Charles Dickens who visited in the 1840s described long-term isolation as "ghastly," a form of "torture." Kelley says the people running Eastern State didn't listen. Decade after decade they kept trying to make the system work.

"The officers and the administrators would write about the inmates becoming agitated. They would have to carry out really extreme physical punishments to maintain silence. They would literally put them in strait jackets and douse them in water in the wintertime and leave them outdoors," he says.